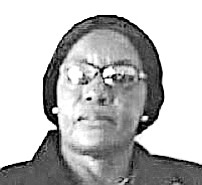 MARA ELIZABETH JOHNSON
unknown - unknown
Funeral Service for
MARA ELIZABETH JOHNSON, 67
of Gregory Town, Eleuthera, will be held on Saturday, 28th October, 2017 at 11:00 a.m. at St Gregory's Catholic Church, Gregory Town Eleuthera. Officiating will be Monsignor John Johnson, assisted by other ministers of the clergy. Interment will follow in Gregory Town Public Cemetery, Gregory Town.
Fond memories will be cherished in the hearts of her children: Kaydena and Jason Johnson; adopted children: Brent Thompson, Reno Taylor, Stefan Rahming, Ocilia Petty and Dina Johnson; Grandchildren: Melia Johnson, Taz Davis and Margarette Pinder; stepsisters: Rosemary Hepburn, Matilda Johnson, Ettamae Moss, Anretta Butler, Ethylmae, Christina Rolle, Francis, Monica & Betty Thompson, Theola Zarisky, Mattie Emmanuel; stepbrothers: Lenard Johnson, Jolton Johnson, Larry Cooper, Tony Johnson; nieces: Tavanna, Shavonne, Marguerite, Jennifer, Neicy, Natasha, Melissa, Patti, Miranda, Reponzell, Donise, Patricia, Margurita, Chiquita, Christina, Monique, Veronica, Felisha, Adrianna, Muggy, Pauline, Paulamae, Sintra, Gloria, Helen, Ada, Shanta, Vonnie, Gaynelle, Connie, Jan, Cappie, Toya, Lavonda, Keisha, Tekisha, Lorna, Lorenda; nephews: Steven, Martin, Bradford, Ashton, Eutace, Tyrone, Nelson, Marko, Cecil, Celio, Taval, Ellie, Kirk, Kevin, Olum, Arthur, Juney, Brad, Jarrette, Donnie, Kirk, Jeffrey, Barry, Shawon, DanielWayne, Don, Vhaul, Andreas, Phil, Thomas Smith, Fisher, Jermaine; brother-in-law: Cecil Johnson; godchildren: Morris, Dexter, Shawn, Lester, Anterio; sister-in-law: Beverly Roberts, Willimae Albury; grandaunt: Milly Bethel; numerous relatives & friends: Bertina Emmanuel, Veronica Daniels, Clarence Gibson, Beryl Bastian, Wendy Thompson, Ann Thompson, Jessica Thompson, Theresa Thompson, Bruno Thompson, Gregory Thompson, Rebecca Roberts, Patrice Johnson, Shane Wilson, Patricia Roberts, Denise & Lean Johnson, Carolyn Scavella, Sandra Forbes, Rovena Sands, Nellie Thompson, Pamela Gibson, Vernitta Thompson, Kevin Cambridge, Donald Fernander, Douglas Cambridge, Teddy Johnson, Willie Maurice, Patsy Johnson, Carmetta Dean, AJ, Gilder Farrington, Michael Johnson, Gina, Jackie Gibson, Laverne Wood, Bill Holland, Lavern Saunders, Lavada Ingraham, Michelle Mortimer, Margaret Winters, John Cartwright, Priscilla Scavella & Family, Steve Stubbs, Dr. Sandy Odia Stubbs, Sheryl Minnis, Renae Gibson, Glenda Johnson, Joanna, Wilda Mather, Shalrese Belle, Robert Lee, Patsy, Sebastian, Nora, Charlene, Lorenza Durham, Ted Durham, Gina Eugene McQueen, Jerome Johnson, Barry Zarisky, Rhonda Griffin, Lynden Davis, Omar Davis, Muffy Joshua Daniels, Angie Cooper, The Entire Community of Gregory Town, The Doctors & Staff at Princess Margaret Hospital.
Friends may pay their last respects at Bethel Brothers Morticians #44 Nassau Street on Thursday from 11:00 a.m. to 6:00 p.m. and at the church in Gregory Town on Friday from 7:00 p.m. to midnight and on Saturday from 9:00 a.m. until service time.