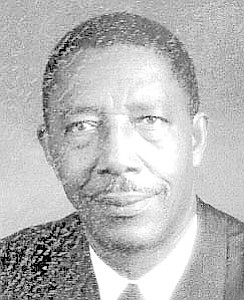 KENRICK OLIVERE MURRAY
unknown - unknown
Funeral Service for
KENRICK OLIVERE MURRAY, 85
of Guanahani Circle, Palmetto Village and formerly of St Michael, Barbados, will be held on Saturday, 28th October, 2017 at 10:00 a.m. at Holy Cross Anglican Church, Highbury Park. Officiating will be Canon Norman Lightbourne, assisted by other ministers of the clergy. Interment will follow in Woodlawn Gardens, Soldier Road.
Left to cherish his precious loving memories are his Grateful and Beloved wife: Shelah Patricia Murray; brother and wife: Glyne Murray (Lynette); sister: Jean Innis; children: Ernest Gibson, Samuel Brown (Elizabeth), Maxwell Sweeting (Patricia), Kensel Sherman, Diana Hall (Rev. Reuben), Sherrily Strachan (Rudulph), Arlene Major, Dennis Johnson (Eulene), Theresa Thompson (Bruno), Monsignor John Johnson, Cindi Sherman, Albertha Stubbs, Violet Bowlin (Randolph); grandchildren: Antonette, Bernardo, Jamal, Krista, Keri, Kensel Jr., Tyreck, Kenton, Kazz, K , Rishonne, Rachelle, Tracey, Peter III, Ryan, Tamika, Michael, Maurico, Aniska, Jarien, Angelo, Angel, Zandra, Nadira, Astra, Kyra; brothers-in-law & sisters-in-law: Rose King, Anthony Bernett (Maxine), Hamutle Nicholls (Eustace), Jean Culmer, Ursula Burnett; nephews and nieces: Clayton, Jonelle, Stokeley, Ayodele, Radcliffe, O'lanna, Letitia, Justin, Corey, Anthony, Adrian, Delvado, Delgado; cousins: Carole Watson, George Watson, Anne Reed, Gail Clarke, Sonia Gill, Spouses and children; grand nephews and grand nieces: Radina, Radcliffe, Radisha, Philece, Philicia, Philencia, Danyell, Daliyah, Daniyah, Emelio, Trinity; great grand nephew: Ethan; and host of other relatives and friends including: Eva Hilton & Family, Clarkson Darville & Family, Lillian Smith & Family, Victoria Canderler & Family, Daisy Williams & Family, Roslyn Johnson & Family, Rosemae and Roswell Thompson, Beverly Archer, Patrona Major & Family, Delano Culmer, James Shearer & Family, Ruthie Adderley, Beverley McCoy, Palmetto Village neighbours Maria Pinda, Shelegh Strachan & Family, Linda Rolle & Family, Errol Bethel & Family, Hazel Jupp & Family, Golden Days Association, B.U.T. Retires Club, B.A.R. Persons Club, Doretha Murphy, Raymond Murphy & Family, The Bishops and all of the Priests of Anglican Churches, Members and families, especially Canon Ward, Canon Norman Lightbourne Father James Moultrie, Father Micklewhite Turnquest Sr, Junior and Deacon Eric Miller and their spouses. Frank & Patricia Reid and Family, Ivan and Paula Holder & Family, Burtell, Dudley & Shirley Serfert & Family, The Family of the late Daniel & Remelda Knowles, Beverly Archer & Family, Barbadian & Bahamian Association, Eve Hilton & Family, Lillian Smith & Family, Lonnetta Cooper & Family, Rosemae & Roswell Thompson & Family, Holy Cross Family including members of ACZ, ACM, Prayer Group, Pastorial Care, Catechist, Lay Readers, Wardens, Administrators, Office Staff, Verger and all the members of Holy Cross Anglican Church, Dr. Locksley Munroe, Dr. Sinclair and Dr. McFall, Staff of Accident and Emergency & the Staff of Male Medical Ward II.
Please forgive me for not accounting for everyone, but at this time I am very forgetful and emotional so I beg your pardon as I apologize.
Friends may pay their last respects at Bethel Brothers Morticians #44 Nassau Street on Friday from 10:00 a.m. to 6:00 p.m. and at the church on Saturday from 9:00 a.m. until service time.