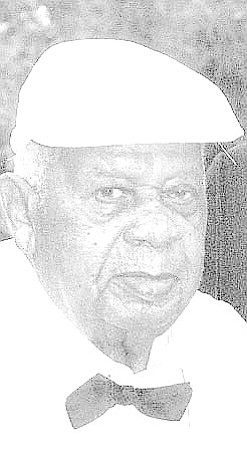 Jehu Joshua Sands
unknown - unknown
Funeral Service for
Jehu Joshua Sands, 90
a resident of Governor's Harbour, Eleuthera & formerly of Rock Sound, Eleuthera, will be held at St. Patrick's Anglican Church, Church Alley, Governor's Harbour, Eleuthera on Saturday, October 28th, 2017 at 11:00 a.m. Officiating will be The Rev'd Fr. Timmy Ivan Eldon. Interment follows in Governor's Harbour Public Cemetery.
His memories will live on in the heart of his daughters: Judy Simmons and Sharon Johnson; Sons-in-law: Paul Simmons and Arthur Johnson; Grandchildren: Darron Sands, Paul Simmons Jr., Pryia Simmons, Shekera, Terrance Sands, Marrisso and Christen Rolle, Lardarcia Pople, Dino, Dario, Dania, Dina Johnson, Lashan Dean and Deq Nottage; Great Grandchildren: Pachino Jr., and Cohen Simmons, Denee and Robin Rankin, Orman Henfield, Darrinque, Keishonne, Damon Jr., Darronese Sands, Dexter Williams, Hailee Dawkins, Drenae Strachan; Granddaughters-in-law: Christine Rolle and Amy Simmons; Sisters: Doreen Deveaux and Kernita Sands; Sisters-in-law: Prudence Knowles and Rose Nairn; Brothers-in-law: David, Erdley, Charles Hepburn, Arlington Culmer, Michael Nairn and Leroy Knowles; Nieces and Nephews: Darrell, Lillian (Henry), Rev. Roselyn and Gordon Speights, Norma Coleman, Deleno Taylor (Charles), Vangie Rolle, (Jeremiah), Paula Knight (Marshall), Winston, Keith Sandy Smith (Shena), Godfrey and Helen Deveaux of Rock Sound, Agatha and Glen Lightbourne, Paulette and Darren Wilson, Linda Rolle, Joyann Burges (Ronald), Patrice Deveaux, Zelma Horton (Harry), Stephanie Pearce (Jeffrey), Phillipa Strachan, Avent Sand (Delli), Avette Dames, James Sands of Abaco, Warren Knowles, Theresa Sands, Mascine Benjamin, James Johnson (Sandra), family of the late Gene and Daisy Sands of Miami, Florida; Numerous grandnieces and nephews: Friends: Catherine Stubbs, Crystal, Cory, Calvin, Carl Knowles, Sidney and Sandra Young, Paula and Oswald, Vernal and Stephanie Bethel, Eric and Emily Russell, Pastor Keith and Aretha Sands, Donald Fernander, Glen and Teresa Decoda Dean, Elizabeth Stubbs, Louis and Linda Pettifrere, Army Katia Joseph, Daphne and Shawn Simmons, Kenria Russell, Gardinea Evans, Rev. Godfrey and Elmera Bethel, Rev. Richard Lightbourne, Danny Rankine, Diane Farrington and Vernice Rolle, Zove and Elliot Seymour, Carol, Chris and Craig Lewis, Cerl Francios, Wesley Methodist Church Officers and Members Cupid Cay, St. Patrick's Anglican Church Officers and Members, Governor's Harbour, Betsy Village Neighbourhood, Governor's Harbour and others to numerous to mention.
Friends may pay their last respects at Demeritte's Funeral Home, Market Street, from 3-6:00 p.m. on Thursday & on Friday at the church in Eleuthera from 5:00 p.m. until service time on Saturday.