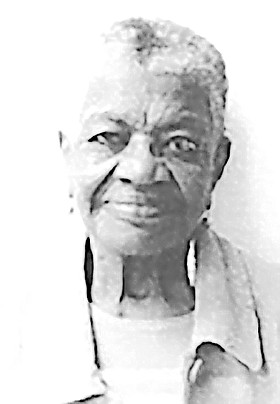 DOROTHY LOUISE SYMONETTE
unknown - unknown
Funeral Service for
DOROTHY LOUISE SYMONETTE, 86
of Old Cedar Street, Yellow Elder Gardens, will be held on Saturday, 28th October, 2017 at 9:45 a.m. at St Cecilia Catholic Church, 3rd Street The Grove. Officiating will be Monsignor Simeon Roberts, assisted by other ministers of the clergy. Interment will follow in Lakeview Gardens, John F. Kennedy Drive.
Left to cherish her memory and continue her legacy are her Daughters (and their spouses): Patricia Symonette, Ingrid Smiles (Vincent), Sharon Symonette Webster (Paul) and Natasha Williams (Roddy); Sons (and their spouses): Gary (Denise), Sterling, Keith and Sheldon Symonette; Grandchildren (and their spouses): Stephan Symonette, Simone Gia Symonette (Omotara Adewakun), Amir Symonette, Matthew Smiles (Laura), Aaron Smiles (Anastasiya Chuleyda), and Daniel Smiles (Star), Shakell Seymour and Shenae Symonette, Christian Hepburn, Emmanuel Hepburn, Jordan Hepburn and Jean-Michel Tine, Alexander Williams, Andrew Williams, Adam Williams and Gabrielle Williams, and Charlanie Innocent; Great-Grandchildren: Stephan, Simone, Skye, and Anthony Symonette, Adrian, William, Anna, Miriam and Danielle Smiles, Maui and Zen Adewakun; Sister: Betty Veronica Strachan; Brothers: Roderick Inniss and Granville Cleare; Sisters-in-Law: Alice Inniss, Dencie Moss, Mabel Smith, Stella Knowles, Juanita Carey, Linda Symonette; Brother-in-Law: Arthur Symonette, Vincent Symonette; Nieces and Family: Monique Strachan, Shanyse Inniss, Sheena Inniss Simon, Cheryl Haven, Deborah Moss, Gennean Cleare, Gail Wisdom, Clare Symonette, Linda Symonette, Kathryn Leach, Sonja Gibson, Lorraine Armbrister, Christine Swaby, Marilyn Meeres, Patrice Bethel, Kelley Lockhart, Tina Knowles, Teri Bethel, Tietchka Vanderpool-Wallace, Deborah Symonette, Anischka Hunt, Kim Noble, Mischa Lee, Donna Bastian, Kaye Bastian, Tanya Bastian, Tracey Bastian, Glenda Bastian-Lyles; Nephews and Family: Neil and Reginald Strachan Jr., Sean Inniss, Brian Cleare, Alvin Moss and Frederick Moss, Jr, Lloyd, Patrick and Linton Symonette, Godfrey, Anthony, Ricky and Perry Symonette; Dr. Gregory Carey, Kevin Bethel, Gilbert Symonette, Eddie Johnson, Jason Smith, Ervin "Peppy", Enrico and Emile Knowles, Neil Symonette, Paul and Craig Symonette, Kirk Ingraham; Life-long and Committed Friends: Sydney Godet and Family, Helen Butler and Family, Alec Hepburn and Family, Marion Hutchinson and Family, Charity Brennen and Family, Michael and Mary Cartwright's Family, Michaela Whylly and Family, Judy Symonette, Margaret Symonette, Delores Stringfield, Cathy Davis, Kim Bastian, Anne Russell, Claudette Bannister, Sr. Clare Rolle, James Catalyn, and Members of the Samaritan Ministry Group; Pastoral Team: Fr. Simeon Roberts, Msgr. Alfred Culmer and Fr. Remy David; Special Thanks: Mary Rolle (caregiver), Dr. Charles Osazuwa.
Friends may pay their last respects at Bethel Brothers Morticians #44 Nassau Street on Friday from 12:00 noon to 6:00 p.m. and at the church on Saturday from 8:45 a.m. until service time.