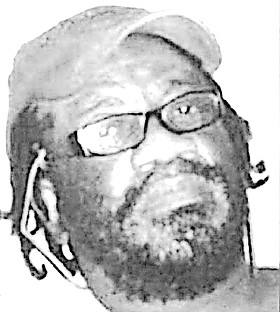 CHARLES PHILIP STRACHAN
unknown - unknown
Funeral Service for
CHARLES PHILIP STRACHAN, 63
of #25 Walnut Street, Pinewood Gardens and formerly of New Bight, Cat Island, will be held on Saturday, 28th October, 2017 at 10:00 a.m. at South Beach Union Baptist Church, Sealink Drive, Summer Haven Estates. Officiating will be Rev. Wilton McKenzie, assisted by other ministers of the gospel. Interment will follow in Woodlawn Gardens, Soldier Road.
Charles was predeceased by his parents Otis and Elizabeth Strachan, his brother Herbert and daughter Audra.
Precious memories will remain in the hearts of his children: Antonio, Angelo, Astra, Al and Antonia; stepchildren: Nickell (Derek) Ferguson, Rodnique (Ricky) Wright, WPC 3406 Princeka (Larnest) Brown, and Rodney Curry; granddaughter: Ashdi Williams; step grandchildren: Kavontae and Priceton; sisters: Evag. Shirley Kerr,Ethan Burrows and Helena; brothers: Kenton and Kensell Burrows; special friend: Sharlene Morley; sisters-in-law: Rosetta Strachan; aunts: Veronica, Tussy, Pernell, Olga and Hermia; uncles: Roland, Humphrey and Rodney; nieces: Deborah Gibson, Monique and Pamela Strachan. Indera Morris; nephews: James Kerr, Otis, Dwayne and Jermaine Strachan; cousins: Terrance, Mark, Jennifer and Christine Brown; Pastor Vincent Brown; Brenda Rolle; Peggy, Gregory, Dale, Teora, Omar, Yvette, Sharlene, Vashti, Myra, Jeroma, Fred, Angela, Mildred James, Denise, Judy Brown, Juanshell Cooper, Ava, Ronnique, Rodney Jr., Matthew, Fica Dean, Sertina Turnquest, Sherman Bootle, Charles and Lyndon King, Teressa Sturrup, Patricia Burke, Valerie Mortimer, Alisa Mingle, Dellarese King, Alma, Lucita, Branhilda, Presirita, Brandleon, Mitchell, Hezekiah, Courtney, Herbie and Melandie; other relatives and friends: Marilyn Strachan, Judy Strachan, Mervin Kerr, Hubert (Patricia) Beneby, Steve (Sherry) Beneby, Charles (Sylvia) Beneby, Michael Beneby, Laverne (Robert) Scavella, Christine Beneby, Hedda (Anthony) Mitchell, Telia (Nick)Wilson, Patty (Robert) Johnson, Perry and Lamar Stubbs, Audriana (Setney) Desir, Shandeka, and Phelicia Gibson, Joanna and Geraldine Kerr, Kishon Morris and Kenton Burrows Jr. Natasha Campbell and family, T.C. and family, Clarence Russell, Linda Strachan, Fredricka Paul and family, John (Bertha) Deveaux, Livicia, Vinesha and Jarrod Morley, Lakashia Romer, Lincoln Murphy, Beryl Williams and family, Danny Capron, Sonny, Ernest Johnson and family, Anthony and Cameron Smith, Dominic Strachan, Avard Rolle, Doc, Sheldon Roberts, Nigel Ingraham, Perez Richardson, Marcian Deveaux, Naine Jones, Sharon Carey and family, Patricia Warner and family, The Strachans and Mills of Abaco, Deacon Alfred Rolle and family, Ms. Prosper, Dorissa Dorsette and family, Terrance Dorsette, Susymae Longley and family, Mr. Wilmore and family, Mr. Matthew and family, Brandon, The Kings, Rolles, Thurstons, Seymours, McDonalds, Moncurs, Gibsons, Williams, and Russell families; Cat Island family, 2nd, 4th and 7th Street The Grove family, Keno Basden, Staff of Oncology, Staff of Atlantis Box Office, Pastry Shop and Engineering Department. Staff of TBN Sports Bar, Bahamas Bykers and CSA Wholesale. Doc's Auto Repair, Doc's Pharmacy, The Saunders Family,Craig Lewis, Tom the mechanic, Everette and Don Mackey, Hutch, Lila, Kevon Moxey, McRoy, Sonny, Super Don, Geano, Jeff, Denise, Zendell, and Monette, Anthony Pearce and family. Wendell, Bobby, Jackson Russell, Sterlin Minnis, Thomas McKenzie and family, Reno Russell, Freddie, Iva Williams, The Deal family, Prince Hepburn, Mr. Forbes and family, Mr. Symonette and family, Ann Stubbs, Barbara Cash, The Josey family, The Adderley family, Fred Ferguson, Isaiah Taylor, Dr. Olga Clarke and family, Valerie King, Pedro Roberts, The Brown family, The Gaitor family, Valerie Basden and family, Burt Knowles. Patrick, The Lockharts, various motorcycle clubs within The Bahamas, Sunshine Auto family, J's Services, Javero Kemp, Freddie Rolle, Rasta Mickey, The Rolles of Andros, Alvin, Sean, South Beach Union Baptist Church Family, Michael Fox and family, Katrina Jones, Patrice Woodside, Tario McKinney, Tom Hanna, Ervin Knowles, Gavin, Fox Hill Family, Abraham Stubbs, The Laing Family, Marvin Smith, Brandon Forbes, Walter Lockhart, Ronald Thibaud, Bible Teachers Int'l Ministries and others too numerous to mention.; special thanks: Dr. Jarrod Deveaux, Dr. John Lunn, Jacintha Thompson, Patty Johnson, Keith Alburyand Janeen Jones of Royal Bank Robinson Road, Carol Edgecombe, Apostle Brendalee Woodside, Ms. Jane Newry, Dr.Terez Nairn and Lou Dawkins.
Friends may pay their last respects at Bethel Brothers Morticians #44 Nassau Street on Friday from 10:00 a.m. to 6:00 p.m. and at the church on Saturday from 9:00 a.m. until service time.