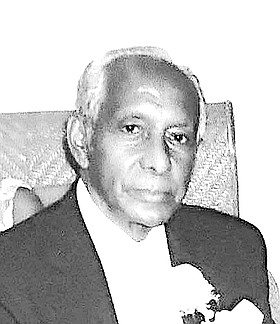 Brother Phillip "Papa, Cooky" Elliott Neilly
unknown - unknown
Funeral Service for
Brother Phillip Elliott "Papa" "Cooky" Neilly, 76
of The Current, Eleuthera, and formerly of Stevenson Subdivision, Nassau, who died peacefully at his residence in The Current, Eleuthera on Wednesday, October 18th, 2017, will be held at The Current Gospel Chapel, The Current, Eleuthera, on Saturday, October 28th, 2017 at 11:30 a.m. Brother Roddie Pinder, assisted by Brother Derek Elden and Evangelist Frank Perry will officiate.
Left to fondly cherish his memories are his: Loyal Wife of 45 years: Norma V. Neilly; One Daughter: Gayle Simone Colebrook; Two Sons: Walter & Carson Neilly; Seven Grandchildren: Shennell Scott, Sierra Colebrook, Amelio, Deangelo, Torianna, Liam & Eli Neilly; Five Brothers: Lawrence, Patrick, Lewis, Perry & Warren Neilly; Two Sisters: Norma Griffin & Doreen Symonette; One Son-in-law: Raymond Colebrook; Two daughters-in-law: Horizia Neilly & Samantha Nadia Neilly; One Aunt: Monica Algreen; Nine Sisters-in-law: Delores, Angie, Christine & Rosalyn Neilly, Joy & Greer Wells, Dorothy Symonette, Yvonne McGrath, & Donna Wallace; Numerous Nieces: Claudette Stephen, Susan Martin, Elizabeth Key, Kelly Neilly, Natasha Neilly, Sherry Roberts, Anne MacConnell, Lorna Wells, Rita Symonette, Natasha Andrews, Larrie Michelle Roberts, Shantell Jovin, Dominique Russell, Maria Rolle, Lisa Carroll, Audrey Francis, Agnes Cavallo & Erica Williams; Numerous Nephews: James, Phil, Larry, Jeremy, & Theo Neilly, Dave, Raymond & John Griffin, Stephen Symonette, Alan & Ron Symonette, Sherard Ali, Michael McGrath, Stephen Davis, Derek Carroll, Anthony & Bill Lunn, Ryan Baldwin, & Phillip Cavallo; Numerous Other Relatives: Dolly, Dasha & Dave Griffin Jr., Delaina Tucker, Cheree & Lian Andrews, Stacy & Randy Wells, Alexis Hudson, Amanda Turnquest, Redeith Symonette, Andy Roberts, Chrystal Stubbs, Charlene Cartwright, Ambrose Davis, Madge Pyke, Carol & Joanne Roberts, Barbie Griffin, Kingsley, Al, & Johnnie Griffin, Kemuel, Noble, Marcelle, Cliff, & Theodore Algreen, Tina Moree, Ezra & Ed Algreen, Marilyn Symonette, Paula Dickson, & Jeannie Wells; Other Friends: Lady Ena Braynen, Albertha Edgecombe & family, Adrana Lockhart & family, Bro. Brentford & Lorna Isaacs & family, Bro. Patrick Albury, Bro. Marcel Lightbourne & family, Bro. Paul Allen & family, Sis. Monica Wilson & family, Sis. Delita Turnquest & family, Sis. Easlie Nicholas & family, Sis. Ruth Nottage, Sis. Ruth Kondamarri, Sis. Candi Swain & family, Sis. Shirley Russell & family, Sis. Patricia Culmer & family, Dr. Halliday & family, Evangelist Tom Roberts & family, Pastor Alan Lee & family, Evangelist Rex Major & family, Bro. Randy Roberts & family, Bro. Henry Sands & family, Bro. Jeremy Sands & family, Loyal Roberts & family, Bro. Andy Sands & family, Bro. Philip Bethel & family, Bro. Cassidy Roberts & family, Bro. Gurth Roberts & family, Bro. Curtis Hodgkins & family, Bro. Eugene Lowe & family, Bro. Matthew Bethel & family, Bro. Randy Curry & family, Bro, Glen Albury & family, Bro. George Philpot & family, Bro. Wallace McDonald & family, Bro. Jeffrey, Roland, Hartley, & David Albury & families, Bro. Jay Sands & family, Sis. Myrtle Bethel, Sis. Treesie Albury, Ashley Bethel, Cleveland & Linda Sawyer, U.M.D. Association, Bernice Fitzgerald, Curlene Burrows, Agatha & Agnes Cartwright, Roger Sweeting, Sharon Bethel, Brindley Griffin, Mariam Saunders, Gertrude Roberts & family, Pat Pedican, Donald Hudson, Berlene Elden, James Munroe, Fredricka Munroe & family, Steve Stubbs & family, Eugene Dickson, Maureen Ellis, Ms Dimple, Ms. Charmaine, The Stevenson Sub-Division Community including the Lunn, Philpot, Moree, & Burrows family, Mavis Hall, Jessie Moxey & family, Barbara Williams, Marlene Stewart, the crew of the M/V Current Pride & M/V Beyond Measure, members & followers of Central Gospel Chapel, Shirley Heights Gospel Chapel, Current Gospel Chapel, Seaside Gospel Chapel, Man-O-War Gospel Chapel, Green Turtle Gospel Chapel, Marsh Harbor Gospel Chapel, Staff of D'Albenas Agency, Samuel Guy Pinder All Age School, Laura Anderson Primary School & St. Thomas More Catholic Primary School.
Special thanks to his dedicated caregiver Lacian Rose, Bro. Gus & Sandra Cartwright, Thelma & Elizabeth Lim, Bro. Derek & Judy Eldon, Bro. Cyril & Dianne Knowles, Bro. Billy & Claudia Knowles, Bro. Shane Knowles & family, Sis. Gaitor & family, Dr. Theresa Gonzalez & staff of Montague Medical Centre, & Honorable Dr. Duane Sands.
Relatives and friends may pay their respects at Grace Funeral Home, #36 Rosetta Street, Palmdale, on Thursday (TODAY) from 4:30 p.m. to 6:30 p.m. and on Friday at the Church (in Current, Eleuthera) from 8:00 p.m. until service time on Saturday.