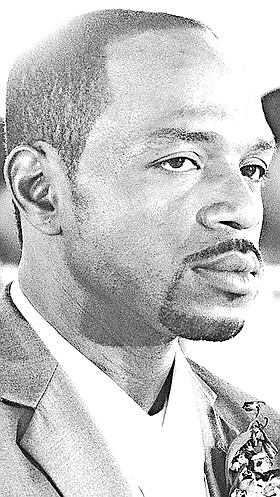 Brad Charlton
unknown - unknown
Funeral Service For
Brad Charlton, 38
of South Beach will be held at 10:00 a.m. Saturday, 28th October, 2017 at Zion South Beach Baptist Church, Zion Boulevard. Officiating will be Bishop B. Wenith Davis assisted by Pastor Charles T. Dorsett and Minister Joe Brown. Interment will follow in the Woodlawn Gardens Cemetery, Soldier Road.
Left to cherish fond memories of him are his Daughter: Bradesha Charlton; Sons: Bradley Charlton, Terrad Charlton, Bradon Charlton, Samuel Charlton and Emmanuel Charlton; Sisters: Samana Charlton-Rolle and Lynette Charlton-Greenslade; Brothers: Lebraun Charlton and Troy Charlton; Brother-In-Law: Tavaughn Rolle; Nieces: Evaughn Rolle, Marley Johnson and Rashawn Clarke; Nephews: Braun Charlton, Earl Francis Jr., Rashad Clarke, Troy Charlton Jr., and Christavio; Aunts: Bernice Charlton, Lottie (Elton) Williamson, Hilda Charlton, Blanche (Frank) Deveaux, Ivy Charlton and Marietta Mckinney; Uncles: Rev. Levi (Sylvia) Charlton, Wellington (Juletta) Charlton and Vincent (Ruth) Charlton; Cousins: Laketah Charlton, Rico Charlton, Gregory Charlton, Charles (Patrice) Charlton, Montressor Charlton, Jacintha Sherrilyn, Katherine, Tonya, Wenderra (Nehemiah), Yannique, Pandora, Shermona McKinney, Thecla, Olga, Adena, Cora, Clyde, Franka, Omar Saunders, Roslyn, Alfreda Gibson, Valerie, Brunell, Reginald, Clyde, Haston, Ronnie, Melva, Zoom, Kevin Charlton, Registered Nurse Melanie Dean, Vynaska Charlton, Vynique Charlton, Winston Charlton, Vincent Charlton, Perez Rolle, Stefan Deveaux, Jamaal Clarke, Shawn Munroe, Jed Munroe, Pedro Rolle, Zalmon Charlton, Perry Charlton, Winston Moss, Keith Moss, Clinton Moss, Sean Moss, Kerrington Moss, Brenton Charlton, Prescola Rolle, Keisha Rolle, Kendra Deveaux, Sherice Munroe, Margo Munroe, Shekera Forbes, Sheldon Gibson, Fred Ramsey, Gerard Ramsey, Devaughn Stubbs, Nevida Mills, Nia Mills-Bethel, Deangelo Charlton, Carlesa, Sherika, Prescola Rolle, Portia Gibson, Laverne Charlton, Siobhan Johnson, Ingrid Major, Eulean Charlton, Catherine Thompson, Dorinda Humes, Bridgette Ferguson, Barbara Peterson, Bernadette Pratt, Tomico Thompson, Patricia Charlton, Rachel Dean, Deborah Charlton, Pamela Thompson, Hilroy, Thomas, Bradley, Reverend Franklyn Charlton, Dennis Charlton, Quinton Charlton, Nason Charlton, Edwardo Charlton, Michael Charlton, Jefferson Charlton, Jeff Charlton Jr., Brenton Charlton, Virley, Arthur Davis and Walter; Other Relatives and Friends including: Takisa Bethel and Family, Danielle Miller and Family, Danielle Miller and Family, Clement Pienson and Family, Terrell Colebrooke and Family, Vanessa Rolle and Family, Mack, McDonald Rolle and Family, The Taylor Family, Kenny Major, Lathario Kelly, Lynden Evans and Family, Nigel and Portia Curry, Racardo Hanna, Joey, Sunrise Roofing Cree Company, Bishop B. Wenith Davis Senior Pastor and the Zion South Beach Baptist Church Family and a host of other relatives and friends too numerous to mention.
Friends may pay their respects at Newbold Brothers Chapel, Palmetto Avenue and Acklins Street on Friday 27th October from 10:00 a.m. to 6:00 p.m., at the church on Saturday 28th October from 9:00 a.m. until service time.