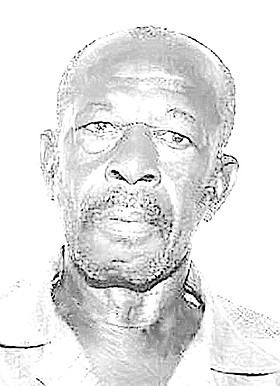 Austin Harold Brown
unknown - unknown
Funeral Service For
Mr. Austin Harold Brown, 78
formerly of Green Castle will be held on Saturday, October 28th 2017, 10am at Christ The King Anglican Church, Ridgeland Park. Officiating will be Fr. Bradley Miller. Interment will follow in the Southern Cemetery, Spikenard Road.
Pre-deceased by Wife: Doral Brown (Nee Sweeting); Sons: Alfred & Lester Brown.
Left to mourn and cherish his dear memories are his Sons: Royal Bahamas Police Force Corp 1605 Patrick Brown, Harold & Buster Brown; Daughters: Dellareese Brown, Theresa Rolle, Florease Lewis, Merice, Shellrease (TJ), Grace & Kizzy Brown; Brothers: Garnet, Carol & Neville Brown; Sister: Leona Whylly; Aunts: Violet Brown, Agnes Mackey, Margaret Strachan; Grandchildren: Valisha (Jonel) Munroe, Carlisha (Ronnie) Bouie, Carl Johnson, Carltessa (Tevin) Gordon, Darenique, Latecia Johnson, Shareka, Patrick Jr., Mia, Malaysia Brown, Terrold (Kenya) Rolle, Makeda (Dion) Sands, Marco, Marcus, Marvin Rolle, Kenshanique McKenzie, Sharika Lewis, Edward (Crystal) Lewis, Edenlynn (Valentino) Munnings, Olivia (Narron) Rolle, Tyeashia, Tiasha Lewis, Emily, Christina, Shanice, DJ, Antonio Brown, Tija, Tamara Sawyer, Rickeya, Charles, Ricardo, Rickain, Akeem, Acoya Johnson, Lesteria, Lestika, Leschika; Bethany Brown, Nadia, Renaldo, Shavago Young, ShamekaPennerman, Jubilee Rogers, Janazio and AmelioDorsette; Great Grandchildren: Joanna, Jaedah Munroe, Terrold, Terrence, Theo Rolle; Chris-leahAdderly, Dontae, Destine, Dynasty, Dion Bouie,Christiano Knowles, Lorenzo, Dyana Sands, Delvinique, DeleciaBoothe, Shaquay Martin, Shaquon Bethel, Xavier Seymour, Lyric Aranha, Anastasia, Valentino Munnings, Edward, Ezio, Amias Lewis, Nashon Rolle, Sandrika Major, Joshua, Isaac, Jacob Moxey, Taneyo Ferguson, Raniah Smith, Marcus Rolle, AhriahAmedu, Laneka, Delano, Daneko, Brianna, Alana Seymour, Anayzia, Jordan Johnson, Jesse Lebron, Renaldo Young Jr, Ricardo Jr, Riliyah; Maliyah Johnson, Princess Johnson, Marvinique Rolle; Great great grandchildren: DeMearBoothe; Nieces/Nephews: Paulette, Clarice, Sherene, Laticia, Ranae, Tasha Whylly, Stephanie Smith, Shelrene Williams, Doreen Wright, Teva, Marsha, Garnetta Brown. Sophie Hart, Cathy, Janny, Maxine, Makeva, Shanda, Claire, Vell, Natasha, Lavelle, Bunny, Sonia, Shavante& Julianna. Tyrone, Ryan, Edroy, Kirby, Andy, Bob, Garron, Peter, Joel, Vedley, Dean, Wilton Hart, Vone, Roscoe, Julian & Sheldon; Sons-in-Law: Edward Lewis, Trevor Sawyer; Daughters-in-Law: Petula Brown, Christine Scavalla; Brothers-in-Law: NapoleonWhylly; Other Relatives and Friends: Angela Thompson, Leona Minnis, Curleve, Betsy, Francine, Wendy, Delvera. Yvette, Hazel, Allison, Linda, Cathy, Carolynn, Donna, Vera, Delroy, Vilton, Fuller, The Richards Family, The Brown Family, The Whylly Family, The Mackey Family, The Moley Family, The Butler Family, The Wright Family, Wendy Rose and Family, Mrs. Ruby and Tradewinds Family, The Miller Family, Melvin Sweeting and Family, Joseph Sweeting and Family, Hank Sweeting and Family, James Sweeting and Family and the entire Sweeting Family, Martha Bridgewater and Family, Ronnie Wallace and Family, Judy McCormick and Family, The Sands Family, the entire Community of Green Castle, Eleuthera, former Bahamas Princess Golf Course Family, and numerous other relatives and friends; Special thanks to: Princess Margaret Hospital, Rand Memorial Hospital, Hawksbill Clinic and Rock Sound Clinic.
The body will repose at the Chapel of the Saints Sweeting's Colonial Mortuary and Crematorium, #84 Blue Hill Road from 10.00 am on Friday until 6:00pm and on Saturday from 9:00 am at the church until service time.