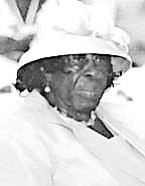 Vernetta "Sister, Mother" Ward
unknown - unknown
Funeral Service For
Matriarch Vernetta, "Sister, Mother" Ward, 89
affectionately called "VAL"
of James Cistern, Eleuthera, will be held on Saturday, October 21st, 2017 at 11:00 a.m. at Wesley Methodist Church, James Cistern, Eleuthera. Officiating will be Reverend Dr. Philip Stubbs; assisted by other Minister of the Gospel. Interment will follow in James Cistern Public Cemetary.
Left to cherish her fond memories are Her: 2 Daughters: Rosemary & Leona Johnson; 5 Sons: James, Sherman, Dudley, Jerry and Audley Ward; Brother: Rodney Pinder, Sr.; Sisters: Mary Helen Robinson, Harriet Pinder, Beverly Roberts; Daughters-In-Law: Frizzie, Maryanne, Vivianne, Carolyn & Suzette Ward; Sons-In-Law: Israel, Henry and George Johnson; Step Daughters: Betty Rolle, Donna George; Step Sons-In-Law: Livingston Rolle, Sr.; Adopted Daughters: Renae Sands, Ingrid Whyte, Lydia Bowles & Wendy Ambrose, Adrianne Smith; Adopted Son-In-Law: Wilshire Sands, Don Ambrose; Sisters-In-Law: Hortense & Sharon Pinder; Grand Children: Glenda & Romell Ingraham, Pastors Clarice & Orlando Thompson, Terrence & Maria Johnson, Lavardo Johnson, Ethlyn Young, Pastors Aretha & Keith Sands, Julius and Latoya Johnson, Kenny, Roscoe and Lamono Johnson, Nurse Malinda, Horatio, Lanza Sherika, Nioka and Nioshe Ward, Detective Inspector Shekiel Riley, Shandia Ward, Latoya & Carvardo Bowe, Latheria and Lachester Ward, Jackie, Jessica, Lisa, Jed, Laron, Latavio, Janell, Olympia, Laniqua, Latavia, Dashia, Susan and Ketra Ward, Audley Ward, Jr., Daron, Teko, Sheranta, Alphanique and Sheniqua Johnson, Lazavia & Devaughn Johnson, Eric Ward; Great Grand Children: Branishka & Romeo Rolle, Glenard & Christian Brice, Denario & Nurse Rashan Hudson, Hadassah Thompson, Jaden, Akesha, Akela, Anishka, Terrence, Jr. Terese, Maria, Jameeka, Teasha, Teanna, Trameiko & Tekel Johnson, Caroline & Toyin Forbes, Brian & Francita Young, Brieth & Akeem Taylor, Keo & Tores, Keith, Jr. & Vanilla Sands, Keithra, Keno & Melissa Sands, Kadecia, Naja, Itacio, Amary, Ryan, Adam, Ahaia, Elrad, Jaron, Annya & Dwayne, Ceria, Lasean & Lashay Ward, T'ajah Missick, Bereeya Rolle, Teka, Daronique & Daronice Johnson, Mable, Tamia, Olet Ward, Jude & Judlet Rahming, Sierra Rahming, Ladan, Shamar Shakia, D'Han, Ashia, Ciaria, Chase, David, Nathalie, Anthonia, Adaisa, A'sia And Amiah Riley, Juliana and Julius Johnson, Jr, Robin and Roscoe Johnson, Jr., LaMarion, Makahla & Lamomo Johnson Jr., Keio Young, Jr.,Great Great Grand Children: Roman Russell, Ahmad Sands, Nathan Rolle, Amari Rolle, Jameka Rolle, Kendal, Jr., Victorious Gierzwerski, Keion, D'jah Sands, Sharye Rolle, Kai Dolce, Rolissa, Rolysia, Arianna, Courtney, Kaley, Keion; Step Grand Children: Fitzroy, Lemuel & Hanna George, Samona Knowles, Lekeisha, Marjorie, Odelia, Livingston, Jr., & Khan Rolle, Latifa & Lamia Nixon; Adopted Grand Children: Rashae & Wilshire Sands, Jr., Averil, Lisa Rolle, Tarvin, Vanthon, & Don Ambrose, Jr. Nieces: Rose, Pauline Bethel, Maxine Gaitor, Sophia Pinder, Pauline Fernander, Debbie, Lisa, Leona, Judy, Angela Farrington, Sherry, Shirley, Olive, Corporal 2447 Valerie Brown, Elizabeth, Miranda Smith, Patty Minnis, Melissa Roberts, Lyn Gaitor, Lachedra Cadet, Sherline Pinder, Geraldine, Priscilla & Alphemia Johnson, Jennymae, Yvonne, Bernadette Robinson, Tanya, Monique & Shenique Pinder; Nephews: Michael, Harry, Charles, Nakita, Freddie Pinder, Jr. Cecil, Ivan, Kirkland, Marvin, Marcus, Otis Aaron, Rodney Pinder, Jr., Pedro, Cornel, Dencil, Ricardo, Mathew, Pedro, Shellunno, Clyde Pinder, Richard & Tony Robinson, Eustace Roberts, Tyrone & Rev. Benson Johnson, McNeil Johnson, Emmanuel, Edmund Bethel, Tommy Smith, John Gaitor, Barry Cadet; A host of other Relatives & Friends too numerous to mention.
Viewing will be held at Freedom To Paradise Funeral Home on from Friday from 10:00a.m. -5:00p.m. and at the church Friday 8:00 p.m. until service time on Saturday.