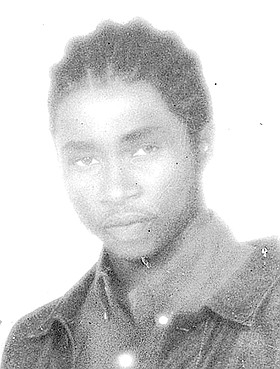 TREVOR ALFRED MOULTRIE
unknown - unknown
FUNERAL SERVICE FOR
TREVOR ALFRED MOULTRIE, 35
a resident of Golden Gates #1, Bamboo Street, will be held on Saturday, October 21st 2017, at 11 am, at International Deliverance Praying Ministries, 2nd Street The Grove, officiating Bishop Prophet Lawrence Rolle, Interment Southern Cemetery, Cowpen & Spikenard Road.
Left to cherish his memories are parents, Judy Ferguson Aristylde & Kermit Moultrie; step-father, Eddy Aristylde; children, Tamecia Tracey Moultrie & Trevor Alfred Moultrie Jr.; sisters, Michaela, Shaniqua, Ashley & WPC#3839 Danielle Moultrie; brother, Kristen Moultrie; nieces, Nevaeh, Brianna, Myriah & Devin McDonald; nephews, Brandon & Elvano; step-sister, Chellandy Aristylde; step-brother, Andy Aristylde; aunts, Virginia Cartwright, Carolyn Ferguson, Ingrid Moultrie Moncur, Sharon Ferguson & Stephanie Moultrie; uncles, Donahue Lightbourne, Ken Flowers, Keith Ferguson, Alvin Ferguson, Richard Ferguson & Franklyn Andre Moultrie; grand-aunt, Olivia Tucker; grand-uncle, Patrick Wright; cousins, Cancino, Corey, Nardino, Kenton, Kendrick Flowers, Everette, Perez, Kalie, Stormy, Omar, Tyler, Candice, Clayton Jr., Keisha, Ricardo Sr., Tanya Glinton, Daron, Tina, Dwight, Sgt 230 Eric Ellis, Sophia, Reshanda, Angela, Joanna, Patrick Jr., Richard, Delon & Daneka Moultrie, Keshawn, Melika & Dewson Moultrie, Ashnell, Shelice, Alyssa, Darrien, Thera, RJ, Ricardo, Richard, Alexandria, Cedric, Brittany, Brynae, Keshlia Moncur Milton, Nasiya Ferguson Rolle, Mario, George, Stephan Moncur, Akeem Ferguson, Stephanel Stubbs, Andrea Moultrie, Nioshie Moultrie, Petitjean, Sherice Moss, Alma, Shenique McIntosh, Dereka Moultrie, Dowson Moultrie, D'angelo, Devardo, William, Justin, Ricardo, Ian, Jermaine, Hubert Stubbs, Clint Moss, Kandyce Moss Moultrie, Roscoe Rolle Jr., Kesare' Rolle, Secarl Milton, Krystal Moultrie, Shona Nixon & Mavis Humes, other relatives & friends, Deloras Springfield, Gloria & Gary Cooper, Franklyn, Randy, Rodger, Emily & Dennis Hanna, International Deliverance Praying Ministries Members & Visitors, Singing Bishop Prophet Lawrence Rolle, Rev. Macarla Rolle & family, Apostle Wallace & family, Prophetess Wendy & family, Apostle Williams, Tamara & family, Valdeze & family, Frito & family, Frantz & family ,Strantz & family of Miami Florida, Josephine & family, Max & Shcelly & family, Larisca of Haiti, Mr. & Mrs. Harrison Petty of Colony Club Inn & Suits, Management & Staff of The Colony Club Inn & Suits, Mr. Jamal & Shirley & family, Viola & family, Mr. & Mrs. Harris & family, Christine & family, Mr. Moss & family, Mrs. Poitier & Corey & family, Erica & Ritchie & family, Golden Gates #1 Community, David & family, Member of Parliament Golden Gates #1 Micheal A. Foulkes, Micheal Miller & family, Rudy & family, Astrid & Carlton & family, Ms Glo & family, Atlantis Royal Towers.
Relatives & friends may pay there last respects at Riverside Funeral Chapel Market Street & Bimini Avenue on Friday from 10am until 5 pm & at church on Saturday from 9:30 am until service time.