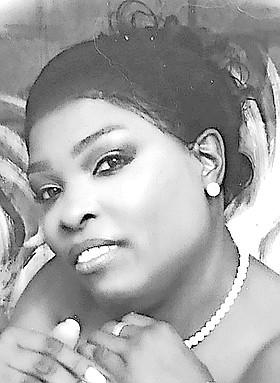 RAQUEL MICHELLE HUMES
unknown - unknown
Funeral Service For
RAQUEL MICHELLE HUMES, 47
of Ferguson Road off West Bay Street, will be held on Saturday, October 21st, 2017 at 10:00 a.m. at Christ Community Church, Bellot Road. Officiating will be Dr. Deanza Cunningham. Interment will follow in Woodlawn Gardens, Soldier Road.
Cherished and fond memories will be forever etched in the minds of her son: Ricardo Richardson; daughter: Rickeia Richardson; mother: Magnolia Moxey; grandfather: Levonne Moxey; brothers: Emile Humes, Veneve Moxey, Roston Elliott, Mark Humes; sisters: Roslyn Moxey and Angelica Humes; aunts: Brenda, Stavia, Karen, Yvonne (David Taylor), Arnette, Marva, Dale, Iva, Joy, Colleen, Patricia Coakley, Pamela Thompson, Creola Taylor, Rozelda Humes, Heather Humes of Vero Beach, Florida, Preydell Humes-Gayle, Marsha Duncanson and Mitzi Johnson; uncles: Sonny, Compton, Edgar, Calvin, Maurice, Drexel, Dominique, Charles, Dwain (Karen), Maverick, Andre, Ricky Moxey, Fred McKinney of Cat Cay, Wellington and Robert Humes, Reginald Humes of Freeport, Grand Bahama; great grandaunt: Agnes Gilbert; nieces: Kendra, Kaylisia, K'sharla, Kendesha Humes, and Julia Sands; nephews: Brunaro, Kevon, Cecil, Brian, Kevin, Deon, Roberto, Kenney, Veneve Jr. and Oneil; sisters-in-law: Lashata Moxey, Jennifer Humes; godchild: Carvia Brown; numerous cousins including: La'vonne Neely, Vanair, Brenric and Byron Knowles, Dwan Archer and Dwayna Farquharson, Kadren Carey, Dedree, D'Enda and Dion Money, Charlico, Brenda, Stacy, Davina, Ukee Money and Lauren Munnings; other relatives and friends including: Javon Taylor, Jermaine Gibson, Beverly Thompson, Karen, Samantha Bethel, Rochelle Lafleur, Kaylisa Bodie and Family, Deborah Anderson, Charde' and Chea Bethell, Nicholas, the Atlantis Laundry Crew, Perpall Tract residents, Deanza Cunningham and Family, Christ Community Church Family, Transfiguration Baptist Church Family, Johnny Canoe, Margueritte Burrows and Family and many other relatives and friends too numerous to mention. We apologize to those who were inadvertently left out, as it was not intentional.
Viewing will be held in the Irenic Suite at Restview Memorial Mortuary and Crematorium Ltd., Robinson and Soldier Road on Friday from 10:00 a.m. to 6:00 p.m. and at the church on Saturday from 8:30 a.m. until service time.