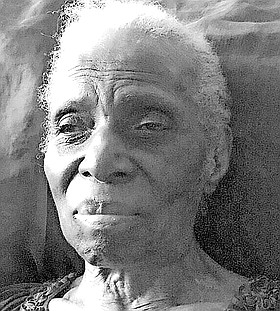 Priscilla Gwendolyn Jane Rolle
unknown - unknown
Funeral Service For
Priscilla Gwendolyn Jane Rolle
née Ferguson, 83

of Highbury Park, who died at the Princess Margaret Hospital on Saturday, October 7th, 2017, will be held at Church of God of Prophecy Life Transformation Centre, Shirley Street, on Saturday, October 21st, 2017 at 1:00 p.m. Officiating will be Pastor Dale Moss, assisted by Pastor T. Basil Sturrup, and Reverend Dr. Randford Patterson. Interment will follow in Old Trail Cemetery, Old Trail Road.
She is predeceased by her husband, Cleveland Rolle; her son, Vernon Rolle and grandchildren, Monqiue, Vernon Robert and Rico Rolle.
She is survived by her Children, Rosemae, Clifford (Shelly), Anthony (Kartis), Cleveland (Kimberly), Joseph (Peaches) Rolle, Lyndell (Kendal) Hanna and Vienda Hargrette; Grandchildren: Beverley Turnquest, Patrick Kelly, Denard and Bradley Davis, Shantell Bullard, Travis, Maritha 'Rissa', Chante, Jermaine and Rashad Rolle, Moesha, Fellisha, Brydell and Eugene Hargrette, Keisha, Jason, Shaquille, Jevon, Jesse, Jarriq and Joniqua and Achan, Lakeisha, Donique, Shanria, Shanique and Brianna, Jonathan, Deandra, Hubert, Amy, Kaynesha and Amelia Rolle, Nathalia, Blake, Charlise and Vernique Rolle, Kendeisha Hanna, Anishka Green, D'Angelo, Dicoy, Bria, Brannae, Brayden, Bakari, Bevin, Essenique, Brittany, Ashley, Brashae Rolle and Jaydon Pierre; Great-grandchildren: Duane, Schuyler, Koen, Kamden, Kayt, Caerwyn, Vonya, Nathan, Alexia, Santino, Brianna, Destiny, Johniqua, Hudon, D'Angelo Jr., Adriana, Ameera, Jayton, Jacala, Malachi, Quinton, Jerimiah, Dion, Jamal, Brynia, Garrianna, Jontavious, Jontavia, Angel, Kiki, Rashad Jr, Promise, Isaiah, Travis Ethan, Josiah, Sincere Jamal, Ashantae, Benjamin, Karissa, Kayanna, Kayjsha, and Justinae; Sister: Areline 'Tittie' Collie; Nieces and Nephews: Caroline Joseph, Sherry Morley, Cecile and Anthony Bain, Dr. Janet Patterson-Curtis, Rev. Dr. Enid Capron, Nurse Amelia Collie, Cecil Bain, Kenneth, Charlene, Barbara Delhomme, Prenelle, Suzanne Hanna, Pamela, Ricky, and Kermit Bain Nicola Bain-Wright, Lenora Thompson, Sherelle, Ernie, Kevin, and Jeffrey Rolle, Keith and Angela Williams, Pearl, Sheena, Donald, Livingston, Rudolph Armbrister, Beverley, Kathleen, Ian and Junior; In-Laws: Myrtis Bain, Uelah Armbrister, Rosalie, Eddie, Nemal, Cedrick, Rollin and Butlin Rolle; Friends and other relatives, Miriam Rolle, Cousin Francis, Anya Romer, Saree Ferguson, Rev. Ranford Patterson, Paul Collie, Granville Gibson, Ricardo Patterson, Kyle-Capron, Koarderd Capron, Katherine Capron-Taylor, Kendallyn Capron-Jones, Kare Capron-Higalcocer, June Capron and Sister Lawrence. Special thanks to: Pastor Dale and the Shirley Street Church of God of Prophecy family, Sharada Humes, Saree Ferguson, Patricia Bain, Debbie Price, Claudette, Charmaine Burrows, Kevin Harris and Grace Funeral Home.
Relatives and friends may pay their last respects at Grace Funeral Home, #36 Rosetta Street, Palmdale, on Friday from 10:00 a.m. to 6:00 p.m. and on Saturday at the Church from 12 noon until service time.