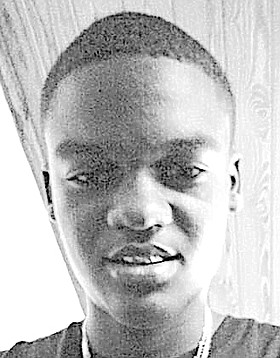 MITCHELL MICHAEL MUNROE SR
unknown - unknown
Funeral Service For
MR. MITCHELL MICHAEL
MUNROE SR., 17
affectionately called "Mitch"
of Fox Hill Road, will be held on Saturday, October 21st, 2017 at 11:00 a.m. at Church of God Bernard Road, Bernard Road. Officiating will be Rev. Daniel Hall, assisted by Rev. Pascal Saunders. Interment will follow in Fox Hill Cemetery, Fox Hill Road.
The memories of this champion, fighter and warrior will live on in the hearts of his Mother: Calliope Munroe (Eugene Strachan); Father: Michael Munroe Sr.; Son: Mitchell Munroe Jr; Sisters: Micelle and Rosalie Munroe, Shanice Neely and Omicka McKinney (Tamiko McKinney); Brothers: Michael Munroe Jr., Eugene and Enrico Strachan; Niece and Nephews: Aniyah, Noel and Arnold Turnquest; Grandmother: Renae Neely; Aunts: Joan Colebrooke, Paula Sands (Errington), Vernencha Ferguson, Sheryl Clarke, Agatha and Carolyn Munroe, Ertha Knowles (Wayne), Anthea Lewis (Henry), Vanda Ferette (Paul); Great Grand Aunt: Mildred Neely; Grand Aunts: Sylvia Edgecombe, Annis Deveaux, Daisy Cartwright and Cathy Parker; Uncles: Burton Cleare (Vonita), Floyd Cleare, Abner Prosper, Dedrick Rahming (Georgette), Dr. Derek Cleare (Donnalee), Mitchell Munroe Sr. (Madge), John Wesley Neely (Stacey), James Neely (Bridgette), Dale Neely, Gregory Rahming (Karen), Limon and Renald Neely; Cousins: Algernon, Donovan, Algeria and Angel Colebrook, Westishia Deveaux (Kendal Jr), Donniesha Fox, Johnette, Johnathan and John Neely Jr., Lynricia and Dale Neely Jr., Jameicka and James Neely, Erinique and Errington Sands Jr., Valdez, Valduron, Valrico, Dwayne Jr., Laquelle, Lindera and Dericka Cleare, Edrian and Edrin, Waynette and Shalton Rahming, Mevert Clarke, Melinda Scriven, Aramel, Britteny, Gyasi and Gavin Lewis, Drayton Knowles, Derrileen and Shannondoah Sturrup, Ariel Ferette, Thomeya and Thomara McKinney, Michalene, Mitchell Jr., Cynthia, Michael and Yasheka Munroe, Raychelle Higgs, Shaquille Bodie, Elijah Adderley, Ricardo Moss, Nikesha Forbes, Sierra and Alenna Rahming, Florinda Francis, Randell Johnson, Carol Edgecombe, Cleopatra Edgecombe, Roxzell Colebrook, Kaiden Deveaux and Noah Neely, Karter Neely, Greg Jr., Azaria and Brianna Rahming; Close Friends: Dominiqua Bethel, Lajio, Freddy, Thriffeon, Cardo and Lynden; Other relatives and friends: Miriam Roker, the entire Rolle, Roberts, Johnson, Bodie and Marshall Families, Johnson Road Community, Management and staff of Super Value; Winton Meadows, Church of God Bernard Road Family, Pastor Chadwick James, Albert Rahming and Family, Charles Saunders Class of 2017 and Doris Johnson Class of 2017, Joan Greene, Tamara, Akeim, Senator Fred Mitchell, Honorable Shonnell Ferguson, M.P for Fox Hill and the entire Fox Hill Community. We do apologize in advance if we inadvertently omitted anyone's name.
Viewing will be held in the Celestial Suite at Restview Memorial Mortuary and Crematorium Ltd., Robinson and Soldier Roads on Friday from 10:00 a.m. to 6:00 p.m. and at the church on Saturday from 9:30 a.m. until service time.