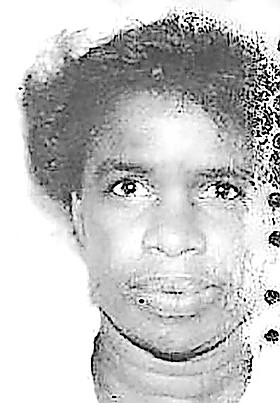 Miriam Dorothy Dean
unknown - unknown
Funeral Service For
Matriarch Miriam Dorothy Dean, 76
of South Beach will be held TODAY,
Thursday, 19th October, 2017 at 10:00am at St. Francis Xavier Cathedral, West Street. Officiating will be Father Glen Nixon.
Mrs. Miriam Dean nee Taylor was the seventh of eleven children born to Fred and Elizabeth Taylor (both deceased), of Wilkinson Street, Nassau, N.P., The Bahamas. Miriam had a Catholic upbringing and acquired a pleasant quiet nature, and was very reserved. From a young age she had a keen interest in academic teaching. She fulfilled this desire at the tender age of 16 years old when she became a school teacher at St. Francis Catholic School. After a few years Miriam went on to work as a Switch Board Operator at Telecoms (Batelco today). Years of experience and training at the company afforded her a position at the Bank of Nova Scotia, Main Branch. Miriam worked at this establishment for 32 years, until her retirement in 2001. But of all Miriam's accomplishments the most important was achieved in 1972. It was at this time when under the spiritual mentorship of close friends, Brother and Sister Brown, that Miriam began a Christian missionary journey. Over the years she freely, willfully and forcefully lifted up the name of the Lord, and encouraged others to do the same. She impacted many lives through Christian Ministry and Evangelism, both locally and abroad. She particularly worked as a Marriage Counselor, and an Ordained Minister of the Gospel. One of Miriam's proudest moments was when her spiritual influence led her beloved husband to accept the Lord. He did and went on to be with the Lord three years later in 1996. On September 29th, 2017 Miriam also went on to be with the Lord, ending her earthly missionary journey. May her soul rest in peace. Special thanks to all those who supported the efforts of Mrs. Miriam Dean in any way, particularly during her later years; especially Bishop Ross & Althea Davis, Father Glen Nixon & St. Francis Xavier Cathedral, Calvary Deliverance Family including Bishop V. G. Clarke & Minister Beverley Clarke, Pastor James & Sister Queenie Newry, Sister Cynthia Brown, Sister Nikita Ferguson, Sister Andrea Wood, Sister Ismae Deveaux, Brother Henry Whyms & Wemco Security Family, Mother Virgil Knowles, Mother Barbara Williams, Mr. & Mrs. Lester Small, Deidre Butler, Patsy Anderson, The Scotia Bank Colleagues, Ms. Mildred Hamilton, Ms. Jackie Wilson, Ms. Naomi Moss, Ms. Jennie Mae Humes, Ms. Deloris Humes, Johnimae, Mrs. Dorothy & Mr. Othniel, Mrs. Lee Watson, Mrs. Tressie, Mrs. Diane Coverley, Ms. Rebecca Rolle, The Yellow Elder Family, The Bain Town Family including Mr. Gerard Dean Towing Company, Ms. Cyprianna, Ms. Cody & Family, Mr. Terry Delancy, Mr. & Mrs. Ted Rahming & Family, Mrs. Blanche Roberts & Family, Mrs. Telma Hanna & Family, The Descendants of the Late Mr. Gus Pearson of Acklins including Audley Pearson, Dorcas Rhinheart & Franklyn, Ms. Veronica Brown & Family, Female Medical II, P.M.H. E.M.S A&E Material Management, Social Services, South Beach Community, Nurses, & the South Beach Community Clinic, The Descendants of The Late Willie and Millie Dean and all their families. We graciously thank you from the bottom of our hearts. Your kindness is greatly appreciated.
Joyann Marie Dean - Daughter
Sister Gloria Sears - Special Niece
(Both Caregivers)