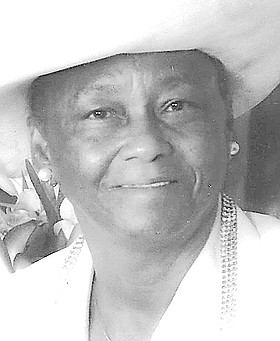 MARGARET LORETTA McCARDY
unknown - unknown
FUNERAL SERVICE FOR
MARGARET LORETTA McCARDY, 79
of Albatross, Stapledon Gardens and formerly of Roses, Long Island, who died on Thursday, October 12th 2017, will be held on Saturday at 11 a.m. at Grace Community Church, Palmetto Village. Officiating will be Sr. Pastor Lyall Bethel, assisted by Sr. Pastor Emeritus Rex Major, Associate Pastor Leroy Hanna, Elder Cyril Peet and Elder Greg Williams. Interment will follow in Woodlawn Gardens, Soldier Road.
She is survived by her Children & In-Laws: Cardinal & Hope McCardy, Alton McCardy, Larry & Patrisha McCardy and Denise & Earl Beneby; Sister: Edna Darville; Brother & Sister-In-Law: Alfred & Nancy Darville; Brother-In-Law: Harrod Turnquest; Sisters-In-Law: Annie Mae & Diannah Darville; Grandchildren: Onyino & Verenique McCardy, Detrice McCardy, Lori & Jerry Joseph, Kristi & Wendell Collie, Rashad McCardy, Letitzia & Aldo Gutierrez, Nicole & Adria McCardy, Laryssa McCardy, Justin, Jasmine & Jewel Beneby; Great Grandchildren: Navardo & Jada McCardy, Jazelle Joseph, Tae Sands, Mercedez, Matteo & Marcello Gutierrez, James & Gabriel Collie; Numerous Nieces & Nephews including: Arthnell (Arkee) Dean, Eric, Derek & Sandra Darville, Emmaline Russell, Yvette Evans, Yvonne Smith, Joneth Edden, Synobia Smith, James Watson, Talbot, Anthony & Emmanuel Forbes, George Johnson, Charles, Paul, Danny & John McCardy, Janet & Theresa Burrows, Rosena Sands, Valerie Fernander, Ursula Evans, Basil, Nigel & Perry McHardy, Rose Heastie, Marjorie Green, Sheila Capron, Douglas, Audley, Jason, Velma, Esther, Barbara & Karen Turnquest, Aspacia Fox, Catherine Storr, Cecil & Robert Bowe and Eula & Ezra Dean; And a host of other Relatives and Friends including: Mack & Margaret McCarthney, Joe McCarthy, Dorothy Hunter-Bowen, Alice Johnson, Inez Cooper, Dr. Steve & Faith Lochan, Dawn Arnold, Thelma Burrows, Dr. Coralee Kelly, Hubert J. Storr, Albert & Nettie Cartwright, Mr. & Mrs. George Cartwright, Rev. Alfred & Jackie Stuart, George & Carolyn Rodgers, Philip & Anita Beneby, Kim Bodie, Coral Duncombe, Cynthia Johnson, Bishop Hulan Hanna, Bishop Woodley Thompson, The East Street Church of God of Prophecy Family, George & Damaris Thompson, the Families of Simon, Benjamin, Glen, Gordon and Edbert Beneby, Alcaino Burrows, Joanne Tillotta, the Seabreeze, Palmetto Point & Governor's Harbour communities including the Burrows & McCardy families. Special Thanks to Caregiver Collette Diaz, the doctors, nurses and staff of PMH including Dr. Gaye Knowles, and Grace Community Church.
Friends may pay their last respects at East Sunrise Mortuary, Baillou Hill Road & Cordeaux Avenue from 12 noon to 6 p.m. on Friday and again on Saturday from 10 a.m. at the church until service time.