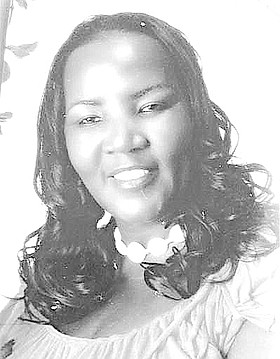 Joan Ulease Miller
unknown - unknown

Funeral Service For
Joan Ulease Miller, 56
of Dundas Town, Abaco will be held on Sunday, October 22nd, 2017 at Marsh Harbour Seventh-day Adventist Church Abaco, The Bahamas at 12:00 noon. Officiating will be Pastor Wilson Isnord assisted by Elder Hamfreth Rahming and Elder Emmitt Bootle. Interment will follow in the Murphy Town Public Cemetery.
Left to cherish her memories are her children: two sons Delmon Parker and Nathaneal Hall; three daughters: Shawon Green, Alicia Parker and Lanetra Miller; son-in-law: Marvin Green; Brothers: Danny and Lambert Miller, Kendal Kemp and Robert Burrows; brother-in-law: Darren Russell; Two sisters: Sharon Russell and Monaleata Knowles; sisters-in-law: Deborah Miller, Coresa Kemp, Bernice Burrows and Florence Miller; Nine grandchildren: Maureece, Myles, Marquez and Malaysia Green, Deante Hield (Deceased), Shamia Hield, Arron Williams, Alexis Parker and Ariel Thompson; Uncle: Leland Dawkins; Aunts: Maria Wallace and Gertrude Dawkins; Nieces: Yvette Mitchell, Dannyca, Danielle and Veronica Miller, Kendera, Cherise and Shania Kemp, Sharonique Russell, Shante, Aleah and Savannah Burrows, Cardesha Wright, Tamia Cornish, Ashante Lundy and Brittania Mitchell; Nephews: Rashad and Brandon Burrows, Darryl Russell, Lavargo Bootle, Devonte Lotmore, Xavier Oliver and Giovanni Wright (Deceased), Atario, Jerome, Khemron and Tyrone Mitchell; First Cousins: Lenny, Troy, Pete, Magaret, Patriece, Patricia, Eulease, Sheryl and Julie; Sharman, Kelly, and Gail, Alvin, Randy, Larry, Brian, Sandra, Roselyn, Ethlyn, Tamara and Terry, John and Matthew Dawkins; Numerous other relatives and friends including: Dorothy Dean and Sonamae Davis of Moores Island; cousin: Nadine Feaster, Wellington "Ole Joe" Davis, Milo Knowles, Hiram and Savina Major, Edith Brown, Bethany Gospel Chapel Family, Denise Wallace, Wentley Reckley, Hamfreth and Elaine Rahming, Lueann Thompson, Christopher Hall, Ena Swain, Latara Laing, Tanya Farrington, Sharmaine, Grenay, Keva McKinney, Taniesha Gelin and Pleasant Dawkins. Pastor Patrick Tyril & Family and Pastor Wilson Isnord & Family, the Marsh Harbour Seventh Day Adventist Church and the community of Murphy Town; Special thanks to: Doctor Swarna, Latoya Campbell and Sabrina Laing (ICU), Brenda Johnson, Memos Parker, Andra Major and Clara Dorsett (PMH), and all who pray for and called during her sickness.
Relatives and friends may pay their last respects at Evergreen Mortuary located on Queen Elizabeth Drive, Marsh Harbour, Abaco on Friday from 11:00 a.m. – 6:00 p.m. and on Saturday from 11:00 a.m. – 2:00 p.m. and again at the church from 11:00 a.m. until service time.