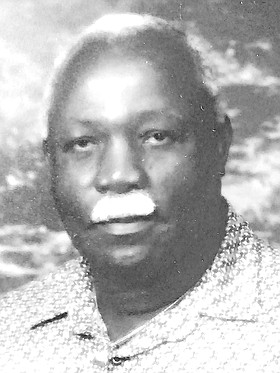 HUBERT LUTTON PETERSON
unknown - unknown
Semi-Military Funeral Service for
Retried Prison Officer Cpl.
HUBERT LUTTON PETERSON, 72
of #24 Gleniston Ave., will be held on Friday, October 20th, 2017 at 11:00 a.m. at St. Margaret's Anglican Church, Kemp Road. Officiating will be Rev. Fr. Oswald Pinder, assisted by other Clergy. Interment will follow in Woodlawn Gardens, Soldier Road.
Left to cherish his memories are his loving and devoted wife: Sylvia Brown Peterson; 2 sons: Ernest and Randy Peterson; grandchildren: Shanique, Ivan Jr., Randeisha, Randia, Alissa & Ashlyn Peterson; adopted grandchildren: Ian Johnson, Flavio & Megan, Nellie, Keisha, Kevina & K'nadia; 4 sisters: Helen Forbes, Dorothy Rahming (Cleo), Mildred Mullings (Billy), Yvette Dean (Edward); 1 brother: Henry L. Rolle (Sharon); sisters-in-law: Dorothy Page (William) of Atlanta, GA & Stephanie Johnson (Linville) of Coral Springs, Florida; brother-in-law: Vernal Brown (Carol); uncle: Adam Munroe; aunt: Maxine Munroe; daughters-in-law: Michelle Peterson, Antionette Minnis Peterson & Nethree Peterson; nieces: Loretta Culmer, Deborah Johnson (Burlin), Albertha Knowles, Monique Brice, Tamika Ingraham, Nicola Davis (Shaaron), Chaunte Toote, Sharika Russell (Ryan), Eddyka Dean, Davania Dean, Dané Dean, Loretta Peterson, Amanda Johnson, Karissa Johnson of Washington DC, Carla & Hortence Rolle, Donnette Moxey; nephews: Tyrone & Dion Forbes, Kevin Brice, Ichiro Rahming, Hilary Jr., O'ryan & Tamaz Peterson, William Page Jr. of Atlanta GA, Linville Johnson Jr., Donald, Henry Jr., Marvin, Onan & Christopher Rolle; numerous grandnieces & grandnephews; other relatives & friends including: Arthur & Monica Brown & Family, Arlington Moss & Family, Ethelmae Moss & Family, Dellie Collie & Family, Leanna Colle & Family, Dorena Smith & Family, Maria (Mimi) Sands & Family, Enid Stuart & Family, George & Maud Sturrup & Family, Elvy Smith & Family, Caffine Jacques & Family, Rose Richardson & Family, Eva Hilton & Family, Maggie Moss & Family, Naomi Claridge & Family, Ruby Graham & Family, Rosemary Bain & Family, Hannah Gray & Family, The Godet Family, Reubin, Randy, Marilyn & Angie McFall, Bishop Orville Peterson of Vero Beach, Florida, Antionette Bethel & Family, Mr. & Mrs. Derek Edwards & Family, Shervin & Tamara Evans & Family, Andrea Seymour & Family, Jelton Johnson & Family, Carl & Francina Johnson & Family of Miami, Florida, Olive & Bernard Lundy, Carlton & Irene Martin, Lionel & Rose Martin of Grand Bahama, Zerlene Lowe & Family, Ms. Brenda Duvalier and Family, Father Oswald Pinder & Family, Father Ronald Hamilton & Family, St. Margaret's Anglican Church ACM & ACW groups, Members of St. Margaret's Anglican Church, Staff of Cakes by Adam, The Rolle's Avenue Family, The Mount Rose Avenue Family. We apologize to those who were inadvertently left out, as it was not intentional.
Viewing will be held in the Celestial Suite at Restview Memorial Mortuary and Crematorium Ltd., Robinson and Soldier Road on Thursday (TODAY) from 10:00 a.m. to 6:00 p.m. and at the church on Friday from 9:30 a.m. until service time.