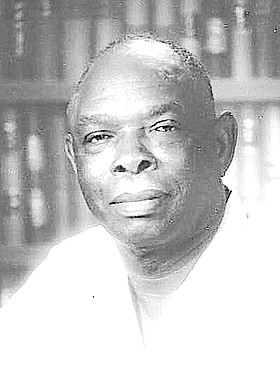 Harold "Papa" Leonard Morris
unknown - unknown
Funeral Service For
Harold Leonard "Papa" Morris, 92
a resident of Curtis Road, Gambier Village, will be held at St. Peter's Native Baptist Church, Gambier Village, on Saturday, October 21, 2017 at 12:00 p.m. Officiating will be Rev. Dr. Sandra Knowles, assisted by other Ministers of the Gospel. Interment follows in St. Peter's Church Cemetery, Gambier Village.
Cherished memories linger in the hearts of his Wife: Maybell Sweeting Wright-Morris; Daughters: Eunice Morris Rolle-Russell, Leanora Morris-Poitier, Ethel Howard, Carolyn Strachan, Rev. Leona Fraser, Theresa & Lahoma Hopkins and Monique Duncan; Sons: Edmund, Alexander and Clifford Wright; Son-in-Law: Stancil Russell of Red Bays, Andros; Sisters-in-law: Flora Morris of Ft. Pierce Florida, Minera Jones, Agnes Bain, Ione, Beverley, Dorothy, Luella, Naomi, and Alice Sweeting, Esther Burger of Freeport, Grand Bahama, and Miriam Taylor; Brothers-in-Law: Supt. Henry Bain, Willis Jones, Anthony, Caleb Jr., Alfred, Lefred, Marvin and Dale Sweeting; Nieces: Eileen Morris of North Carolina; Nephew: Anthony Morris of Niantic Connecticut, Mike Morris of Norfolk Connecticut; Grandchildren: Donnel & George Rolle, Monica & Ted Porter, Sabrina Poitier, Racquel & Dwight Forbes, Cpl. 3741 Grafton Gary Rolle Jr, Jonelle Rolle, Shanika Hopkins, Carrington Schroeter, Kristen Rasmussen, Anja Howard and Azaria Wright; Great grandchildren: Georgiann, George Jr. and Gabrielle Rolle, Tyrese, Talen and Teanna Porter, Cedron Cummings, Travaze Poitier, Cadeshia and Brtittnay McKenzie, Renaldo Swaby, Dathan and Destiny Forbes, Sintano, Ashantay, Jasmine, Ashad, and Gavin Rolle, W.P.C. 3729 Ashley Cooper, Alicia Russell, Janajiah Winder, Wayde Spense, Terrease and Shania Marshall, and Shanika Hopkins; Great, great grand children: Ariko Simmons Jr and Skylar O'Brien; Grand nieces: Timolin Bodie and Merril Morris; Grand nephews: Edward and Insp. Kenrick Morris; God children: Katherina Huyler-Wells, Maxwell Bodie, Geraldine Thurston, Min. Neville Seymour, Deacon Moses Capron, Sheryl Duncombe, Gertrude Micklewhyte and Henry Poitier; Other relatives and friends including: Min. Neville Seymour & Family, Muriel Almonard & Family, Ruthmae Poitier & Family, Dec. Moses & Theresa Capron, Alsida Hanna & Family, Beverley Lee, Jermaine Winder, Valence Frazer Sr., Pastor Julian & Valencia Johnson, Agnes Pinder & Family, James Fernander & Family, Pastor Gladstone & Ruth Thurston, Minister Valencia Huyler, Dr. Rita and Nolan Pratt, Sheba Davis, Sharon Johnson, Nakita & Deborah Poitier, Adlin Thurston & Family, Constance Daniels & Family, Walter Rolle, Estherletta Poitier & Family, Cynthia Albury & Family, John Huyler & Family, Charlotte McPhee & Family, Berthamae Lightbourne & Family, Judy Morris, Arnold, William & Janice Dean, Mike Hopkins & Family, Alexander Fernander, Rodger & Antoinette Miller, George & Charmine, Deacon Antonio & Sophia Mackey, David McPhee, Loren & Valencia Rolle, Gregory & Jen Rolle, Enamae Wright, Laura Rolle, Rev. Dr. Sandra Knowles, St. Peters Native Baptist Church Family, Church of God Family, Mt. Zion Union Baptist Church Family, Management & Staff of Rhoda's Place, The Gambier Community and many other relatives and friends too numerous to mention.
Friends may pay their last respects at Demeritte's Funeral Home, Market Street, from 12-6:00 p.m. on Friday & on Saturday at the church from 11:00 a.m. until service time.