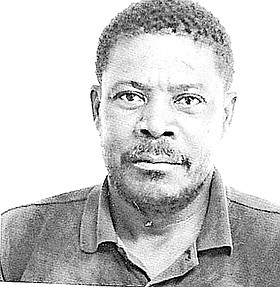 Edmund "Big Back" Bullard
unknown - unknown
Memorial Tribute & Service of Thanksgiving
Edmund "Big Back" Bullard
of Water Street, Big Pond, who died October 4th, 2017, will be held 11:00 a.m. Saturday, October 21st, 2017 at Church Of God Greater Chippingham#19 Eden & Rosebud Street. Bishop Dennis Carl Lafrenier will officiate. Cremation was held.
TO God Be The Glory, Great Things He Has Done!
Left to Mourn Edmunds Passing with loving memories are his Parents: Edwin Bullard and Evamae Bullard; Daughter: Sherrla Bullard Brothers: Edward (Dale) and Edison (Cassandra) Bullard-Blackwell; Sisters: Sharon (Marvin) Lightfoot and Susan-Renee Bullard; Brother-in-law: Michael Saunders Sr.; Nephews: Able Seaman Michael Saunders Jr. R.B.D.F., Perez Lightbourne, Jaleal, McKalin, Nathaniel Lightfoot and Ethan Bullard-Blackwell; Neices: W.P.C. Miashyia Sounders R.B.P.F., Philicit Lightbourne, Edria Bullard, Christy, Neveah Lightfoot, D'Erin Bullard and Dana Malone; Grand Nephews: Rejesner (Malaki) Gray, Ruth (Gorden) Hailemaskel, Ella Curry, Elizabeth Milford, Angela Curry, Christine (David) Hall, Susan (Marvin) Mckenzie, Leroy (Rosanna) Curry, Erik (Sharon) Curry, Tony Curry and Stanley Van-Zalen; Aunts and uncles: Paul Bullard, Rosalee Pennerman, Sheila Pennerman, Carla Sweeting, Harry Pennerman, Vernal Sweeting and Felix Whylly; Adopted Sisters: Delores Frazier, Darnell Roker, Debbie Russell, Sharlene Nesbitt, Ronette Walkins, Tanish Knowles, Nicole and Lisa Bowe; Adopted Aunt: Naomi McIntosh; Other relatives and Friends: Pastor Erskin Wells and Family, Joan Hanna and family, Margo Blackwell and family, Mrs. Iris Davis and family, The Smith Family, Mrs. LueElla Roker-Mackey and family, Mr. Randolph Taylor, Mr. Craig Brown, Clyde Hepburn, Former Senator Mr. Rodney Moncur, the communities of Water street, Big Pond and Black Village.
Funeral arrangements are being handled by THE CHAPEL OF MEMORIES THE NEW COMMONWEALTH FUNERAL HOME INDEPENDENCE DRIVE .