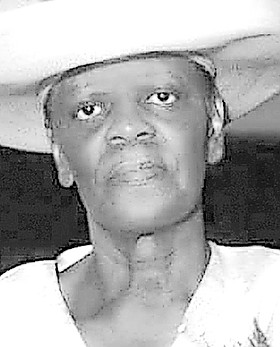 BEATRICE GARDINER
unknown - unknown
FUNERL SERVICE FOR
MINISTER BEATRICE GARDINER, 94
of Sea Breeze Lane, and formerly of Bottle Creek, Turks & Caicos, who died on Saturday, October 14th 2017, will be held on Saturday at 10 a.m. at Church of God of Prophecy, Englerston, East Street & Prophecy Way. Officiating will be Bishop Franklin M. Ferguson, assisted by Bishop Rudolph V. Bowe, Bishop Ghaly Swann and Minister Drexel Gibson. Interment will follow in Woodlawn Gardens, Soldier Road.
She was predeceased by her husband: Minister Obed Gardiner Sr., and Obed Gardiner Jr., & Evelyn Gardiner;
She is survived by her Children & Grandchildren: Elizabeth Gardiner-Keju (Technical Sgt., Jolissa Keju of United States Air Force, Warren Joseph of Japan & Minister Sharalynn Keju of Louisiana); (Cheniqua Gardiner of North Carolina); Roland "Mack" (Paula) Gardiner; (Police R/Const. Marco Thompson & Rolanda Epstein); Albert (Juliette) Gardiner, (Candice Gardiner & Derwaine Reid); Dr. Beulah Gardiner-Farquharson (Kevin Jr., (Stephanie) & Kevonne Farquharson); Bernard (Willemijn van de Klundert) Gardiner (London, England); Lynn (Tyrone) Henderson (Asa & Ariel Henderson) (Dallas, Texas); Magistrate Sandradee Gardiner, Des Gardiner; Police R/ASP Sharon (R/ASP Perry Gardiner-Taylor (Periquo, Darren, Lennia, Perry Jr. & Dan'ar Taylor, & Perrino Rolle,) Great Grandchildren: Carlton (Georgia, USA) & Carltonette Epstein (Arkansas, USA); Warren Jr., "Doo" & San'ren Joseph (Japan), & Marcia Pinder; Sister: Mary-Jean Hepburn; Brothers: Jenkins (Florida), Daniel (Turks & Caicos), Mervin, Bishop Washington, Esau (Florida), Simeon & Calbert Williams (Florida); Sisters-in-Law: Sheila, Iva, Patricia, Wonas (Dar), Marcia, & Patsilee Williams; Delia Hendfield (Atlanta, Georgia) & Catherine Pratt (Turks & Caicos Islands); Brothers-in-Law: Reuben Grant & Manasseh Hepburn; Nephews: Willard (Turks & Caicos) & Michael Williams; Samuel Jr., Flint (Turks & Caicos), & Churton Henfield (Florida); Anthony & Gailey (Indiana) Williams & Quin Gibson (Chicago, Illinois); Reuben Missick (Turks & Caicos), Deanza & Basil Mackey (Florida); Emmanuel, Lynden, Dencil & Barry (Turks & Caicos) Williams; Kenneth Delancy, Edbert, Arlyn & Sheldon Grant; Ryan Hepburn, & Menassah Jr. ; Simeon Jr., Camio Williams (Florida); Brickell Howell, Viola Taylor, Elnina Gray, Rosalee Goddard, Bernice Bullard, Dexter Henfield, Alexander Pratt II, Samuel Gardiner II, Rupert Gardiner; Nieces: Sarah Handfield, & Beatrice Skippings; Dorren, Pearl, & Suzan Williams (Miami, Florida); Bloneva Williams (Washington, D.C.), Nursing Sister Lucina (Annalee) Richards, & Lydia Clarke; Velma Virgil; Edith Missick, Kim Smith, & Dellarese Mackey (Florida); Alice Williams (Turks & Caicos), Patricia Williams & Delia Williams, Barbara Lewis, & Deborah Major, Melicent, Beverley & Stephanie Gibson (Chicago, Illinois); R/Cpl 679 Gayety Robinson; Charmaine Grant; Trenika, & Shalawn Williams (Florida); Rhandrea Fox & Raynelle Hepburn, Calia Williams (Florida); Shemia, & Simecka Williams, & Simehia Major; Hopeful, Shenicka, & Shelena Williams; Sylvia Curtis, Melissa Knowles, Suzette Pinder, Clarabelle Cooper, Yvette Ibrahim, Julie & Andrea Henfield; Forbes Clan: The Late Rosie, Jessie, Esau, Almina, & Ursula Forbes & Families; Williams Clan: The Late George & Samuel Williams, & Leeitha Clyde & Families; Other Relatives & Friends including: Bishop Franklin & Sister Rowena Ferguson, National Overseer of The Church of God of Prophecy, The families of Bishop Joseph M. Swann & Cousin Roslyn Swann, Bishop Rudolph V. Bowe (District Overseer) & Sister Veronica Bowe, Bishop Ghaly & Sister Angela Swann & The Englerston Church of God of Prophecy family, Bishop Nelson & Sister Maud Ferguson, Bishop Cephas Ferguson & Family, Family of the late Bishop Nathaniel Beneby, Pastor Drexel & Sister Betty Gibson, Pastor Paulette Johnson, Pastor Timothy & Sister Deanne Johnson, D. Shane Gibson, & Pastor Jacqueline Gibson & Family, Sister Helen Alleyne-Taylor & Family, Pastor Chesley & Sister Deborah Finley & Family, Pastor Dave & Angie Burrows, and the entire Bahamas Faith Ministries International Ministry, Pastor Eldon & Lydia Johnson, Brother George Hall, Sister Isula Henfield, The family of the late Harry Gardiner, Cornelius, Hilton & Noel Gardiner. Sister Elmina Hunt, Sister Willamae Bridgewater, Sister Mae Ligtbourne, Sister Roselda Rigby, Sister Halcie Hanna & Family, Sister Patricia Bethel & Family, Valentine Farquharson & Family, The family of the late Sister Nivian Hall & the late Sister Alicia Dean, Cousin Evelyn Hendfield, Family of the late Cousin Ezekiel Williams, The late Sister Dorith Grant, The late Sister Patsy Russell, The late Cousin Ivis Emmanuel, The Missick, Curry, Simmons, Rigby, Mullings, Families, Esther Pinder, Shawn Major, Renee McClain (Dallas, Texas), Sabrina Burrows-Bain & Family, W/Cpl. 1717 Portia Lewis-Bain & Family, Julius Thurston & Family, Retired Supt. Dustin & Nurse Babbs & Family, Carolyn Maycock & Family, The families of Cousin The Faculty of Education, University of The Bahamas, The National Insurance Board, South Beach Clinic, The Judiciary Department, The Englerston Church of God of Prophecy Senior Choir, The Royal Bahamas Police Force Reserves, and The Royal Bahamas Police Force Choir, NHS Digital, Presiding Pastor Deborah Morton, and the members of Greater Saint Stevens Full Gospel Baptist Church, New Orleans, Louisiana, the entire Williams, Forbes, Gardiner and Missick Family, The Acklins Street, Sea Breaze Estates, Former Pine Ridge & Bottle Creek Communities; Other relatives and friends too numerous to mention.
Special Thanks: Rolanda Epstein, Vida Lowther, (Caregiver), Dr. Cherilyn Hanna-Mahase (Special Doctor), Dr. Jamiko Thompson, Dr. Wesley Francis, Dr. V. Taylor, The District Nurses of The Elizabeth Estates Clinic, Nurse Williams, C/O Female Surgical II, Nurse Deleveaux, C/O Private Medical Ward at the Princess Margaret Hospital, Patient Care Assistants, Kadijah Rolle, Samantha Rahming, Indirah Swann, Edricka Hepburn and Director Pedro Ferguson & Staff of East Sunrise Mortuary.
Friends may pay their last respects at East Sunrise Mortuary, Baillou Hill Road & Cordeaux Avenue from 10 a.m. to 6 p.m. on Friday and again on Saturday from 9 a.m. at the church until service time.