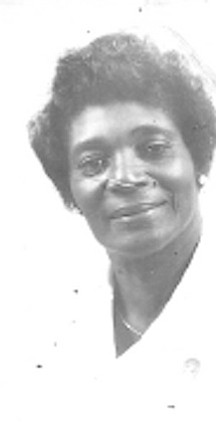 Theresa Clara Huyler nee Thompson
unknown - unknown
Funeral Service for Retired Nurse Theresa Clara Huyler nee Thompson, aged 87 years of #68 Nassau Street, who died on Friday, 13th May, 2016, will be held on Saturday, May 28th, 2016, 11:00 a.m. at St. Mary's Anglican Church, Virginia Street. Fr. Dwight Bowe will officiate. Interment will follow in the Church Cemetery, Virginia Street.
Left to cherish her memories are her Husband: Basil Huyler Sr.; Sons: Anthony, Basil Jr., Valentine, Lopez, Prince III & Eureston Huyler; Daughters: Theodoris Huyler, Jacqueline Huyler-Reckley, Sabrina Huyler-Ramsey, Claudette Huyler Beal, Natascha Huyler; Step-Daughter: Eloise Huyler
Sons-in-Law: Alexander Reckley, Earl "Mikey" Ramsey, Andrew Beal; Daughters-in-Law: Ana-Lee Huyler, Charmaine Huyler, Gaye Huyler; Brother: Neville Styles; Aunt: Maggie Harrison; Sisters-in-law: Delores Styles, Coral Huyler; Grandsons: Timothy Huyler, Roberto Reckley, Basil III & Demetri Huyler, Ambrose Ambrister, Hilary Huyler II, Vivian, Nicholas, Leon, Vivasvan & Jefferson Huyler, Jamoga Huyler Ramsey, Antanasio Curry, Rashad Symonette, Daniel Beal, Eureston Huyler Jr., Andrew & Rashad Huyler; Granddaughters: Tamara Taylor-Knowles, Solomonia Rigby, Ladrana Reckley, Ambrosine Huyler, Anastarcia Palacious, Valentina, Kaylisa, & Sabrina Huyler, Felicia Charite, Charnisha Jones, Carla Jackson, Danielle Beal; Grandchildren-in-law: Requel Huyler, Delcina Reckley, Raynard Rigby, Carlos Palacious, Jamal Jones; Great-grand-children: Bryll Seymour, Niles Archer, Sanaa' Knowles, Perez Huyler, James Jackson Jr., Imani Jackson, Corban, Jaydon & Madison Reckley, Seven Reckley, Zahra, Ziah & Zayne Rigby, Mallory & Devondre Huyler, Jamuari & Jahkari Jones, Renaj, Antoninez, Trinity, Azarial, Shaquawan, & Angelus Huyler, Kevin Archer, Nicholas Jr., Ezynphony, Aria, Nathan, Carmelo Thompson, Amsia & Anasse Brown, Vaniunique, Vasanique, Leon, Leondre, Jefferson Jr., & Breon Huyler; Adopted Sons: Hylan "Deacko" Smith, Leo "Spanky" Rahming, Derek "Inagua" Symonette, Granville Dorsette, Keith Bonimy, Dion "Diego" Saunders, Jonathan Newbold; Godchildren: Andrey Charlow and Yvonne Johnson (Grand Bahama); A number of nieces and nephews, grandnieces and grandnephews and a host of other relatives and friends including: The children of the late Maria Woods, the children of Neville Styles and Maggie Harrison, Charles Major Jr. & Family, Andray Charlow & Family and Patricia Johnson of Grand Bahama & Family. The children of the late Kenneth Huyler Senior, Donzel Huyler Sr., Carmel Rutherford, Bernice Ambrister and Cecil Miller. The children of the late Robert Thompson, Bloneva Thompson-Brathwaite, Agnes Gomez, Mary Hall, Ednal Thompson and Thaddeaus Thompson, Mildred Thompson Archer, Betty Thompson Swaby, the late James Clarke (Savannah Sound), Bertha Hall Burrows (Andros), Wealthy Hall McMillian & Family, Earl Thompson Sr. & Family, Mr. Lloyd Johnson, Don & Gertrude Symonette, Barbara Mitchell and Family (New Jersey), Laverne Weech (Grand Bahama) and Mrs. Sybil Archer & Family. The Huyler, Thompson, Gibson, Clarke, Chipman, Francis and Morgan (Bronx, N.Y.) families. Her church "pew partner" Mrs. Daisy Pinto, Mrs. Nellie Johnson & Family, Mrs. Trudy Miller & Family, Mrs. Miriam Symonette & Family, Mrs. Ruth Sands and Mrs. Sharon Gibson & Family. Marva Phillips (Jamaica), Idena Burrows, Edith Smith, Mr. Arlington Miller, Jennifer Isaacs Dobson, Frank Carter, Gloria Strachan, Theresa Mortimer, Keith Archer and Linda Evans, Rev. Fr. Dwight & Nancy Bowe, Rev. Fr Shazzasbazzar & Candice Turnquest, Rev. Fr. Theodore & Donethia Hunt, Canon Warren & Thelma Rolle, Rev. Fr. Dr. Peter & Sally Grist, Archdeacon & Rev. Angela Palacious, Rev. I. Ranfurly & Olga Brown, The Rt. Hon. Perry G. Christie, Prime Minister of The Commonwealth of The Bahamas; Hon. Philip Brave Davis, Deputy Prime Minister of The Commonwealth of The Bahamas, Hon. Bernard Nottage, Hon. Obediah Wilchcombe, members and officers of the Progressive Liberal Party particularly those of the Women's Branch and Stalwart Councillor, The Bahamas Public Service Union, the National Congress of Trade Unions, Anglican Church Women, St Mary's Church Family including the Choir, The Pilot Club of Nassau and The Links Chapter of New Providence. The Nassau Street, Quarry Mission and Infant View Rd., McQuay and Minus Street Communities and a host of other relative and friends too numerous to mention. The family extends thanks to Dr. Agreta Eneas Carey, Dr. Eugene Gray and Dr. Edwin Demeritte.
Friends may pay their last respects at the PLP Headquarters, Farrington Road on Friday from 10:00 a.m. to 4:00 p.m. with a short service to commence at 1:00 p.m. and at the church on Saturday from 10:00 a.m. to service time.