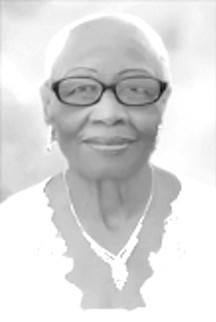 Sylvia Jane Cambridge
unknown - unknown
Funeral Service for Sylvia Jane Cambridge, aged 79 years of Gregory Town, Eleuthera, who died on Friday, 13th May, 2016, will be held on Saturday, May 28th, 2016, 10:00 a.m. at St. Agnes Anglican Church, Gregory Town, Eleuthera. Archdeacon Kingsley Knowles, Fr. Ivan Eldon, Fr. Scott Brennen and Fr. Bradley Miller will officiate. Interment will follow in Gregory Town, Public Cemetery.
Precious memories linger in the hearts of her soul mate of fifty-seven (57) loving years: Harcourt Cambridge; Seven children: Craig (Cheryl), Dwight (Joann), Kevin (Monique), Andre (Rosanna), Donald, Sgt 1708 Daphne Delva (ASP. Hector Delva), Sheryl Charlow; Adopted son: Thaddeus Petty; Grandchildren: Deandrea, Adrianna, Andre, Shaquan, Kasha, Dale, Tina ,Adebo, Blair, Loran, Leviticus, Perez, Zephaniah, Romeo, Alexis, Chris, Donyel, Donald, Daynah, Vincent; Great Grandchildren: Vershawn, Lisa-Ann, De'Rontae; Siblings: Joan Powell, Winifred Ferguson, Douglas Turnquest, Rebecca Bethell, Pauline Johnson; Sisters-in-law: Willamae, Jackie, Mildred Turnquest, Ethel Johnson, Mary Cambridge, Bernice Dean; Brother-in-law: Cuthbert Bethell; Nieces: Diann Fernander, Corinna Neely, Schevon-Ferguson-Cunningham, Sharene Ferguson, Kimberly Turnquest, Sonja-Moss-Moultrie, Shaundica Edwards, Keva Bethell, Deondra Lightbourne, Marchinelle Folly, Nicole Rolle, Sherry Cambridge, Tanya Johnson, Judy Knowles, Dale(Shane) Davis, Deacon Sherry Williams, Paula(Arnold) Hunter, Sandra Hepburn, Bernice Cambridge, Joann Stuart; Nephews: Dion, Dwayne, Julian, Sebastian, Leighton, Craig, Duncan Turnquest, Demry, Dereck, Darrell Fernander, Demetry Ferguson, Omar Bethell, Keenan Johnson., Paul, Carl (Karen), Charles(Jackie), David (Louise) Knowles, Frank (Carolyn), Jack ,James Cambridge Randy (Candy), Derek, Byron, Barry, Dwayne Dean, Abner Hepburn; Godchildren: Patsy Charlow, Natasha Cartwright, Arnett Major, Altonette Ferguson, Tiny Cleare, Katherine Wood, Valentino Hepburn, Evangeline Taylor; Other relatives and friends including: St. Agnes and St. Patrick's Parish family-Ruth Morgan, Kingsley Wood, Rose Mackey, Yvonne Neymour, Willie Maurice, Hon. Rev. Phillip Bethel, Clay Sweeting, Michael Ellis, Clarence Gibson, Teddy Johnson, Althea Conliffe, the Saunders family of Harbour Island, Rashard McDonald, Verneiqua Bethel, Sabrina Bethel, Vincent Charlow, Sheena Duncombe, Nickal Fernander, Ethlyn Elisee, Alice Town Clinic staff, families of the late Charles Lee, Edna McDonald, Lenor Bryan, Medricka Lockhart, Emma(Cyril) Belle, James Johnson, Curtis, Randolph & Dillis Turnquest, Harold & Melony Clarke, Ethel Robinson and the entire Gregory Town Community.
Friends may pay their last respects at Bethel Brothers Morticians, #44 Nassau Street on Thursday from 10:00 a.m. to 6:00 p.m. and at the church in Gregory Town on Friday from 7:00 p.m. until service time on Saturday.