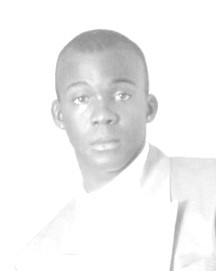 Shyan Arthur Gentle
unknown - unknown
Funeral Service for Shyan Arthur Gentle age 43 of Spigot Road off Carmichael Road, who died May 16th, will be held by Saturday 10:00 a.m. at Believer's Bible Ministries Carmichael Road. Rev. Lynden C. Young Sr. will officiate and cremation will follow.
Cherished memories will forever linger in the hearts of his family:
Sisters: Eleanor Seymour and Ernestine Sears
Brother: Ricardo Christie
Nieces: Krizia Swann, Shenay Archer, Taneisha Sears, Avertia and Odetta Butler and Clarissa Thurston
Nephew: Edison Butler Jr.
Aunts: Viola Saunders, Rosey Grant and Zearlean Gentle
Uncle: Jacob Saunders
Sisters-in-law: Martha Butler and Roseann Christie
Brothers-in-law: Anthony Seymour and Churchill Sears
Nephew-in-law: Montressa Swann
Grand-nieces: Sarayi and Makaya Swann, Tamia and Tamika Kemp, Romeka Rolle, Omeisha and Davonya Butler
Grand-nephew: Edison and Devontae Butler and Zion Christie
Cousins: Kathlean, Cedric, Cortreva, Kenya, Kamone and Krysta Smith, Maquel Hall, Keithera Rolle, Z'Rahyia Munroe, Keynaj Linden, Raymond, Bradley, Standford, Norma, Elkin, Stephanie, Sherita Forbes, Marva, Stephen, Patrice, Rosely Saunders, Theresa, Ethlyn, Carolyn, Crystal(Pinky), Anthony, Rocky, Polly, Preston, Debbie, Friendly, Sidney, Terry, Tamara, Jason and Livingston, Marsha Roberts, Taj Anderson and Evanya Roberts
Other relatives and friends include: Bradick Cleare, Chrissy Love, Sandra Horton, Vanessa Rolle, Karima Rolle, Damian, Thomas, Lillard Elliott, Denny, Johnny and Felicia Wittman, Joni Harvie, Etel Dias, Martha Rahming and family,Rrosetta Babb and family, Bridgett Flowers and family, Andrea Seymour and family, Principal and Staff of Sybil Strachan Primary School , Staff of Sadie Curtis Primary School, Staff at Princess Margaret Hospital and the community of Spigot Road.
Relatives and friends may pay their last respects at THE NEW COMMONWEALTH FUNERAL HOME INDEPENDENCE DRIVE on Friday from 12:00 noon-6:30 p.m. and at the church on Saturday from 9:00 a.m. to service time.