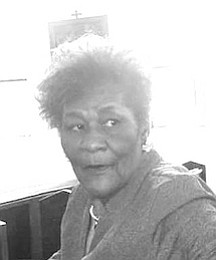 Roseline Sands
unknown - unknown
Funeral service for
Matriarch Roseline Sands, 81
a resident of Martinique Road, Golden Gates & formerly of Savannah Sound, Eleuthera, will be held at St. Agnes Anglican Church, Baillou Hill Road, on Friday 27th May, 2016 at 10:45 a.m.  Officiating will be The Reverend I. Ranfurly Brown, assisted by Reverend L. Carla R. Culmer.  Interment follows in St. Agnes Cemetery, Nassau Street.
Left to cherish her beautiful memories are her Children, Daughters: Virginia and Shirley Simmons, Hazel Seymour, ASP Frankie Mae Mather, and Inspector Sophia Sears. Sons: Clyde Seymour (Murie), William Sands, Anthony Mather, and Michael Mather (deceased); Adopted Daughters: Autherine John and Annamae Poitier; Adopted Sons: Answell Johnson and Keith Symonette; Grand Children: Dwayne and Desmond (Karla) Alleyne, Gia Sturrup, Anwar Cargill, Ryan McCartney, Crystal Bethel (Enrico), Shenik and Shenika Sands, Rayette Julien, Shawna Mather, Ebony Seymour, Anthranique and Krischa Mather, Kenyon Mather, Neil and Mario Seymour, Leagester Charlow (Monique), Terrence Saunders, Kyle Cooper, Brittany McKinney, and Brea Ferguson; Great Grand Children: Tamia Sands, Enrica and Leah-London Bethel, Jaylen Brown, Ryan , Jarvier, and Sharonda Sands, Jessica Bain, Mya Moss,  Joshua Seymour, Sha'khila and Ryhin McCartney; Sisters: Myrtle and Ethel Sands
Uncle: Henry Sands of Savannah Sound, Eleuthera; Nieces: Lolita (Joel) Moxey, Jovannah Moxey, Ellena Farrington, Cyprianna (Vencil) Major, Anna (Christopher) Russell, Jerusha (Monty) Hanchell, Marcia (Luke) Saunders, Latoya (Vogel) Griffin, Monique Carey, and Joanna Bain; Numerous Grand Nieces and Grand Nephews; Cousins Including the Families of: Samuel A Sands, Patricia Cole, Elizabeth (Betty), Joan Sands, Rita Spriggs, Beverley, Shelly, Perry and Terry Archer, Karen Symonette, Peggy Roberts, Deborah Armstrong,  Mitzy Swaby, Muriel Cooper, Ethel Knowles, Mario Ingraham, Joyce Culmer of Eleuthera, Gladys Longley, Margaret Smith, Mary Culmer, Edith McClain, Reynold Culmer, Kathleen Smith of New York, Minerva Johnson, Curtis (Robertnett) Thompson,  Rev. Manette Poiter, Irma Bowe, Lizetta Newman, Crystal Culmer, Henrietta Bethel, Ruth Thompson, Oscar and Brian Sands, Everlette Woodside, Thomas, Kenneth and Dave Sands, Brenda Percenti, Lillian Moss, Leon (Helen) Johnson, Wilfred and Harry Tinker, Janet Adderley, Wendy Adderley, Virginia Bullard, Joseph (Linda) Gibson, Wellington (Elizabeth) Gibson, Leon (Althea) Gibson, and Michelle McDonald; Special Friends Including the Families of: Patricia Carey, Pearl Moxey of Mangrove Cay Andros, Sheila Rolle, Herbert Sears, Ebony Evans, Vera Flowers, Michelle Moody, Margarita (Evie) Simmons, Clothilda Frazer, Betty Lloyd, Wendy Pearson, Rose Josue, Edmond (Charlene) Johnson, Jermaine Johnson, Llakel Pratt, Willamae Scott & Family, Linda Sullivan, Mispah Nesbitt, Louise Sands, Barbara Cargill, Tracey Rolle, Margo McIntosh, Monique Moss, Lindamae Lightbourn; Other Relatives and Friends Including the Families of: Esther Armbrister, Bessie Serrette, Rev. I. Ranfurly Brown and the St. Agnes Anglican Church, St. Gregory Church, St. Joseph Church, Rev. L. Carla Culmer and the Grants Town Wesley Methodist Church, Virginia Godfrey, Johnnymae Thurston, Maxine Callendar, Patsy Morris, Kathleen Robinson, Inspector Vernie Newbold, Carolyn King, Arnette Davis, Betsy Taylor, Edith Gittens, Marie Rahming, Lorraine Hepburn, Iris Smith, Thelma Thompson, Marilyn Tinker, Willamae Albury, Jane Adderley, Linda Jarrett, Patricia Moxey, Sharon Brown, Patricia Smith, Enola Lightbourn, Andrea Jenoure, Raymond Julien Sr., Clement Foster, Darnley Sealey, Maxwell Cartwright, William McCartney, Alexander Knowles, Anton McKenzie, Zelma and Madeline Simmons, Dr. Horizal  and Rev. Daniel Simmons, Angela and Willie Rolle, Ethel Thompson, Mizpah Bosfield , Mavis and Godfrey Rolle, Jeanie Rolle, Marcia Major, Charles and Hazel Turnquest, Laura Hanna, Faith and Brian Sawyer of Harbor Island, Stanley Alleyne, Ishmael McKinney, Corrine Stuart, Stanley and Carolyn Bowe, Marjorie Cleare, Dr. Vernard McPhee Surgical Clinic, Oncology Department of The Princess Margaret Hospital, ACP Steven Dean and the Urban Renewal Family, Permanent Secretary Diana Lightbourn & Staff of the Urban Renewal Commission, Chief Superintendent Samuel Butler and the Drug Enforcement Unit, Roberto Goodman, Iris Tynes, Paula Williams, Monolisa Roberts, Melrose Knowles, The Martinique Rd, Golden Gates #2 Family, The Sands, Gibson, Culmer, Morris, Simmons and Wilkinson Families, Melony Moss, Pauline Taylor, Olive Hanna, Florence Griffin, Kathleen Dummett, Sandra Walker, Timothy Bailey, Lorenzo Woodside, Rudy Stubbs, Ethelyn Arnett, Maxine Leary Rolle,  Edward and Glenis Demeritte, Oval Bain, and numerous other relatives and friends.
Friends may pay their last respects at Demeritte's Funeral Home, Market Street, from 12-6:00 p.m. on Thursday & on Friday at the church from 9:45 a.m. until service time.