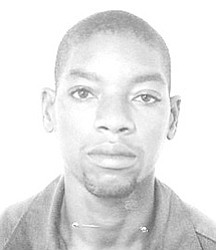 Robert Rablia Petit-Frere
unknown - unknown
Funeral service for
Robert Rablia Petit-Frere, 41
a resident of Bowe Ave., Montell Hieghts, will be held at International Revival Fellowship Church of God, Bowe Ave, Montell Hieghts, on Saturday 28th May, 2016 at 11:00 a.m.  Officiating will be Bishop Michael Ferguson, assisted by Apostle Ivan D. Rolle, Sr. & other Ministers of the Gospel. Interment follows in Old Trail Cemetery, Old Trail Road.
Left to cherish his memory is his wife, Danielle Penn-Petit-Frere; children, Giovanni, Gerinique, Daniqua and Robert Daniel; mother, Loramise Petit-Frere; sister, Myrtha Guillaume (Jerry); sisters-in-law, Lashanta Moxey (Veneve), Elkeva Penn and Indiera Miller, brothers, Ronald Joseph (Fernand) and Correctional Officer Bernish Petit-Frere (Proph. Shanar); brothers-in-law, Maxwell Munnings, Ian, Elijah, Elam Penn and Rashad Miller, mother-in-law, Martha Penn, uncles; Johnny and Altery Petit-Frere, uncles-in-law; Vernal, Chris and Shervin Munnings and Emmanuel Black, aunt; Nativda Germain, aunts-in-law, Karen, Patricia, Faylene and Shonnell Munnings and Alice Black, grand aunt-in-law; Gartha Brown, nieces and nephews; Gary (Tia), Parish and Jerry (Jay) Guillaume, Jephte, Ferdjina and Achsah Joseph, Bernisha, Bernish (Jeremiah), Joshua and A'Marie Petit-Frere, Shaniece, Eljahnique, Jamia, Eljahnia, Diamond and Shannon, grand-nephew; Garette Petit-Frere, numerous relatives and friends including Easlie Nicolas (Wilner), Robert and Miranda Nicolas, Sylvia Smith (Stephen), Janette Germain-Termilien (Bijoux), Michael, Rashad, Janet Thelusma, Edna Ferguson (Brian), Edna Jean-Louis, Mario, Zhavargo, D'Angelo, Owen, Richard, Alexander, Keno, Tyrone Jr., Ashanti, Tonia, Tynisha, Tario, Robert, Gino, Shervin Jr., Shadia, Christon, Antonio, Omar, Michael, Zion, Christie, Giagantae, Vonyce, Aldo, Chrissy, Anthony Joseph, Jermaine Minnis, Leslie Bowe and family, Auto Head Centre, Ismae Curtis, Brenda Smith, Christopher Knowles, Mario Rolle, Chrystal Forbes, Sherry Butler and Family, Williams Family, Dudley Nixon, Mrs. Mitylean Fowler, Wendall (Tiger) Stuart and Family, Benton Johnson and family, Madame Earkele, Edward and family, Derek (Froggie) Smith and family, Madame Lubin, Keno, Reno, Biggie, Neil Holbert, Luther, Aldo, Pedross Edwards, Gladstone Miller and family, Bill Rolle and family, Forbes family, Dwaine Rolle and family, Ellsworth, Cedric, Chantilly Rubins, Clayton, Rosemary Knowles and family, Elrick, Godfrey Carey and family, Norman, Adelaide Jeffreys and family,  Fonza, Sam Cleare, Sir Guillaume Bus Services, Tony Cabinet Supplies, W.B. Machine Shop, Carlene, Shelly, Tasha, Judy, Sharon Johnson, David Forbes, Malinda Douglas, Class of 1992 C.H. Reeves Secondary School, Apostle Ivan D. Rolle, Sr. and the Comfort House Ministries Int'l Church family, Bishop Michael Ferguson, Rev. Edris Bowe and family, Tony, Perry, Keno's Welding and crew, Rose Jaustin, Caroline, Butler Boys, New Covenant Baptist Church family, New Haitian Mission Baptist Church family, Pastor Chereleus Exante, Tall Boy, Darron Brown, Tynes family, Van, Rolle family, The Management and Staff of Quiznos and the entire Montell Heights Community.
Friends may pay their last respects at Demeritte's Funeral Home, Market Street, from 12-6:00 p.m.on Friday & on Saturday at the church from 10:00 a.m. until service time.