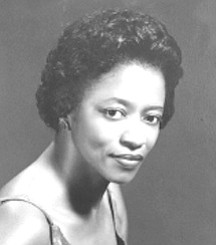 Muriel Eiliff Frazier-Eneas
unknown - unknown
Funeral Service for Muriel Eiliff Frazier-Eneas, aged 95 years of Imperial Park and formerly of Savannah Georgia, who died on Tuesday, 17th May, 2016, will be held on Saturday, May 28th, 2016, 10:30 a.m. at Evangelistic Temple, Collins Avenue. Rev. Bryn MacPhail will officiate. Interment will follow in the Western cemetery, Nassau Street.
She was predeceased by her husband of 53 years in 1995.
She is survived by her sisters: Ouida Canice Thompson of Cleveland, Ohio and Wahwee Agreta Scott of Chicago, Illinois; children: Dr. Cleveland Wilmore Eneas Jr., Dr. Judson F. Eneas, Dr. Agreta Eneas-Carey; daughter-in-law: Marcheta Q'McManus Eneas; son-in-law: James Audley Wilberforce Carey III; grandchildren: Kemba Eneas Walden, Judson Picot Eneas, Kashta Kandia Eneas, Cleveland Wilmore Eneas III also known as Anku Sa Ra, Leah Eiliff Beatrice Eneas, James Audley Wilberforce Carey IV, Jolanda Carolyn Muriel Carey, Yasmin Indira Eneas; grands-in-law: Matthew Walden, Tisha Fritz Eneas, Karen Simpson Eneas; great-grandchildren: Tafari Johnson, Atun Eneas, Adisa Eneas, Amina Eneas, Ayodele Eneas, Monica Walden, Victor Walden, Khari Kali Eneas; nieces: Marina Theophilus Hagan, Sylvia Adderly Todd, Berth Mae Ferguson, Lydia Bell Adderley, Melda Divette Thompson English; nephews: Eneas Theophilus, William John Godfrey Eneas, Thaeon Thompson, Keith Thompson, Kevin Scott and other relatives and friends including: Mr. & Mrs. Peter Carey, Mrs. Carolyn Carey and family, Mrs. Laura Ritchie, Sir Orville Turnquest & family, Dr. Cyril Vanderpool and family, Family of Dr. George Sherman, Mr. & Mrs. David Blake and family, Mr. & Mrs. Garth Nash and family, The Burnside family, the Henry Bostwick family, Mr. & Mrs. Maurice Glinton, Mr. Henry Dean & family, Livingstone Hepburn & family, the Huyler family, the Reverend Angela Palacious and family, Richard and Tommy Bain, the Maynard family, The Dilette family, Mae Sweetnam, Mrs. Donna Donaldson Townes, Mrs. Delores Smith, the Paul Adderley family, the Francis Adderley family, Dr. & Mrs. Harold Ferrere, Derek Sands. Mr. & Mrs. Roger Jones. Special thanks goes out to the Honorable Senator Dr. Duane Sands, Dr. John Johnson, the Nurse NNOW Agency, Nurse Kris Wring of Angels Elite Nursing Agency, Mrs. Renee Roth and the Private Nurses Registry, Miss Pearl Taylor, Blossom Knight Scott, Sandra Bethel. Thank you for the loving care and attention given by Sue Victoria Smith and Mrs. Myrtis Archer. Special thanks go to the Nurses and Staff of the Private Medical Ward of the Princess Margaret Hospital and members of the Eta Psi Omega chapter of Alpha Kappa Alpha Sorority. Heartfelt thanks to Mr. James Carey III as he supported Agreta and assisted in the care of his mother in law during her illness.
There will be no public viewing!