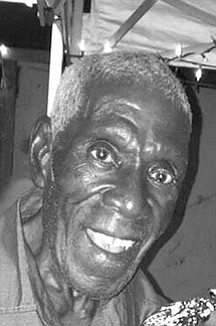 LOGAN HERBERT BENEBY
unknown - unknown
Funeral service for the late MR. LOGAN HERBERT BENEBY age 82 years of Prison and Victoria Streets, Matthew Town, Inagua will be held on Saturday, May 28th, 2016 at 10:00 a.m. at Zion Baptist Church, East and Shirley Streets. Officiating will be Pastor Julian Laing. Interment will follow in Matthew Town Public Cemetery, Inagua.
.
Cherished memories will forever linger in the hearts of his loving and devoted WIFE: Emily Beneby; DAUGHTER: Sheena Burrows-Cox; BROTHER & SPOUSES: Wilfred (Dawn), Ronald (Lilly) Beneby; SISTERS & SPOUSES: Gwendolyn Mortimer, Selsia (Arthur) Penn, Clara Cox, Julia (Ekron) Pratt, Anita Beneby and Challamay McIntosh; BROTHERS-IN-LAW & SPOUSES: Aiden Burrows, Ural Burrows, Eddington (Mag) Burrows, Father Rodney (Barbara) Burrows, James (Yvonne) Burrows; SISTERS-IN-LAW & SPOUSES: Olive Beneby, Gloria (Shedrech) Cox, Grace Walkine, Brenda Burrows & Margaret Burrows; NIECES: Cassandra Cox, Shantell Cox-Hutchinson, Sandra Cox, Inez Cox-Nixon, Shantell Cox-Hutchinson, Stephanie Mortimer-Wallace, Wendy & Fay Penn, Carla Lightbourne, Dr. Patricia Pratt of Minnesota & Demetria Pratt, Berthamae, Sharlene ,Ronique & Sherika Beneby, Fleather Smith, Judy Major, Porsha Finley, Antoinette Thompson, Samara Taylor, Kenorcia McIntosh, Valarie Wallace, Samantha Bannister, Jade Beneby, Yolande, Anita, Rozel, Jeanette, Shanna, Jodel, Jael and, Charlotte, Philippa Wisseh, Grace, Bradneka, Sharo and Sheena, Blondie Hall, Irma Burrows, Chilean Burrows, Lavern Cox & Catherine Gibson; NEPHEWS: Garett Cox, Eugene, Ewitt & Luther Mortimer, Robert & Harriam Cox, Arthur Jr., John & Shervin Penn, Caudray Pratt, Maceo, Ricardo, Roscoe and Keno Beneby, Benjamin Beneby, Kendrenico McIntosh, Neko McIntosh Javardo, Kel Burrows, Jarvis, Diello, Crisaud, O'Neil, Shedrech, Elkino, Eddie Jr., Christian and Kenvin, Lindsey Burrows, Anthony Burrows, Lowell Gibson, Kevin Hall, Caleb Burrows, Alvin Burrows, Insp. Mario Johnson, Fannoh Wisseh & Lynn Penn; Grand nieces & Nephews including: Lacrezia and Leron Neely, Stephan Rolle, Raquel McKinney, Acadia Knowles, Desmond Major, Deangelo Pickstock, Joshua & Alia Penn, Jeremiah Kingston, Rico Beneby, Adrianne & Luther Jr Mortimer, Alvin Pinder, Khyla Forbes, Aniskha Camarcho, Wendron & Evitt Jr. Mortimer, Adrian Sherman, Indera, Zenia, Tyrek & Shiloh Cox, Alexis Anderson, Ethan Hutchinson, Joseph Mullings Jr, Byron Bastian, Tenisha Major, Gregory and Roman Archer, Donnell & Douglas Finley; Other relatives & Friends including: Vernon Symonette, The Morton Salt Company Family, Holston Ferguson, Wilfred Wilson, Clyde & Lillian Rolle, Clarice Moss and family, Oswald Bain & family, Dr. Robin Roberts & Dr. Locksley Munroe.
Viewing will be held in the Halcyon Suite at Restview Memorial Mortuary and Crematorium Ltd., Robinson and Soldier Roads on Friday from 10:00 am to 6:00 pm and at the church on Saturday from 8:30 am until service time.