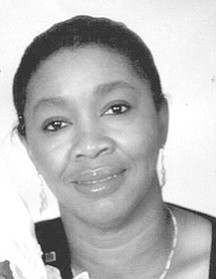 LINDA DIANNE TAYLOR
unknown - unknown
Funeral service for the LINDA DIANNE TAYLOR age 57 years of Seawind Drive, Sea Breeze Lane and formerly of Grand Turks, Turks and Caicos Island will be held on Saturday, May 28th, 2016 at 10:00 a.m. at Christian Life Center, Sea Breeze Lane. Officiating will be Pastor Jay Simms, Canon Lamuel Been, Fr. Bernard Been and Archdeacon G. Kingsley Knowles. Interment will follow in Lakeview Memorial Gardens & Mausoleum, John F. Kennedy Drive & Gladstone Road.
Cherished and fond memories will forever be in the hearts of her ADOPTED SON: Rhys Roberts; STEP MOTHER: Lois Taylor; SISTERS: Pasty and Barbara Taylor, Thelma Osbron, Jennifer Turnquest and Sonia Gibbs; BROTHERS: Earle, Professor Harold Taylor, Rev. Richard Taylor, Hon. Derek Taylor and John Taylor; ADOPTED SISTERS: Betty-Ann Roberts, Pastor Mary Forbes, Roaline and Pauline Lunn, Lucille Lewis, and Lucille Lightbourne; ADOPTED BROTHERS: Dexter, Anthony and Derek Roberts; SPECIAL FRIEND: Greig Stubbs; GODMOTHER: Iris Seaton; GOD CHILDREN: Dr. Vancelle Forbes, Terel Wray, Diamicka Woodside, Zena Hutchenson and Denota Taylor; UNCLE: McAthur Adams; SISTERS-IN-LAW: Bettye, Tinnie, Loleta, Sharon and Selena Taylor; BROTHERS-IN-LAW: Canon Lamuel Been, Keith Osborn, Berkley Turnquest and Audley Gibbs; NIECES: Deborah Greene, Betty-Ann Robinson, Michelle Williams, Nikeva Ariza, Anna-Alicia Berither, Caprina Rolle, Katarvia, Katarlah, Dileecia, Shekeira, Inga, Richlene and Pamela Taylor, Darianna Louison, Shiree Barba, Nyree Williams, Mersee and Tessa Turnquest, Sancha Brunstone, Ania and Alyssa Gibbs, Shonia, Sandra, Joann and Kathrina Been; NEPHEWS: Derek, David-Earle, Fr. Bernard and Brian Been, Mario, Kataran, Terrell, Harold Jr., Tru-maine, Edwin and John Jr. Taylor, Richard and David Osborn, William Greene, Vernon Williams, Maximus Berither; Grand nieces and nephews who shared a special bond with aunt Linda: Caden, Chelsea, Alex, Caleb, Scottie, D'marion and Mario Jr.; COUSINS: Descendants of Clothilda Roberts, Descendants of Eugie Wilson, Descendants of Adolfus Adams, Descendants of McArthur Adams, Descendants of Robert (Bobber) Taylor, Descendants of Rosetta Jones Nee Taylor, Descendants of Sarah (Sally) Taylor, Descendants of Hilda (Dar) Taylor, Descendants of Eliza Haven Nee Taylor, John Taylor, Albert Taylor, Alexander Taylor, Ethel Taylor, and Descendants of Mary Estella Taylor. 
CARETAKER: Linda Caty, Deborah & William Green; Special Family and Friends: Archdeacon Kingsley Knowles, James and Ana Fulford, Selina Smith, Kenria Russell, Pansy Miller, Leila and John Robinson, Ella Missick, Family of the late Florence Forbes, Dr. & Mrs. Albert Ferguson, Agatha Butterfield and Family, Canon Curtis Robinson and Family, Eliza Seymour & Family, Alice Been and Family, Adams Family, Quant Family, Fulford Family, Grant Family, Hawkins Family, Missick Family, Ewing Family, Rosina Basden, Letheira and Phillip Coakley, Ms. Laura Ritchie, Kirk and Marie Mackey, Geneva Jolly and Family, Lewis Family, Simons Family, Robinson Family, Family of the late George Selver, Class of 1976 Turks & Caicos (H.R. Robinson High School), Jose Ariza Jr., Oswaldo and Juan Ariza, Delores Connoly, and Descendants of Trixie Missick, Mavis Basden and Family, Henrietta Smith & Family, Vida Scott & Family, Beverly Simons Burns, Lena Hawkins, Hazel Scott Taylor, Patricia Sands Roberts, George & Kenneth Hepburn, Terrance Gibson, Shemika Williams, Mario & Kelly Smith, Marilyn Bain, Eric & Sharon Maynard, Adrian Archer, Terrance & Anne Woods, Dervent Quant, Mrs. Velma Hamilton & Family, Radcliff & Joy Nicholls, Irwin (IG) Stubbs & Family, Rachell & Rochell Burrows, Velma Hamilton, Sharon & Llewlyn Taylor, Darius Forbed, Spencer Family, Family of St. George's Anglican Church (New Providence), Family of St. Christopher's (Lyford Cay). Christian Life Church, Go Green Center for Children – Family of The Turks and Caicos Islands and other relatives and friends.
Linda's legacy can easily be described with four words: Educator, Faithfulness, Determination and Commitment.
Sleep on our dear sister and aunt, your work here on earth is done, take your rest, we love you but Jesus loves you best.
Viewing will be held in the Perpetual Suite at Restview Memorial Mortuary and Crematorium Ltd., Robinson and Soldier Roads on Friday from 10:00 am to 6:00 pm and at the church on Saturday from 8:30 am until service time.