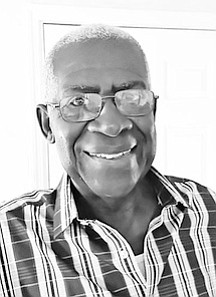 Kenneth "Sir K" Alvin Thompson
unknown - unknown
Funeral Service For Kenneth Alvin "Sir K" Thompson Age 80 Years of 20410 N. W. 40 Court, Miami Gardens, Florida and formerly of Palmetto Village, Marathon Estates and Chapel Street will be held on Friday, May 27, 2016 at 10am at Holy Family Catholic Church, Robinson and Claridge Roads. Monsignor Alfred C. Culmer and Deacon D'Arcy Rahming will officiate and burial will be in the Western Cemetery, Nassau Street.
His epitaph will be cemented in the hearts of his:
Loving wife: Isabella;
Five Dear Sons: Kevin Andrew-Rosa, Kenneth Anthony-Joy, Keith Adrian, Kennis Alvaughan-Shantell and Montry Thompson-Lisa;
Five Wonderful Daughters: Terry Ellyn Olgreen-Ward, Valda Julie Swaby, Dr. Theresa Myra Bonamy-Gaetano, Jhan Daniel-Ernest and Cordell Albert;
One Step-Daughter: Charisse Symonette-Demetrius;
Four Grandsons: Kendrell Thompson, Nicholas and David Swaby and Joshua Bonamy;
Seven Granddaughters: Robyn Swaby, Kelli Allen-Darren, Brittany and Jacquelene Thompson, Hannah Bonamy, Dejanee Parms and Janist Daniel;
One Great Grandson: Trey Thompson;
Two Great Granddaughters: Kaydence and Daryeon Allen;
Mother: Thelma Cordella Thompson;
Four Brothers: John-Brenda, Howard-Esther, Elridge-Mavis and Ricardo Thompson-Hazel;
Six Sisters: Christine McDonald-Brazil, Ruth Lightbourne-Robert, Catherine Mackey-Adam, Lorraine Joseph, Avis and Sharon Thompson;
Nephews: Dexter, Edwin Michael, Errington, Patrick I, Jeffrey, Edwin Bruce, Howard, Baron, Eldridge, Eldreko, Ricardo, Leslie "Pepper"-Lueann E., Wallace, Craig, Ivan, Robert, Wallace Jr., Michael, Dwight of New Jersey, Bruce and Brian Thompson, Ian Evans of Freeport Grand Bahama, Ryan and Robert Lightbourne, Arnold and Alvin Mackey;
Nieces: Dr. Melony Necole, Edvern, Dr. Nina, Johnice, Theandra, Howanell, Maryanne, Laverne, Arnette, Indera, Shequille, Howania, Shavonne, Elaine, Vernisha, Eldiqua, Eldishika, Eldecia, Rickeith, Vanessa, Lisa, Christine, Judith, Christa Thompson, Kayla Johnson-Lionel, Kamatha Martin-Darryl, Marlene Barton-Charles, Marsha Ann Pinder, Chizelle Whyms-Perry, Della  Scott  of Miami Florida, Eve, Bern, Anne of Atlanta, Georgia, Rhonda and Koji Wright, Cynthia and Robin Lightbourne, Carol Bodie, Gina Curry, Charisma Hinsey, Karen Mebane, Valerie Bazil, Athena Mackey and Kateryanne Johnson;
Grandnephews: Kyle Johnson, Edwin Bruce, Michael Edwin, Peter, E. Jermaine "Jay", Ethan, Kyle, Amad, Edvardo, Edwin Tyler and Patrick Okell Thompson II, Pastor Talbot Collie, Forest Shirley and Adrian Stacey;
Grandnieces: Sarah, Tameka, Tina, Michaela and Eddia Thompson, Latisha, Latasha and Ashley Martin, Brittney Laing, Latasha Shirley, Kendra Collie, Jennifer Stacey, Lisa Rolle, Aniska Smith, Charlene and Richae Barton;
Great Grandnephews: Callan, Jermaine E. I, J. Errington and Edwin Bruce Thompson and Talbot Collie;
Great Grandnieces: Jasmaine, Drea' and Gabbrielle Thompson, Talia Collie, Jayla Martin, Maraya Shirley, Linelle Taylor and Kelesha Kelly;
Cousins: Charlene Neilly, Theresa Forbes-Orelus, Rebecca Forbes, Levy, Eva, Bernice, Shirley, Arthur, Rosemarie, Frederick and Audley Thompson Jr.;
Other Sisters-in-law: Myrtle, Jeanette and Nellie Thompson and Mae Spencer;
Other Loving Family and Friends Including: Myrna Llonella Cooper-Thompson and Stanislaus Brendan Swaby;
His Valued Friends: Carlos Sabala, Ed Thompson, Louis Williams and Winston "Tappy" Davis.

Viewing will be at "Curtis Memorial Mortuary" Robinson Road and Fifth Street Today Thursday, May 26, 2016 from 1pm to 5pm and at Holy Family Catholic Church, Robinson and Claridge Roads on Friday, May 27, 2016 from 9 a.m. until service time.