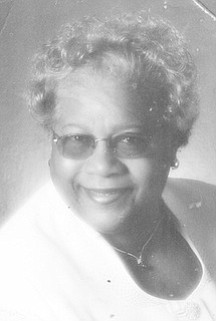 Jennie Loretta Bethel
unknown - unknown
Memorial service For
Jennie Loretta Bethel, 77
a resident of Oleander Ave, South Beach Estates and formerly of Savannah Sound Eleuthera,  will be held at  The Progressive Liberal Party Headquarters, Farrington Road, on Thursday 26th May, 2016 at 1:00 p.m.
Funeral service for
Jennie Loretta Bethel, 77
a resident of Oleander Ave, South Beach Estates and formerly of Savannah Sound Eleuthera, will be held at Ebenezer Methodist Church, East Shirley Street, on Saturday 28th May, 2016 at 10:30am.  Officiating will be Rev L. Carla R. Culmer, assisted by Rev. Godfrey Bethell and other Ministers of the Gospel. Interment follows in Woodlawn Gardens Cemetary, Soldier Road.
Left to cherish her memories are her loving and devoted husband of fifty-eight years; Frank Bethel; 2 Daughters: Dorothy "Dot" Miller and Ellen "Neasie" Mckenzie, 3 Sons: Marvin,  Thorton "Tee" and Crispin "Ricky" Bethel, Step-Children: Georgina, Merina, Angela, Quitel Bethel-Lewis, Jeffrey, Phillip, Brent; Adopted Son: Rodger D. Sands;  22 Grand Sons: Travalies, Tomiko, Terahn, Tenaj, Michael, Frank, Michael Jr.,  Lorenzo, Marvin Jr., Crispin Jr, Lashawn, Cameron, Tilon, Rashad, Jason, Jethro, Jordan, Lynden Jr., Delano, Edvis Jr., William, Jahrem; 15 Grand Daughters: Sanitra, Felecia, Teiane, Teilia, Temple, Tiajuana, Sherea, Shereece, Donica, Jasmine, Lyndiece, Lyndera, Lyndisha, Verenekia,  Verenessa;  Great Grandchildren: Alex, Avery, Joenel, Joseph, Otis Jr., Karee, T'ana, C'ana, Anwar Jr.; 4 Sons-In-Law: Ted, Anthony, Lynden, Owen; 4 Daughters-In-Law: Louise, Tiffany, Aleretha, Sonia; 8 Sisters: Muriel Cooper, Ethel Knowles, Marie Ingraham of Eleuthera, Kathleen Smith of New York, Gladys Longley, Margaret Smith, Mary Culmer, Edith McClain; 1 Brother: Raynold Culmer Jr.; Sisters-In-Law: Olive Mercer of Miami, Florida, Verdell and Ruth Bethel of Freeport, Roslyn Bethel of Eleuthera, Naomi; Brothers-In-Law: Deputy Governor General Hon. James Oswald Ingraham of Eleuthera, Cecil Longley and Minard Smith of Nassau, Frederick and Willie Bethel of Freeport; Nieces: Rosemary, Patricia, Jeannette, Clara, Eloise, Loletta, Loretta, Gerena, Genette, Wandy, Jacquelyn, Velma, Renee, Rhonda, Lorna, Bonnie, Dania, Tanya, Thomasine, Tenielle, Crystal, Tamica, Cassie, Essimae, Bertha, Agatha,  Sherry,  Kylene,  Monique,  Emerald, Willimae, Diane, Lavette, Shantel, Gemma, Theresa, Merina and Odea;   Nephews: Gary, Royal, Cleveland, William, Anderson, Frederick, Talmage, Kermit,  James, Royal, Alphonso, Terry, Wayne, Dwight, Mark, Ron, Darvin, Sean, Sheldon, Tekulve, Tyson, Torriano, Casey, Sanjay, Reonn,  Archie, Desmond, Keshniel, Brian, Johnny, Willie, Chris, Warren, Scottie, Craig, Ricardo, Ray and Harold Jr.; God Children: William Knowles, Pauline Rolle, Christine Rolle, Salano Thompson, Jamari Moss & Rashae Carey Caregiver Mary; Other Relatives and Friends including: Rev. L. Carla R. Culmer, Rev. Charles & Ruth Lewis, Rev. Godfrey Bethell, Vernencha Blatch, Margaret Hepburn, Theodora Ledee, Esther Bodie, Vida Butler, Myrtle Curry, Meryl Desmangles, Meritta Brown, Veronica Cartwright, Sandra Evans, George Thompson, Miriam Davis, Alice Knowles, Barbara Douglas, Iris Clarke,  Enid Saunders, Nathalee Bonimy, Vivian Bullard, Oris Campbell, Elgrenetta & Patrick Henderson, Hazel Ellis, Dr. Lynwood Brown, Dr. Eugene Gray, Dr. Vanetta Thompson, Pamela Butler, Erica Knowles, Georgina Silver, Joyce Culmer, Edward and Emily Rahming, the family of Henry Sands, the families of the late Harold Sands, the late Mary Sands, the late Ruth Sands, the late Samuel Sands, the late Thomas Sands, the late James Sands, the late Mursay Poitier, the late Edith Garnett, Remelda Moxey, Shena Dawkins, Sheila, Everlyn, Shirley, Melanie, the Brown Family, the Whyms Family, the Hunter family, the Neely Family, the McPhee Family, the Rolle Family, the Wring Family, the Rt. Hon Perry G. Christie (Prime Minister), the Hon. Philip Brave Davis (Deputy Prime MInister), Hon. Cleola Hamilton (MP for South Beach Constituency), BTC Retirees Group, One Family Junkanoo Group, Genesis Junkanoo Group, Female Medical  ll,  Nurse Charles, A & E of Princess Margaret Hospital, Grants Town Wesley Methodist Church, Curry Memorial Methodist Church, the South Beach Community and the entire Island of Eleuthera.
Friends may pay their last respects at The Progressive Liberal Party Headquarters, Farrington Road, from 10-4:00 p.m. on Thursday & at Demeritte's Funeral Home, Market Street, from 12-6:00 p.m. on Friday & on Saturday at the church from 9:30 a.m. until service time.