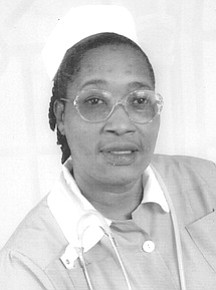 JACQUELINE ROLLE
unknown - unknown
Funeral service for the late JACQUELINE ROLLE age 62 years of Gleniston Gardens will be held on Friday, May 27th, 2016 at 10:00 a.m. at St Margaret's Anglican Church, Kemp Road. Officiating will be Rev'd. Fr. Oswald E. Pinder. Interment will follow in Woodlawn Gardens, Soldier Road.
Loving memories will forever linger in the hearts of her SON: Jason Kazim Devano Simmons, SISTERS: Yasmin Rolle and Vanria Kay Rolle-Taylor; BROTHERS: Ricardo Eugene ( Lollita), Patrick, Cephas, Gregory, Timothy (Velma) , Nigel Brown(Nicola), Nathan Sr. ( Stephanie), Van Sr. ( Katherine), Kevin Sr. Rolle & Elric Collie; NIECES Georgette Murray, Yasnique, Latrasa, Aliyah, Diedre, Ricquel, Keva, Krystal, Kourney, Chakeva Rolle, , Shavantae Pedican Kandi Rolle –Butler, Ramirez & Raven Rolle; NEPHEWS: Donald Roberts, Hasting Taylor jr. Ishmael Curtis, Dion Frazier, LeSean, Van Jr. Kevin Jr. Desmond, Philemon, Cameron, Nathan Jr, Vanrick and kerrington, Rolle, Stephen Dames and Don Shannon Brennen; GRANDNIECES & NEPHEWS: Cha'mel Curtis, Keon Frazier, Le'Andre Murphy, Q'Myrie Lightbourne, D'shon, D'sae, Latron, Deantris, Dreah, D'Sazz, Amari and Travan; AUNTS & UNCLES: Oliver Hutchinson (Lilly), Andre Hutchinson, Sally Hutchinson. Rowena Culmer; ADOPTED SISTER: Shantel Rolle and Mary Brown; Family and Friends; Arturo Hutchinson & Family, Sharon Sawyer( Julian) & family, Antwann Hutchinson, Anthony Hutchinson & Family, Terrance Hutchinson & Family, Ian Hutchinson & family, Karen Hutchinson-Pannell & family, Zina Hutchinson-Smith & family, Heidi Hutchinson-Collins & family, Della Hutchinson( Dennis) –Leahy & family ,Charles Rolle & family, Frederick Nottage (Ethnee) & family, Thomas Nottage & family, Edith, Diane Hunt-Forbes, Sylvania Hunt, Beulah Rolle & Family, Jackie Dixon & family, Roderick Mckenzie & family, Gloria Rolle & family, Emily Hutchinson & family, Deshawn Moss & family, Debbie Knowles & family, Gurth Knowles & family , Keith Knowles, Debbie Tucker & family, Huel Moss & family, Patricia Bell & Family, Senator Keith Bell & family, Audrey Dean & family , Paul Frazier & Family, Peter Frazier & family, Adam & Maxine Munroe & family , Charlotte Wells & Family, Reginald Wells, Agatha Campbell & family, Llewlyn Malcom & family, Lambert Gladstone Adams, Edith Diane Hunt Pricilla King, Dianna Beckford & family , the McCartney Family – Tarpum Bay. Gwen Bain family, Kenneth & George Hepburn & family, Danny Clarke & family, Terrance Gibson, Cynthia Knowles & family Clyde Robinson & family, Lorne Robinson & family, Lewis Missick , Oliver Missick , Calvin Missick , Dennis Missick, Rev. Glen Missick and Rev Fred Missick, Aubrey Tucker & family , Clyde Forbes Sr. & family , Clyde Forbes , Julie Forbes . Queen Vashti Chapter #1, Lodge St Anne 1751 S.C. and Lodge St. Andrew 1756 S.C..
MAY HER SOUL REST IN PEACE AND RISE IN GLORY
Viewing will be held in the Irenic Suite at Restview Memorial Mortuary and Crematorium Ltd., Robinson and Soldier Roads on Thursday (TODAY) from 10:00 am to 6:00 pm and at the church on Friday from 8:30 am until service time.