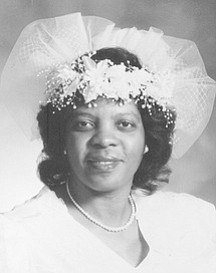 Inez Clothilda Johnson Rolle
unknown - unknown
Funeral service for
Inez Clothilda Johnson Rolle, 64
a resident of Stapledon Gardens & formerly of Acklins, will be held at New Covenant Baptist Church, East West Highway, on Saturday 28th May, 2016 at 11:00 a.m.  Officiating will be The Reverend Trajean Jadorette, asisted by Rev. Dr. Valerie Carpenter & other Ministers.  Interemnt follows in Woodlawn Gardens, Soldier Road.
Cherishing her memories are her Sisters: Dottlee Johnson, Marieletha Thompson, and Evelyn Johnson; Brothers: Elkin Johnson Jr., Rollington, Hartley and Sargeant 2384 Philip Johnson Sr., Nephews: Inspector Berkley Johnson and Kevin Johnson, Alfred Brown Jr., Jermaine, Elkino, Keiarj and T'Keal Johnson, Philip Johnson Jr., Andrew Mackey Sr., Rhodriques Lafleur, Rev. Pedro Cartwright and Denaj Wilchcombe Sr.; Nieces: Forensic Scientist, Sargeant 2458 Ruthmae Brown, Latoya and Brithany Thompson, Melissa Lafleur, Shanika Mackey, Nikell and  Deidre Johnson, Kerrie Brown and Patrice Cartwright; Grand Nephews and Nieces: Andrew Mackey Jr., Ezekiel Teron Mackey, Mekyle Johnson, Al'Dehro Brown, Kedan Cornish, Denaj Wilchcombe Jr., Gabriel Johnson, Michael Cartwright, Pedro Cartwright Jr. of Miami, Florida, Alicia Williams, Jasmine and Tagjah Johnson, Jaden Wilchcombe, Kaliah Brown, Moriah Johnson, Patrae Cartwright, Quitel Cartwright of Miami, Florida and Gabriel Jasmine Johnson; Uncles: Othneil Darling, Aaron Rolle, Solomon Johnson Jr., David Johnson of Atlanta, Georgia and Olmond Beneby of Miami, Florida: Aunts: Muriel Darling, Deaconess Cetia Ferguson, Willamae Darling, Lee Johnson, Eliza Ferguson and Mary Pratt; Grand Uncles: Ronald Kelly Darling of Miami, Florida, and Leroy Moss; Grand Aunt: Mitylene Moss; Brother-in-Law: Felton Thompson; Sister-in-Law: Cynthia Johnson; Cousins: The Hon. Minister V. Alfred Gray, Braymond, Franklyn, Philip and Everette "Elisha Obed" Ferguson, Dr. Rollington Ferguson of California, Vanwright Ferguson Sr. of Minnesota, Dr. Leonard Johnson Jr., David Johnson of Houston, Texas, Gustavus Darling of Miami, Florida, Kendly Darling, Anthony Rolle, Superintendents Patrick and Mario Johnson, Sargeant 903 Patrick Johnson, Reserved Sargeant Elvis Johnson, The Hon. Minister Dr. Bernard Nottage, Pastor William Smith; Clarice Varence, Chantell Varence-Pratt, Myrtle Rolle, Naomi McKenzie, Rosemary Campbell. Apostle Ruth Hynes, Sylvia Duncombe of Miami, Florida, Shena Johnson and Joanne Smith, Numerous  Other Relatives and Friends including: Rev. T. G. Morrison, Bishop Simeon Hall, Rev. Dr. Lockwood Delevaux, Rev. Stephen Thompson, The Hon. Arnold Forbes, The Hon. Tommy Turnquest, Senator  Carl Bethel, Dr. Eugene Gray, Dr. Christine Chin, Dr. Michael  Darville, Dr. Homer Bloomfiled, Magistrate Derence Rolle Davis, Magistrate Guillana Archer, the Saints of New Covenant Baptist Church,  Zion Baptist Church, East and Shirley Streets, the Saints of Hillside Missionary Baptist Church, Independence Drive, and Transfiguration Baptist Church, Market and Vesey Streets, The Principal and family  of Doris Johnson Senior High School, Scotiabank (Bahamas) Limited, Rev. Ernest Johnson of Haynes City, Miami, Florida, Vernetta Major, William Ingraham, Alonza Pratt and Sherrah Adderley.
Friends may pay their last respects at Demeritte's Funeral Home, Market Street, from 12-6:00 p.m. on Friday & on Saturday at the church from 10:00 a.m. until service time.