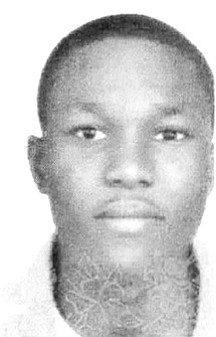 GERARD NESTAN, JR
unknown - unknown
Funeral Service for MR. GERARD NESTAN, JR. age 22 years of #25 Boyd Road will be held on Saturday, May 28th, 2016 at 10:00am at the Metropolitan Church of The Nazarene, East Street & Bahama Avenue. Officiating will be Pastor Bernard Medard, assisted by Bishop Cherelus Exante. Interment will be made in Woodlawn Gardens, Soldier Road.
Loving memories are left to cherish by his Father: Joseph Nestan
Mother: Marguerite St. Julien-Nestan
Sisters: Sandra St. Louis, and Johanne Nestan
Brother: Jermaine Nestan
Nieces: Lawaley Gillien, Kimberley Nestan, Stoodley St. Julien, Stephonie, Stephanie Pierre, Pharla Pierre and Stacy
Nephews: Anthon Delva, Oscar & Keshon Nestan
Sister & Brother-in-law: Francy, Antousty and Nandy
God mother: Imalda Charles
God father: Paul Pierre
God Sister: Joella Raphael
Cousins: Justin, Kevin St. Julien, Philene St. Julien, Clofa, Orieol, Jebbie, Jery St. Julien, Jeff, Marvin, Orianne Charles, Oriette St. Julien, Kevin St. Julien, Schneider Charles, Anthonn Prate, Nadia Prate, Louisa Jean, Louissaint St. Louis, Justin St. Louis, Cestine & Gussy Pierre, Maryueta, Makensly, Man Que, Guerline, Cjay, Jevon, Arenol, Owanna, Katley, Nofa St. Julien, Lorentus St. Julien, Senet St. Julien, Joshua St.Julien, Girlene St. Julien, Nadege Nestan, Nanouse Nestan, Celina Nestan, Jhonn Nestan, Sonel Nestan, Angela Nestan, Kimberley Nestan, Oscar Nestan and Keshon Nestan
Friends: Ludnie Manigat, Lucmane Manigat, Elione Joseph, Jeanine Edmond, Bernadin Joseph, Brunite Joseph, Anwose, Michelle, Lancy Charles, Naissa McKenzie, Marie McKenzie, Dosyan, Yodette, Carde Medjine, Rony, Keva, Hyppolite & Nelcy St. Phard, Dieua St. St. Phard, Cherica Mertil, Saintilia Jean, Elisna Jean, Yvette Ferguson, Solange Jean-Charles, Lizan Lazard, Johanne Lazard, Cherline Lazard, Bixon Telusunor, Alourde Jacques, Mandy Millien, Cardo Pierre, Ashley Pierre, Paulina Pierre, Lerline, Ashley Farrington and Esther Jean-Louis.
Viewing will be held at Clarke's Funeral Home #41 Tonique Williams-Darling Highway on Friday, May 27th from 11:00am to 6:00pm and on Saturday from 9:00am at the church until service time.