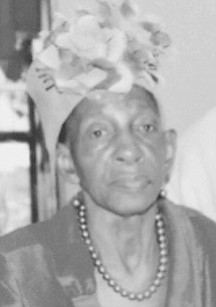 Florence Smith
unknown - unknown
Funeral Service for Florence Smith, aged 72 years of #15 Sutton Street and formerly of The Bluff, South Andros, who died on Saturday, 7th May, 2016, will be held on Saturday, May 28th, 2016, 2:00 p.m. at St. James Baptist Church, St. James Road. Rev. Dr. Willis L. Johnson and Rev. Dr. Charles H. Rolle will officiate. Interment will follow in Woodlawn Gardens, Soldier Road.
Left to cherish fond memories and carry on her legacy are her loving Daughters: Maria Meadows, Debbie, Janet, Maydon, Nadine, Maxcine & Tamara Smith; Son: Alexander Smith; (1) Son in law: Oswald Meadows; (1) Daughter in law: Marilyn Smith; (24) Grandchildren: Alexandera, Amari & Shannon Smith, Clinton, Clindera & Rashad Bethel, Bernardo, Brakito, Bralexia, Bralencia, Anthon & Cordero Meadows, Ashley, Anthony, Fredricka & Meghan Johnson, Gabriell Sturrup, Tyrell Adderley, Tamisha Reckley, Charltonique & Cherica Knowles, Shon, Tashon & Tamia Butler; (7) Great-Grandchildren: Latario Curtis Jr., Clinton Bethel Jr., Kanarow Meadows, Simone & Jagger Johnson, Anthon & Aasia Meadows; (2) Sisters: Gloria Cartwright & Doralene (Lecitus) Gibson; (3) Brothers: Daniel Jr., Isreal & Fredrick Rahming; Sisters in law: Madone Rahming, Patsy Baillou, Thelma (Valentine) Huyler, Norma (Daniel) Pinder, Eramae Smith, Winifred (Theophilus) Humes, Anna & Mary Rahming; Brother-in-law: Reuben (Cynthia) Smith; Nieces: Joyce Cartwright, Rosnell (Kenhugh) Rolle, Sherrymae (Former Supt. Of Police Wayne) Miller, R/C Caroyln (Prison Officer Ernest) Forbes, W/Sgt. 2312 Maltice (Darren) Knowles, Carla Duncombe, Samantha Davis, Sheena Neely, Donette Goodman, Rochelle Black, Dorothy Gibson, Prescola Rolle, Nethalee & W/Cpl. Idell Gibson, Danria Turnquest, Euta, Claudine, Remilda, Pernice & Tamika Rahming, Yvonne Rahming-Charlton, Judy Roberts, Shenika Antoine, Kathleen John & Gloria Frodyman, Nacoya Pratt, Nakita Johnson, Sandra Knowles, Madesa Roberts, Mae Lisa Randle, Karen (Adrian) Neely, Shonell, Vanessa & Indera Humes, Shenreece, Heather & Elizabeth Jones, Kimberly Fritz, Shantel Butcher, Melinda, Mckenzie, Lakeisha, Erica, Nasal, Kimberley, Clarissa & Bernadette Smith, Sharmaine Missick, Veronica Bishop, Olivia & Kimberely Mckenzie. Nephews: Petty Officer Jacob Jr (Sherene).,& Prison Officer Cpl. Roswell (Natasha) Cartwright, Eddison, Johnathan, Kevin, Cadwell, Dave, P.C 3097 Wayde, Keith & Prison Officer Ricardo Gibson, Fredrick Jr., Macdonald, Edwin, Ephraim, Derek, Spence, Clifton, Lawrence, Lorenzo, Arnold, Arthur Jr., Israel Jr., Alvin, Cleveland, Jamal & Sherman Rahming, Dwayne & Dwight (Ingrid) Forbes & Dominic Goodman, Nacodo Johnson, Shorn, Alonzo, Maset, Dario & Mar co Smith, George Jones, Ranardo & Lavardo Butcher, Rodger, Craig, Patrick, Paul, Sedrick & Fedrick Rahming, Ricardo Culmer, Elvis Russell, Stanley, Don & Osmond McInnis, , Van (Nyoka) Moss, Theophilus & Cpl. 2259 Tyrone Humes & Kevin Mckenzie; 102 Grand Nieces & Nephews including: Marvin (Susan) Mckenzie, Faith, Karen (Robert) Allen, Troy (Elena) Black, Vallon, Vazel & Vakito, Adra & Ava, Leslie, Ernest Jr., Rashae, Duran, Maliyah, Trinity & Serenity, Darren Jr., Vanessa, Jasmine, Sterling Jr., Raquel, Rickia, Unique, Davia, Carson, Dave, Davonya, Davion, Kendera, Alleyandra, Trenny, Shanrear, Barry, Cola, Edwina, Monique, Kesha, Deangelo, Correo, Tonya, Cueshea, Edmonique, Candice, Dorrinda, Kathea, Eloise, Micko Jr., Tiffany & Sonovia; 45 Great Grand Nieces & Nephews; A host of other relatives and friends including: Rev. Dr. Willis L. Johnson, Rev. Dr. Yvette M. Johnson & Family, Blessed Hope Native Baptist Church Family, St. James Native Baptist Church Family, Pastor Dale Moss & Members of Church of God of Prophecy Transformation Centre, Elvina Fortune & Family, Joseph Lewis & Family, Lenora Meadows & Family, Leoshi & Family, Shon Butler Sr., Thomas Reckley, Sean Meadows, Charles Knowles, Andrew & Cameron Conliffe, Antonia Hepburn, Candris Outten & Family, Chad E. Rolle, Joelitha Nottage, Ms. Christie, Lolo, Maybelle Rolle, Rosie Curtis & Family, Sheila Bain & Family, Cynthia Morris & Family, Betty Storr & family, Donna Brown & Family, Monique Johnson & Family, Orida Rolle & Family, Pearline Belle & Family, Donna Saunders & Family, Ferron Delva, Frank Bethel, Tario Curtis & Family, Tasha & Family, Ms. Tynes & Family, Staff at A&A Comfort, Environmental Health, Island Wholesale; Sutton Street, Lyon Road & Freetown Lane Communities.
My utmost humble apologies if your name was not mentioned.
Friends may pay their last respects at Bethel Brothers Morticians, #44 Nassau Street on Friday from 10:00 a.m. to 6:00 p.m. and on Saturday at the church from 12:30 p.m. until service time.