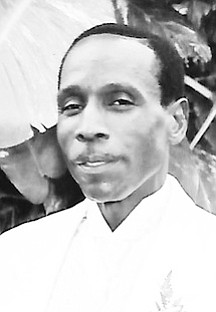 Elvin Salathiel McClain
unknown - unknown
Funeral service for Elvin Salathiel McClain age 67 yrs, of Major Road, Yellow Elder Gardens and formerly of Snug Corner, Acklins will be held on Saturday May28th, 2016 at 11:00 a.m. at Mt Calvary Baptist Cathedral, Baillou Hill Road and Laird Street. Officiating will be Rev. Dr Phillip McPhee assisted Rev. Merian E. Yenn Roberts J.P. Interment will follow in Woodlawn Gardens Cemetery, Soldier Road.
Elvin was pre deceased by his Mother-in-Law: Julia Barr
Left to cherish his memories are his loving Wife: Jacqueline McClain; His 7 Children, Crystal), Tamica, Edwin, Elvin, Reonn, Antonio and Elvinika; 11 grandchildren: Ariyan Taylor, ChaNyah Wood, Gianni Rolle, Ch'Kai Brennen, I'Zaiyah Rolle, Edwin jr, Edricka, Rihanna, Perious, and Edricko McClain and Chalicque Higgs; 3 brothers: Ephraim (Christine) McClain, Clifford (Annamae) Brown, Kenneth (Sybiline) Brown; 2 Sisters: Idel McClain and Princess (Joseph) Smith; Adopted Sisters: Virginia Roach, Debbie, Williamae, Muriel Symonelle; Adopted Children: Mario Beckford, Genique Bodie, Krystin Malcolm, La-teeka Rahming; Son-in-Law: Giovanni Rolle; Father-in- Law: Harrison Gaitor; Sister & Brother- in-Laws: Minister AnnaMae Brown, Sybiline Brown, Christine McClain, Maxine Johnson, Donna Griffin, Candy Davis, Christine Gaitor, Judy-Mae Gaitor, Marion Gaitor, Pavia Rolle, Joseph Smith, Charles Rolle & Harold Gaitor; Aunt: Myrthella Cox; Uncles: Bishop Leyvon Miller, Charles Fores Sr and Steven Cox Sr.; Nieces & Nephews: Denise McClain of Orlando Florida, Brian Rolle, Prenell Rahming, Nadine McClain, Portia McClain, Una Williams, Celetha & Philip Ferguson, Tiffany & Clint Daxon, Jowell Smith & Samantha Smith, Corrie Smith, Jawayne Smith, Allistina Outten, Monique Brown, Grace Gardiner, Donna & Sabrina Minnis, Carla McDonald, Glendera Wood, Marco Brown, Ken Brown, Lawerence Brown, Dion Smith, Latondra Brown, Kendra Brown, Kenvado Brown, PC 3569 Kenrick Brown, Enoch Smith of the RBDF, Kenisha Brown, Kenrissa Brown, Kenice Brown, Orlando Brown, Sargent 599 Leon Smith, Cameron Rolle, Trevor Sherman, Travis Sherman, Deaveon Sherman, Jensen Rolle, Zyre Rolle, Naja Rolle, Charles Rolle jr, Cherilee, Ginger Davis, Deon Smith, Fredricka Smith, Fredrick & Donella Smith, David Moss; Numerous Grand Nieces and Nephews; a host of other relatives & friends including: Edith D. McClain, Muriel Cooper, Genieve (deceased) & Frank Bethel, Ethel Cooper, Raynold Culmer Jr., Marie & Oswald Ingraham, Kathleen Smith of New York, Margaret & Minard Smith, Gladys & Cecil Longley, Mary Culmer, Marvin Wood, Lorrie Lightfoot, Ken Davis Owners & Staff at Leisure tours , National Pool League, Valley Boys, Nurses at male medical 1 (PMH), Doctors ( PMH), Amazing grace Missionary Baptist Church, Magnificent 7, Bethany SDA Church; Cousins: Bishop Franklyn Miller Sr., Apostle Kelson Miller Sr., Leyvon Miller Sr., Cedric Miller Mithchell Miller, Michael Miller, Kenroy Miller, Steven Cox Jr., Albert Cox, SGT 1821 Charles Forbes, Stafford Forbes, Harlod K. Brown, David "Doc" Moss, Harrirn Rolle, Parick Sweeting, Morris Winters, Terry Strachan, John Brown, George Brown, Leroy Miller, Maria Christie, Geraldine LEWIS, Deanne Dean, Naomi Lewis, Zelma Bastian, WPC 2352 Immacula Forbes, Hilda Forbes, Monica Albury, Brendalyn Johnson, Rosemary Johnson, Eleanor Rolle, Cunthia Sweetina, Margaret Rolle, Debbie Gibson, Sylvia Cox, Eleanor Portier, Zelma Saunders, Elaine Wilchcombe and many others too numerous to mention.
The body will repose in the Blessed Redeemer Chapel at Ferguson's Funeral Directors, 7th Terrace Collins Avenue, on Saturday from 10:00a.m. - 5: 00 p.m. and at the church on Saturday from 10:00 a.m. until service time.