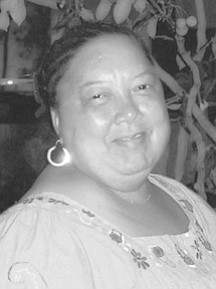 Carmella "Jan" Janet Cartwright
unknown - unknown
Funeral Service for Carmella Janet "Jan" Cartwright, age 59 years, of Rico Street, Sea Breeze, will be held on Saturday May 28, 2016 at 10:00 a.m. at St. Anne's Anglican Church, Fox Hill Road. Officiating will be Rev'd Fr. Hugh Bartlett Jr. Interment will follow in St. Anne's Church Cemetery, Fox Hill Road.
Left to cherish her memories are her mother: Cora; brothers: Jason (Lydia), Machon (Patsy), Kyrle (Cindy) and Richard (Rhonda); sisters: Karen, Gretchen (Ernest), Fronia, Catherine (Tony), Annemarie (Don), Sara (Philip) and Briony (Wellington); nephews: Marc, Miguel, Myles, Jamaal, Mikhail, Kyle, Ernest, Shannon, Winfield, Richard, William, Evander, Lance, Alphonso, Danilo, Theron and Bronson; nieces: Elizabeth, Jasonette, Jarrell, Meagan, Mica, Misti, Nikera, Indira, Cecelia, Mary, Kimberley, Shirley, Nola, Madjorie Dara, Gina-Marie and Natalie; uncles: Chester (Barbara), Dudley (Althea), Berkley (Jennifer) and Kenneth (Ida); aunts: Ivy, Shelia, Anna, Gretchen (Carlton), Ida, Neta, Lois, Joan and Madeline; special friends: Everette "Buddy" Carroll, Ivy Russell and Family, Theo and Daphne Moss; numerous cousins and other relatives and friends including: the Management and Staff of A.I.D. Ltd.
Friends may pay their last respects at Butlers' Funeral Homes and Crematorium, Ernest and York Streets, on Friday May 27, 2016 from 10:30 a.m. to 4:30 p.m. and at the church on Saturday May 28, 2016 from 9:00 a.m. until service time.