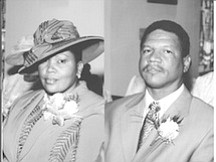 Brady and Princess Simms
unknown - unknown
Combined Full Military Service for the late Retired Sergeant 1018 Brady Simms age 59 and Princess Penn Simms age 55 both of Butler Street, Nassau Village will be held on Wednesday June 1st 2016 at 11:00a.m at Bahamas Faith Ministries, Carmichael Road. Officiating will be Rev. Christopher Russell assisted by Rev'd Fr. Stephen E. R. Davies. Interment will follow in Woodlawn Gardens, Soldier Road.
Cherished memories will forever linger in the hearts of their Children: P.C 2627 Dominic, Dominique and Dominica Simms; Daughter-In-Law: Kamilah Simms; Son-In-Law: Roberto Williams; Grand-Children: Dominic Jr., Amelia Simms and Dior Williams;
Brady's Immediate Family, Sisters: Curlene Johnson-Harty and Elouise Johnson-Sutherland; Brother: Nixon Simms; Brother-In-law: Conrad Sutherland; Sister-In-Law: Jennifer Simms; Nieces: Marva Heastie (Perry), Laschelle Wiecek (Thomas), Rayne Heastie, Abigail, Maachah, Talitha Lawrence, Kenya (Gregory), Keva (Josh), Kerstella, Kamilah & Kaylar Simms; Nephews: Marvin Campbell (Deborah), Gregory Johnson (Azuca), Fabian Campbell (Latoya), Ashur and Enos Lawrence and Kendrick Simms (Tamara);
Princess' Immediate Family, Sister: Alice Coakley; Brother: Edward Penn; Brother-In-Law: Michael Coakley; Sisters-In-Law: Evangeline and Marva Penn; Nieces: Sharon Seymour (Floyd), Sheena Burrows-Cox (Flavio), Sharo Burrows (Hermes), Raquel Burrows (James), Princess, Judy and Hazel Penn, Roselyn Adderley (Carl), Dr. Jacqueline Penn-Knowles (Charles), Anya Penn-McIntosh (Jevon), Brenda Benton, Sandra Fanakos, Hope Thompson- Watson, Cheryl, Denise and Latika Penn W/ SGT. 1889 Tonya Thompson Moss; Nephews: Cyril Smith (Ettamae), Aaron Forbes, Dario Burrows (Marcia), Charon Penn (Shericka), Randy and Troy Penn, Torriano Penn (Jody), Anthony, Rudyard Jr., Rico, Wellington, Micha, Paul, Chris and Denbri Penn, Rodriego, Demetrius and Sean Thompson; Special Friend (Sister): Deborah Pinder;
Both Princess & Brady Other Relatives and Friend including Denalee Penn, Charles & Virginia Outten & Family, Alva Coakley & Family, William & Alice Grant, Natasha & Prescott Wallace, Monika Grant, Charles Grant, Ural Burrows & Family, Bridget Outten & Family, Carla & Bernie Minnis, Charmaine Stuart, Whitlean Dorsett & Family, Leslie & Sabrina Ingraham, Marcia Johnson, Judy Gardiner, Sophia Butler, Randolph & Sanora Knowles, Ann Kelley, Glenwood Coakley, Shenicka Knowles, Christina Brennon, Pauline Lightbourne, Alton & Christine Mckenzie, Lathera, Latara Dana & Family, Jimmy & Gail Davis & Family, The Nassau Village Community, Management & Staff of Supreme Court, Commissioner of Police Ellison Greenslade and The Royal Bahmas Police Force, Police Reserves, Gaming Board Enforcement Department, Blunsheba Miller, Lionel Penn, John Penn, Lee Penn, Dayna Wilson, Christine and Bethsheba Lightbourne, Hon. Obie Wilchcombe, Rt. Hon Perry G. Christie, Rt. Hon Hubert A. Ingraham, Justice Bernard Turner, Hon. Vincent Vanderpool Wallace, Ron O. Pinder, Dion Smith, Diedre Maycock, Registrar General Department, Rev. Melvin Grant, Rev. Robert McKinney, Adrian Fox, Paul Robinson & Family, Dino & Karen Josey, Norma & Emmitt Farrington, Norma Fynes, Terry Ward, Bernadette Morris, Caroline Williamson, Nadia Brown, Margaret Newbold, Naomi Wood, Gaynell Dames, Audrey Demeritte, Meconald Penn, Tracey Charlow, Monique Dawkins, Wellington Smith, Claudtte Whyms, Davio Rolle, Michelle Ritchie, Stanley Bernard (Gloria) Leamshould & Bernadette Morris, Kaysa Hanna, Demiko Hunter, Michael Fernander, Althea Smith, Michelle Webb, Shanta Goodman, Kenny, Brendia Bain, Dellareese & Cheryl Grant, Rossmarie Moree, Queenie Newton, Georgette Stubbs, Karen Russell, Charles, Virginia and Bridget Outten, Carla and Bernard Minnis, Alice, Monika and Cahrles, Grant, Natasha and Prescott Wallace, Lee Peen, Sharmaine, Sharvonne and Dr. Sheema Smith, Prince and Princess Cornish, Rose Hanna, Ketchner, Clement, Agatha and Peggie Penn, Eunice an Lucy Penn of Florida, Anne Penn, Elizabeth Smith, Queenie Hanna-Newton, Deloris Lightbourne, Alecia and Nathaniel Morris, Dorothyia and Peter Norman of the U. K., Heartlyn Moss, Pauline and Bethsheva Lightbourne, Christine and Lance Darville, Ina Smith, George II and Sheryl Smith, Ester and Nolan Dorsette, Bobby Lightbourne, Robert and Vallie Stubbs, Sherika and Sheryl Penn, Wally and RobertStubbs, Joyce Pinder, Keith Coakley, Terrance Mackey, Elivita Black, Rev. Fredrick Mcalpine, Sade Evans, Nadia and Clement Penn and a host of relatives and friends to numerous to mention.
Relatives and friends may pay their last respect at Evergreen Mortuary located on Collins Ave & 5th Terrace on Monday May 29th 2016 from 10:00a.m. – 6:00p.m. also at the Paul H. Farquahson Conference Centre (Police Headquarters) on Tuesday May 31st 2016 from 11:00a.m – 5:00p.m. and again at the church on Wednesday June 1st from 10:00a.m. until service time.