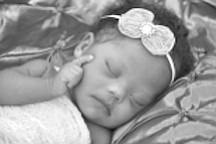 Abion Louise Lockhart
unknown - unknown
Funeral Service for Infant Abion Louise Lockhart, aged 2 months of #12 Waterloo Road, off Village Road, who died on Sunday, 15th May, 2016, will be held on Friday, May 27th, 2016, 3:00 p.m. at St. Mary's Anglican Church, Virginia Street. Fr. Dwight Bowe will officiate. Interment will follow in the church cemetery, Virginia Street.
She is survived by her Parents: Perry & Tinnii Lockhart; Brother: Tristan Lockhart; Grandparents: Paul & Roslyn Dean; Perry Sr. & Keva Lockhart; Great Grand Mother: Winifred Sherman; Aunts: Charmeeka & Amanda Dean, Ayesha, Shekera, Zerlene & O'Layinka Lockhart; Uncles: Olufemi Dean, Valentino, Osbourne, Denver, Denzel & Jamar Lockhart & Celeto McKinney; Grand Aunts: Dressler, Iris, Rose, Theresa "Patty"& Prudence Sherman, Catherine Brown, Margaret Dean-Ahyi, Dolores Dean, Pauline Allen-Dean, Carolyn Gomez, Victorine Collie, Joanne Bannister, Crystal, Toya and Shantel Johnson & Vivian Lockhart; Grand Uncles: Basil, Cecil, Alvin, Bert, Godfrey, Ivan, Brently Sherman, Thomas and William Dean, Wilmore Brown, Abel Ahyi, Michael Lockhart, Lynden and Brent Johnson; Adoptive Grandparents: Helen Ingraham, Audrey Fountain and Rose & Leroy Huyler; Numerous Cousins including: Viveca, Ashley, Olivia, Amelia, Glenise, Godfrey Jr., Godwind, Brently Jr., Briquel, Courtney, Laurent, Sonia, Thomas, Tara, William, Cailen, Zhyen, Ghalen, Ameir, Osbourne Jr., Gabriel, Rosa, Denver Jr., Dariela, Derick, Lynden, Tiara, Jair & Sair; Numerous Relatives including: Peter & Blanche Weech and Family, Vinola Harvey, Agnes Saunders and Family, James & Barbara Weech and Family; Geraldine Brown and Family, George &Curlene Weech and Family, Arthur Jr. & Carol Sherman and Family, Betty Sherman & Family, Pat Kennedy and Family, Hugh & June Sands and Family, Gwen Lockhart & Family, Sophie Lockhart & Family, Anne Clarke, Chloe Smith & Family, Marie Cooper and Family, Leslie Fox and Family and Jeanine Weech-Gomez; Numerous Friends including: Brian & Latoya Turnquest and Family, Patasha Johnson and Family, Ian & Angelique McQueen and Family, Mark & Raquel Gomez and Family, Keith Delancy, Paulette Rahming, Duane Murray, Glen & Alemtshay Huyler, Dominique & Denise Johnson and Family, Dr. George Isac & Susan George and Family, Canon. & Mrs. Warren Rolle and Family, Idris & Gwen Reid & Family, Fr & Mrs. Dwight Bowe and the St. Mary's Church Family, Fr Kingsley Knowles, Sidney & Tanya Sawyer, Management and Staff of Bethel Brothers Funeral Home, Dr. Mendes, Dr. Paul Roberts, Dr. Paul Hennis, Dr. Sinquee- Brown, Nurses at the PMH NICU, Cherisse Moss & Family, Wifi Copy Center, Brittany Toote & Family.
Friends may pay their last respects at Bethel Brothers Morticians, #44 Nassau Street on Thursday from 10:00 a.m. to 5:00 p.m. and on Friday at the church from 1:30 p.m. until service time.