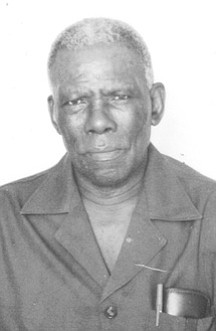 Richard "Mackie, Dax" Maxwell Bain
unknown - unknown
Funeral service for
Richard Maxwell "Mackie, Dax" Bain, 71
a resident of Sapodilla Blvd, Pinewood Gardens, will be held at Kemp Road Ministries, Kemp Road, on Saturday 21st May, 2016 at 11:00 a.m.  Officiating will be Rev. Dr. Ivan F. Butler Jr.   Interment follows in Woodlawn Gardens, Soldier Road.
Left to Cherish his memories are his Special/ Best Friend: Mildred Outten; Daughters: Keniska, Samantha, Alethia Bain, Kofi (Richard) Rahming, Michelle (Lloyd) Smith, Yontalae (Hubert) Cash and Ijana Rolle; Sons: Kenyon, Illiya and Richard Bain Jr.; Grandchildren: Marine Seaman Kamray Bain, Kaden, Karrington,Tkhya, TKari  and Richard ῙῙῙ Bain  Monneka Henry, Bailee Lafleur, Rashad and D'narjio Fernander, Lau'Kai and La'Shae Roberts, Karson Rahming,  Lloyd,  Lloydia and Matthew Smith, Lloychelle (Barrington) Gardiner, Julecia, Alease and Abigail Outten, Paige Gilbert, Garyn Scott, Noah Cash, Antonio, KJ; Great Grandchildren: Mariyah, Jayla, Mckayla, Jayniah Smith, Barrington Gardiner Jr ; Sisters: Shirley Ingraham of Fort Lauderdale Florida, Velma Rahming; Brother: Robert Bain   Uncles: Michael (Melrita) Levarity of Green Turtle Cay, Abaco; Aunts: Iris (Arlington) Miller and Adelaide Pinder of Freeport Grand Bahama;  Nieces: Tosca Bain, Dedrie (William) Daniels of Balta, Georgia, Devia Knowles; Nephews: Rick (Deloris) Newman and Wilroy (Beatrice) Bain of Fort Lauderdale Florida, Police Constable 595 Raynard Rahaming and Rodney Rahming; Cousins: Eugene, Abraham,  Apostle Paul and Apostle David Butler, Nathaniel and Michael Butler, Rev. Dr. Ivan F. Butler, Wrenstworth, Johnathan, ASP Samuel Butler, Nathan, Reverend Emmanuel Kevin Butler, Earl Miller, Arthur, Rudolph, Malcolm and Reverend Patrick Levarity, Ademian and Alexian "AP" Pinder, Lester, Bernardo, Dennis, Willis, Rontonio Levarity and Kirk Pedican, Louise Butler-Simmons, Elizabeth Butler, Marie Lyvonne Thorpe  of Michigan, Christine Neely, Joan, Ingrid and Virginia Levarity, Tanya Levarity, Una Delancy, Alelia Adderley, Caron Green, Latrese Torres, Breanne and Cindy Levarity and Icelyn Bethel: Other Relatives and Friends Include:  Phillip "Brave" Davis,  Joy and Eric Cottell, Batchlette ῙῙῙ , Idelle Lafleur & Family, Raven Cooper & Family, Meckel Taylor & Family, Jessica & Sean Smith, Kadren Knowles, Minister Clarinda Johnson & Family, Christina Williams & Family of Freeport Grand Bahama, Glenford (Sylvia) Outten, Elecia Outten, Donathan (Santoya) Johnson & Family,  Marsha Poitier & Family of South Carolina, Bridgette Williams, Lorraine King, Blanche Sears & Family, Adlai Moss & Family, Samuel Adderley & Family, Lawrence "Buddy" Smith & Family, Henry "Hank" Williams & Family, Quebell Rolle & Family, John "Chippie" Chipman & Family, John and Michael "Big Mike" Stuart &  Family, Ronald "Big Boy" Seymour & Family, Lolita "Tuesday" Bethel, Theus Rolle & Family, Lester Dean & Family, , Flora "Judge" Seymour & Family, Lorenzo Lockhart & Family, PA B's Family, Southerners Lounge Family, Cedric Cummings & Family, Paul & Mark Demeritte & Family, Godfrey Dean & Family, Rudy Dean & Family, Bertie Murray & Family, Freddy Cooper & Family, Brian Evans & Family, Everett Johnson & Family, Mrs. Poitier & Family, Marsha Culmer & Family, Eleanor Edgecombe & Family, Shanla Clear & Family, David Fowler & Family,  Alsada Potter & Family, Bernard Storr & Family, Sharon Fowler & Family, Angella & Godfrey Brown & Family, BTC Elite Warriors, Dawn Thomas, Leopoled Wright, Leo McIntosh, Ryan Dorsett, Algernon Allen, Kevin Coverly, Tanisha McKenzie, Jason "Pegs" Moxey, Fred "Papa" Smith, Bahamas Cricket Association, Joshua Knight old Timers & Masters Softball, Truckers Softball, New Providence Old Timers Softball Association, & New Providence Softball Association,  New Providence Amateur Baseball League, The Big Pond Community, Kerzner International,  The Management & Staff of Sandals Royal Bahamian, The Nurses & Staff at South Beach Clinic.
Friends may pay their last respects at Demeritte's Funeral Home, Market Street, from 12-6:00 p.m.on Friday & on Saturday at the church from 10:00 a.m. until service time.