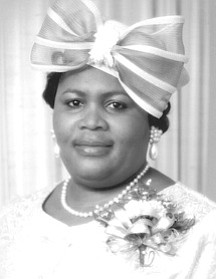 RETTAMAE SMITH
unknown - unknown
Funeral Service for the late RETTAMAE SMITH age 68 years of Collies Avenue, Kennedy Sub-division will be held on Saturday, May 21st, 2016 at 10:00 am at First Baptist Church, Market Street. Officiating will be Rev. Diana Francis assisted by Rev. Stephen Smith. Interment will follow at Woodlawn Gardens, Soldier Road.
Cherished memories will forever linger in the hearts of her DAUGHTER: Sophie Saunders; SON-IN-LAW: Michael Saunders, GRANDSONS: Delano Smith, Denero and Demeako Saunders, GRANDDAUGHTER: Darian Reece; ADOPTED SON: Darren Smith, SISTERS: Deaconess Elsiemae Smith, Bettymae Rolle, Millicent Smith-Wright and Andrea Sands; BROTHERS: Livingston and Clarence Smith; SISTER-IN-LAW: Louise Smith and Faye Brown; BROTHERS-IN-LAWS: Leon Williams and Roland Rolle; AUNTS: Ethlyn Rolle and Florence Smith; NIECES & NEPHEWS: Steve and Krivory Smith, Monique and Kent Armbrister, Glenda and Franklyn Russell, Phicol and Rose Smith, Urban and Thelma Smith, Trevor, Osworth and Lisa, and Dimitri Smith, Asthon, Dellerese, Charlene, Samantha , Cecil and Vanessa, Ishmond and Karen, and Tereko Smith, Stacey and Jennifer Williams, Desmond and Denise Williams, Jenice and Rodrigo Russell, Eurydice and Claudio Infanti, Melissa Smith & Arthurreta & Henry Butler, Antionette & Harold Collie, Shundra & Kendal Meadows, Antoinia & Chemiko Andrews, Vonette Lowe, Andreiko and Aldred Rolle, Eileen & Bernard Riggel, Bernadette & Lloyd Williams, Terrell & Daxon Cooper, Jason, Hervis & Darren Smith, Perez, Tilton and Latroy Wright, Denavue & Edna Brown, Shantel & Aubyn Tony, Derrington & Shawn Brown, Sonovia & Thomas Sands; GOD CHILDREN: Rena Rolle and Harris Smith; Host of other relatives & Friends including: Creswell Johnson & family, Karen Bastian & family, Betty Lloyd & family, David & Geneve Bullard & family, Margo Dean & family, Noami Hanna and family, Sheena Bullard & family, Vinessa Andrews & family, Takevia Demeritte & family, Eulie Gordon & family, Rev. Cedric Smith and Family, Fairlyn Smith and Family, The Lloyd Family, The Wright family, The Rolle Family, The Smith Family, Four Seasons Family, South Ocean Family, The communities of Alexander, Staurt Manor, Curtis and Farmers Hill, Exuma, Rev. Diana Francis and the First Baptist Church family, Min. Bertley Curry, Kim and Walter Hanna, Ms. Dean and Family, Mr. Allsin Stubbs and Family, Mr. and Mrs. William Naughton and the Comfort Suites Paradise Island Family, Sisters and Brothers of Queens of Light Chapter #898, Sis. Karen Sutherland and the Officers and Members of Heroines of Jordan Grand Chapter, Mecca Grand Lodge, Modern Free and Accepted Masons of the World Inc, Kennedy Sub-division Collie's Avenue Community, The Community of Silver Gates, The doctors and nurses of Female Medical 11 and the Dialysis Unit.
Viewing will be held in the Irenic Suit at Restview Memorial Mortuary and Crematorium Ltd., Robinson and Soldier Roads on Friday from 10:00 am to 6:00 pm and at the church on Saturday from 8:30 am until service time.