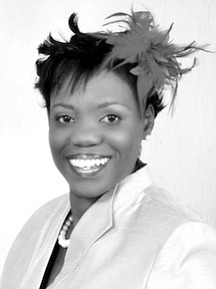 Rennece Michelle Knowles
unknown - unknown
Memorial Service for Rennece Michelle Knowles will be held today, May 19th, 2016 at 7 p.m. at the Church of God of Prophecy – Love Centre, Ernest & York Streets.
Funeral Service for Rennece Michelle Knowles age 48 of Fox Hill who died on May 5th, 2016 will be held on Saturday at 10 a.m. at the Church of God of Prophecy, East Street Tabernacle, East Street & Sunlight Cottage. Officiating will be Minister Branson D. Gibson, assisted by Minister Desmond Peters and Minister Howard Newbold. Interment will follow in Woodlawn Gardens, Soldier Road.
She is survived by her Husband: Pastor Jeffrey Knowles, Sr.; Children: Alicia, Jeffrey, Jr. and Aleah Knowles; Granddaughter: A'myah Poitier; Mother: Brenda Jagnandon; Father: Hugh Soloman; Step-Mother: Vivian Solomon; Sisters & Spouses: Shamine Jagnandon, Kimberley Jagnandon, Scherese & Hughleia Solomon, Samantha (Andrew) Rahming and Simone (Ferraud) Rolle; Brothers & Spouse: Sean (Lillian) Jagnandon and Kevin & Odell Solomon; Mother-In-Law: Audrey Knowles; Father-In-Law: Harry Knowles; Sisters/Brothers-In-Law: Gloria Sweeting, Goldie (Lloyd) Ranger, Shirley Knowles, Hazel (Ricardo) Thompson, Tyrone Sweeting, Anthony (Stephanie) Knowles, Raymond (Monica) Knowles, Kevin (Majorie) Knowles; and Maurice (Stella) Knowles of Atlanta, Georgia; Aunts & Uncles: Shirley Smith, Gladys Lockhart, Janette (Andrew) Newlands, Meritta Strachan; Alonzo Butler, Gerald (Marie) Strachan, Godfrey Strachan, Terrence (Rhonda) Strachan, Everette (Jeannie) Strachan and Kendal (Estelle) Strachan; Nieces: Sanai Jagnandon, Sydelle Solomon and Synai Rolle; Nephews: Kevano, Kaleel, Samuel & Odel Solomon; Giano Major, Izayah & Andrew Rahming, John Wayne, Justin Johnson and Sean Jagnandon, Jr.; Cousins: Keith Moree, Inga Banks, David Newlands, Paula Strachan-Reckley, Phillip Strachan, Paul Strachan, Pamela Strachan-Smith, Sophia Strachan, Rodger Strachan, Monique Strachan-Murray, Gerard Strachan, Derry Terell Greene, Tennielle Strachan, Treva Strachan, Terrance Strachan, Kori Strachan, Kendra Strachan, Kendal Strachan, Jr., Julian Strachan, Clair Mackey, Ziverland Mackey, Sidney Forbes, Sidney Forbes, Jr., Valderine Newton, Leslie Newton, Clement Newton, Gregory Rodgers, Jr., Yannick Rodgers, Grier Rodgers, Avery Lockhart, Alisa Lockhart, Anya Lockhart-Chase, Lavern Butler, Nicholle Butler-Bethel, Alonzo Butler, Jr., Abigail Butler-Sands and Patrice Butler; God-Children: Ashley Simms, Blair Butler, Jonathan Albury, Tyler Edwards, Delmontre Morris, Jireh Woodside, Shiloh Damalie, Xyelle-Suineg Gibson and Jermia Clarke; Other Relatives & Friends including: Bishop Jim & Marian Weathers, Bishop Harold Daniels & Family, Pastor Neil & Loraine Daley, Bishop Brice Thompson & Family, Bishop Franklin Ferguson & Family, Bishop Elgarnet Rahming & Family; Bishop Dudley Kelly & The Cash Family of Eleuthera; Minister Branson Gibson & Family; All New Providence & Family Island Pastors and their Families; John Wayne, Sr. & The Johnson Family; Michelle Robinson, Sophonia McIntosh, Joseph & Healias Oliver; The Ernest St. Family; The Hatchet Bay
Community; The Entire District of the C.O.G.O.P. Eleuthera; The Management and Staff of Variety Disposable Products; and a host of others too numerous to mention.
Friends may pay their last respects at the Church of God of Prophecy – Love Centre, Ernest & York Streets on Thursday from 10 a.m. to 5 p.m. and at the East Street Tabernacle from 9 a.m. on Saturday until service time.
The family requests that PASTEL COLOURS be worn in honour of this Faithful Servant.
NOTICE: DUE TO THE FUNERAL SERVICE OF THE MRS. RENNECE M. KNOWLES, VARIETY DISPOSABLE PRODUCTS WILL BE CLOSED AT 5 P.M. ON FRIDAY, MAY 20TH AND WILL REOPEN ON MONDAY, MAY 23rd at 8 A.M.