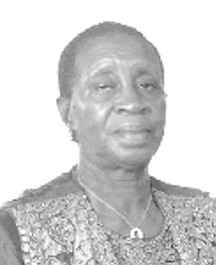 Peggy Joyce Francis
unknown - unknown


Funeral Service for the Late Peggy Joyce Francis, aged 77 years of Golden Gates#2, who died on Wednesday , 4nd May, 2016, will be held on Saturday, May 21st, 2016, 10:00 a.m. at St. Matthews Anglican Church, Shirley Street. Canon Crosley Walkine will officiate. Interment will follow in the church cemetery, Shirley Street.
Left to cherish her memories are her Daughter: Carla Smith; Grand Children: Staff Sargent Yvonne Raquel Smith of The United States Army, Carlyne andAlton McKenzie, Abby Smith;
Siblings and their Spouses: Malvina (Nelson) Sands, Judith, Deidre, Henry (Sheila), Nehemiah (Shirley), and Wellington (Grace) Francis.Nieces and their Spouses: Sandra, Christine, Lynette, Patrice, and Cytella Francis, Nesha Culmer, Vania (Daniel) Volmy, Julie (Marvin) Stuart, Kristy Strachan, Monique (Rev. Alonzo) Hinsey, Samantha (Rev. Cleveland) Wells, Dr. Welmilya (Calvin) Davis, Welandra (Rodney) Rolle; Nephews and their Spouses: Jeffrey, Derek Anthony, and Wayne (Latoya) Francis, Ross Wilson; Grand Nieces and their Spouses: Kacey (Minister Byron) Brown Sr., Bianca, Sayde, D'Andrea, Je'lise, and Hailey Francis, Phillippa Wilson, Aalayah and Anayah Hinsey, Cateleen and CatherineWells.Grand Nephews and their Spouses:Rico (Marcia) Brown, Derek Jr. (Bethany), Darren (Jeanelle), Derron, and Luke Francis, Nathan, Ethan, and Jonathan Stuart, Kristin Strachan, Carlyle Volmy; Great Grand Nieces: Kellie, Koffia, Ceon, and Ceray Brown, Beyonce Scott, Brynique Wilson Madalynn, Malia, and Amelia Francis; Great Grand Nephews: Byron Jr. (Kendira), Benoit, and Teray Brown, James and David Francis, Jayden Cargill, and Amir Cunningham; Great-Great Grand Nieces: Kylee Brown and Katelynn Duncombe; Great-Great Grand Nephew: Byron Brown III; Cousins and their Families: Basil, Roscoe, Hiram, Gilbert, Carvel Jr., Stephanie, and Andrea Francis, Dorothea Davis, Francyss and Suzzette Pratt, Arabella Cambridge, Erin Ferguson, Barbara, Michael, Suzanne, William, and Sherry Curtis, John Jr., Charles Jr., and Monique Clarke, Rajya (Stephen) Smith, Rosheene and Rupert Adams Jr., Francois (Senobi) Guillaume, Kim (Kevin) Prioleau, Ian, Lyle, and Inger Brathwaite, Gail Newbold, Lindalee Burrows, Evelyn Neilly, The Francis', Gibsons, Clarkes, Levaritys, and the Family of the Late Violet Sawyer-Evans.Close Friends:Jane Miller, Agatha Sherman, Joan Clarke, Vienna Johnson, Vernita Johnson,Helen Trotman, Coral Sawyer, Mavis Butterfield, Stella Nicolls, Gloria Strachan, Charlamae Forbes, Emily Colebrooke, Evangeline Lightbourn, Valencia Smith, Pearline Johnson, Elaine Johnson, Sylvia Sealey-Godet, George, David, and Pauline Capron;
God-Child: Krystal Deveaux; Political Family: Dame Marguerite Pindling, Governor General of The Commonwealth of The Bahamas, The Rt. Hon. Perry G. Christie, Prime Minister of The Commonwealth of The Bahamas, Stalwart Councillors, Women's Branch, and Members of The Progressive Liberal Party; Church Family: Clergy of the Anglican Diocese of The Bahamas and Turks and Caicos Islands, Archbishop Drexel Gomez, Canon Crosley Walkine, Rev. Dr. James Moultrie, Archdeacon James and Rev. Angela Palacious, Rev. Beryl Higgs, Rev. Fr. Lynden Douglas, Rev. Fr. Chester Burton, Catechist Roosevelt Godet, Vestry and Members of St. Matthew's Anglican Church including the Anglican Church Women, Social Services, Church and Vacation Bible School Children; Family Friends: Judy and Camille Ferguson, Ruthie Newbold, Karen Thompson, Karrington McKenzie, J. Arthur Gibson, Marjorie Lightbourn, Danielle Cooper, Stephanie Bowleg-McKenzie, Ernest and Janet McKenzie, Barbara Wallace, Marsha Bain, Leslie Benoit, Hope Ratliffe, Christine Culmer, Mother Sweeting, Rubyann Bradshaw, Kenneth and Linda Ferguson, The Armstrongs and Munroes, The Fort Fincastle and Pacific Court Communities; Organization/Company Affiliations: Jones Communications Ltd., Bahamas Red Cross Society, National Art Gallery of the Bahamas, the 'Old' BritishColonial Hotel, Meter Cab Taxi Service; Special Mention: Dr. Duane Sands, Dr. Paul Ramphal and Staff of Cardiothoracic and Vascular Institute of The Bahamas Ltd., Nurse Dawn Albury-Gaitor of Island Ostomy and Wound Treatment Centre, Jamal Nottage of ABC Prosthetics, Tony Craigg of Special Care Transport Services, Staff of Princess Margaret Hospital Accident and Emergency, Trauma Room, and Intensive Care Unit, Dr. Adderley, Senior Nursing Officer Patsy Newbold and Nursing Officer Sandra Moncur.
Friends may pay their last respects at The Sir Lynden Pindling Centre (PLP Headquarters') Farrington Road on Thursday from 10:00 a.m. to 4:00 p.m. and on Friday at Bethel Brothers Morticians #44 Nassau Street from 10:00 a.m. to 6:00 p.m. and at the church on Saturday from 9:00 a.m. until service time.