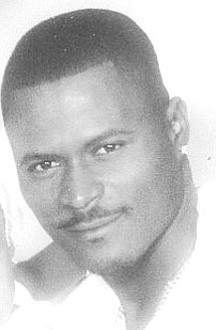 Pedro Anthony McKenzie
unknown - unknown
Funeral service for
Pedro Anthony McKenzie, 42
a resident of Kenya Way, Freeport, Grand Bahama, will be held at The Living Word Church of God, Miami Street, on Saturday 21st May, 2016 at 11:00 a.m.  Officiating will Bishop Alfred Cooper, assisted by Bishop Wilshire Smith & other Ministers of the Gospel.  Interment follows in Old Trail Cemetery, Old Trail Road.
Left to cherish his memories are his mother: Edith Cooper; father: Junior McKenzie of Vero Beach, Fl.; step father: Bishop Alfred Cooper; step mother: Dorothy McKenzie; daughters: Destiny & Peyton McKenzie; brothers: Charvis, Harrison & Clyde McPhee, Clement & Gadra Davis; sisters: Tamara Munroe & Neoshea Williams Taylor; adopted mothers: Mary Stuart & Marilyn Davis; special friend: Alia Rolle; aunts: Ida Clarke Dean, Mary Stuart, Vandelyn King, Doramae, Sylvia & Tiffany McKenzie, Alvira Smith, Beryl Rolle & Minister Carlos Taylor; uncles: Wendal Stuart, Hiram King, Jerry Rolle, Alvin Taylor, Rolstone McKenzie & Sean Dean; grand aunts: Leanna Davis Moss, Florence Smith & Leotha Davis; nieces & nephews: Aaliyah, Devon & Kobe Taylor, Harrinique McPhee, Charvis Jr., Chico, Pharell, Jaleel, Ivory, Tia & Tamara McPhee; brothers-in-law: Terrance Munroe & Shariff Taylor; cousins: Taria & Erlyn Knowles, Natasha & Tony Louis, Shandia, Indi & Danielle Williams, Lucinda McQueen, Daniel, Joanna, Ishmeal Knowles, Michelle Stubbs, Darren Davis, Brakell Stuart, Shanna McCartney, Aniskha Rolle, Burnie Curtis & Sharon Smnith of Vero Beach, Fl, Michelle, Tarsha Winter, Portia Russell, Domeika Perigord, Keisha McDonald, Thyon, Yvette, Charo, Carlisa McKenzie, Nicole Brown, Vanesa Rolle, Vanesa Forbes, Joanne Rolle, Georgina Ferguson, Lisa Saunders, Paulette, Chicks, Marsha Jones, Wendy Butler, Nadine Major, Brenda Rigby, Sharlene Sturrup, Felicia Turnquest, Jeramie & Fabian Stuart, Stephen McCartney, Ken & Patrick Rolle, Dwayne, Ian, Kendall, Dave & Darren McKenzie, Glen, Perry, Sharon, Pedro, Brent, Kendall Russell, Thoran, Travis, Janerio, Javano, Javante, Stephon Jr. & Jadon, Ranaldo, Rashad, Dwayne, Depety Prime Minister Philip Brave Davis, Jr. & Leslie Smith of Hollywood, Fl.; other family & friends including: The Living Word family, Bishop Quebell Martin & family, Bishop Denise Taylor & family, Pastor Wishire Smith & family, Bishop Bernard & family, the Bodie family, the Davis family, the Heritage Exuma family, Sis. Sandra Wayde & family, Sis. Helena Pinder & family, Bro. Alfred Lightbourne & family, Sis. Baptise & family, Sis. Pratt & family, Sis. Taylor & family, Bro & Sis. Lewis, Elder Hanna & St. Mark family & the  Plantol Street community.
Friends may pay their last respects at Demeritte's Funeral Home, Market Street, from 12-6:00 p.m. on Friday & on Saturday at the church from 10:00 a.m. until service time.