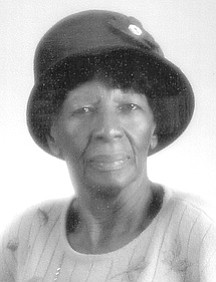 Mary Ann Moss
unknown - unknown
Funeral services for the Late Mary Ann Moss aged 89yrs will be held at New Hope Missionary Baptist Church, Joan's Height off East St South on Saturday 21st May, 2016 at 10:00 a.m. Officiating is Rev. Joseph Nathaniel Thompson assisted by Rev Elmond King. Interment in the Eastern Cemetery, Dowdeswell Street, Nassau, Bahamas.
Her first husband John, preceded her in death. Her parents Benjamin & Rachael Leadon, son Nelson, adopted son Julian Burrows, granddaughter Yolanda Danette Smith, her son-in-law Arndt F. Behrens, sisters Drucilla Leadon Williams, Gloria Leadon Mackey, Grace Leadon and stepdaughter Francina Ferguson also predeceased her.
Left to cherish her memories are her Husband: Rev. Curtis L. Moss; (2) Daughters: Yvonne E. Behrens & W/R Cpl. 908 Robin Melanie Thompson; (4) Sons: Charles Scavella, Cpl. 2572 Glenroy Sweeting, Calvin & Melvin Thompson; (14) Grandchildren: Daverro & Kendal Smith, Kenya Smith Johnson, Sgt. 1460 Jerone, Valentino & Sean Thompson, DeAngelo, Casteo, D'Angela, Kastoria & Aleiya Sweeting, Denicka, Mario & Tiffany Burrows; (14) Great Grandchildren: Xyon & Jacob Johnson, Nathan, Micah & Bennett Smith, Valisha, Jaden, Shaquille, Asia, King, Jerone Jr, Janiar, Mateo & K'Aleah Thompson; (1) Brother: Rev. Joseph Thompson; (1) Sister: Advira Missick; (1) Grandson-in-law: Dion Johnson; (3) Granddaughters-in-law: Dara & Carlee Smith & Loressa Thompson; (1) Sister-in-law: Pearl Thompson; (28) Nieces & nephews: Sherriley Strachan, Rudolph Strachan Jr., Karen Horton, Maryann Carpenter, Kenneth & Jeffery Burrows, Linda Mitchell, Sharon Pierre Louis, Schavan Evans, Raymond, Rodrick & Brian Mackey, Bertram, Alphonso, Jason & Naomi Taylor, Christine Nixon, Janet Smith, Koralee Braithwaite, Marguerite, Kirkwood & Linkwood Thompson, Colemae, Leanamae, Edison, Jerome, Sterling, Alexander Missick & Leona Charlton; Stepdaughters: Naomi Lloyd, Cindy Petty, Mavis McKenzie & Eleanor McKay. Numerous other relatives and friends including: Almartha Murphy, Florence McPhee, P/O Glenford & Insp. Derek Ferguson, Leroy & Nesbitt Higgins, Ceola Missick, Susanna Higgins, Eva Hamilton, Pamela Bain, Paulamae Mackey & Family, The staff of Thompson Ward at the Geriatric Hospital, Queen Bain, John Thompson, Seanalea Lewis, Beverley McCoy, Deschanelle Saunders, Emmaletha Scavella, Rosemary Forbes, Henry Scavella & the whole of Crooked Island & Mayaguana Communities and others too numerous to mention.
Relatives and friends may pay their last respects on Friday 20th, May, 2016 at Rock of Ages Funeral Chapel located on Wulff Road and Pinedale Street from 11:00 a.m. to 5:00 p.m. At the church from 9:00 a.m. until service time.