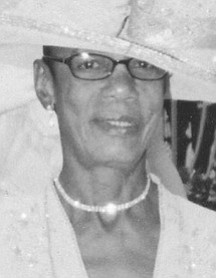 MARGARET HELENA SIMMONS
unknown - unknown
Funeral service for the late MARGARET HELENA SIMMONS age 77 years of #9 Bradley Street will be held on Saturday, May 21st, 2016 at 10:00 a.m. at St. Joseph Catholic Church, Boyd Road. Officiating will be Monsignor Alfred Culmer. Interment will follow in Lakeview Memorial Gardens & Mausoleum, John F. Kennedy Drive & Gladstone Road.
GRAND DAUGHTER: ANISHKA KNOWLES; SISTER: GENEVA KNOWLES; BROTHERS IN-LAWS: CHARLES KNOWLES SR, EMERY SYMONETTE SR.; AUNT: CATHERINE MINNIS OF LOVE HILL ANDROS; NIECES: EMELINE (BERTRAM SR.) MURRAY, JOAN MACKEY, EVANNETT DAVIS, BERNADETTE (MICHAEL SR.) MAJOR, SHIRLEY (VINCENT SR.) STRACHAN, ELCINA (FREDERICK SR.) SMITH, ROCELIA (GLEN SR.) WRIGHT, INGRID (SIDNEY) COLLIE, REMELDA (ANDREW) BEEN, BIANCA (BRANDON) PINDER, ANNA-LOUISE DELAVOE; NEPHEWS: RUPERT (STEPHANIE) STUART, TYRONE (LOUISE) STUART, LARRY & EDWARD MCPHEE, CHARLES (PATRICE)KNOWLES JR., EMERY (SHARON) SYMONETTE, ANTON SYMONETTE; GRAND NIECES: MICHAELLE (WELLINGTON SR.) RICHARDS, LA-QUELL MACKEY-SIMPSON, KENIQUA RECKLEY, JACINTHA SMITH, CHRISTINA (DAVID)MUNNINGS, KAYLA (SIMEON)SMITH, SONIA (RAYON)BROWN, ALICIA GREEN, ALLISON (ADEBO)WOODS, TENNILLE (CARLOS)VARGAS-PERALTA , BRIDGETTE MURRAY, PATRICE (DARRELL)BROWN, NATASHA (ASHLEY)NOUGUEZ, RUSHANTA STUART, RENEE (DONALD)BETHEL, PAMELA RAHMING, ANNETTE (CHRIS)LUNN, TANYA MURRAY, SHEKIRA & VINCETTE STRACHAN, KAYSA SYMONETTE, LATANYA SMITH, SHANIQUA, VALENTINA, ASHLEY & GLENIQUA WRIGHT, TOMARA KNOWLES, ROSHARA MERIUS, BRANAIYA PINDER, ZINZA HEPBURN, SYDNEY COLLIE, MASSAWE DEAN, ANDEA BEEN, WAYNEISHA SYMONETTE, KIARA MCPHEE, CLARNEISHA, CLARNIQUE, CLARNELL, & CLARENCIA GRAY; GRAND NEPHEWS: KEVIN GREEN, BERTRAM JR. (MICHELLE)MURRAY, LAMONT (DEIDRE)MACKEY, MICHAEL MAJOR JR., BERNADO GRAY, EDWARD MCPHEE, TYSON SR. & TRAVIS SR.(SHAMIKA)STRACHAN,TERRAN,NAPTAREL, JAMAH & JARRED STUART, RAYMOND THEOC, FREDERICK SMITH, GLEN WRIGHT, TRAVIS, SHAQUILLE & SHANNON SYMONETTE, MARIO FRAZIER, VINCENT STRACHAN JR.,ONESI COLLIE, ADAM & ANTHEO BEEN, BRANAVVI,BRANDON JR, VERNAJH, BRAEJHIN PINDER; GREAT GRAND NIECES/NEPHEWS INCLUDING : NIA & WELLINGTON JR. RICHARDS, GEORGE JR. & GEONTAE SIMPSON, LIAM MACKEY, BRANDON MURRAY, CATELAYA VARGAS-PERALTA, TYSON JR. & TRAVIS JR. STRACHAN, KHARI WOODS, DEVANO MUNNINGS, DANIEL GREEN, TUNU BROWN, DONALD BETHEL JR., NAEVEH STUART, JAMES RAHMING; ADOPTED GRAND CHILDREN: MONIQUE BONABY, SONIA (ALRIC) SIMMONDS, MICHELLE REID, DWAYNE PRATT & HUGO BETHEL
ADOPTED GREAT GRAND CHILDREN: JERENIQUE KEMP, ALRIC JAMES, SETH & SARIAH SIMMONDS & ABYGAIL MCDOWELL, JACOB PICKSTOCK,GABBRIELLE SHANNON, CAMILLE & CATRINA BASDEN, CATHERINE GOMEZ; CARE TAKER: JULIE-ROSE BLAIR
HOST OF RELATIVES & FRIENDS INCLUDING: YREILLE BELLIZAIRE, MONDAY LADIES BIBLE STUDY GROUP, LESA & RICARDO CLARKE, DEWITT DEMERITTE, MARSHA EVANS, VALGO SHANNON & FAMILY, GEORGE SIMPSON SR. VALENTINO ROLLE, CARLESHA BODEN, NADIA GREY, TYRONE STRACHAN SR., JASON GRAHAM, KAREN SPRINGER, VALERIE GIBSON, ROBERT RAHMING, WILLIS & NORA KNOWLES, THE ENTIRE KNOWLES FAMILY, SHORNELL ROBINSON, NATASHA BOWLEG, JUDY PINDER, ELLIS BAIN, CAMPBELL & SANDRA WALKER, KAREN CEPHAS,DWAYNE DELANCEY, ANN MARIE JOHNSON, TANZANIA CAREY, EMMANUEL & OBEDIAH MINNIS, SANDRA (ALLEN) EMMANUEL, ARIJESTER (DOVIN) THURSTON, ANDREA MOULTRIE & THE SENIOR CITIZENS CHARITY GROUP, NINA & SHAWN PHILLIPS, STEPHANIE DARVILLE, DWIGHT RAHMING, YVETTE DEVEAUX, MAXINE ROXBURY, DONNAVON BULLARD, EUCAL DELANCEY, DAVE & PATRICE FARRINGTON, PASTOR MILLER, FELIX MUNROE, SERGIO HANNA, ALBERT & OLGA RICHARDS, LAMARQUE LOCKHART, NICOLE BOWE, TAMESHA KNOWLES, PASTOR DEANZA & SISTER EDRIS CUNNINGHAM & MEMBERS OF CHRIST COMMUNITY CHURCH, MARIA ALCEE, THALISE TINKER, PAMELA HAVEN, SHARON FERGUSON, CORA HEPBURN, DAISY KNOWLES, GEJONTE MILLER, LAVERNE PALACIOUS, TASHA PRATT & FAMILY, REMELDA LARRIMORE & FAMILY, THE WILLIE FAMILY, THE WALLACE FAMILY, THE HANNA FAMILY, THE HEPBURN FAMILY, ELONOR, ERICA & DEJA DUNN (ATLANTA, GEORGIA),CECIL PHILLIPS & FAMILY (ATLANTA, GEORGIA), FR. OKANSANYA, AND THE ENTIRE CHURCH OF THE INCARNATION FAMILY (ATLANTA, GEORGIA) BEATRICE SIMMONDS & FAMILY (MARYLAND), FORMER EMPLOYEES OF GLADSTONE FARMS, PLATINUM INVESTMENTS GROUP, THE UNION VILLAGE FAMILY, SAM & CLAVIA MCCLAIN & FAMILY, PORTIA & GABRIEL LE MAJOR, RUTH ROLLE, SHEILA HEPBURN, GAIL STRACHAN, MARILYN COX, BARBARA TYNES, MONSIGNOR ALFRED CULMER, DEACON GREGORY TAYLOR, ST. JOSEPH CHURCH FAMILY, HOLY FAMILY CHURCH FAMILY, THE WONDERFUL STAFF OF ATLANTIS CASINO & SPACE CLEANING, THE BRADLEY STREET COMMUNITY, DOCTORS & NURSES OF PMH ESPECIALLY THOSE IN THE A&E TRAUMA UNIT.
Viewing will be held in the Halcyon Suite at Restview Memorial Mortuary and Crematorium Ltd., Robinson and Soldier Roads on Friday from 10:00 am to 6:00 pm and at the church on Saturday from 8:30 am until service time.