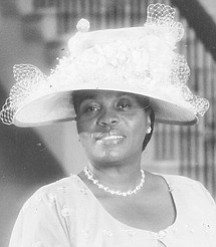 Margaret Bastian Deveaux
unknown - unknown
Funeral Service for the late Margaret Bastian Deveaux age 69 years of South Beach will be held on Saturday at Bethel Revival Restoration Centre, Blue Hill Road South at 1:00p.m. Officiating will be Pastor. Lenora Sands, assisted by other ministers of the gospel. Interment will follow in Lakeview Memorial Gardens J. F. Kennedy Drive.
Her legacy lives in the heart: HUSBAND: Fletcher Deveaux
Survived by herHUSBAND: Fletcher Deveaux.SONS: Kennedy Bastian, Vandyke & Clint Bethel. DAUGHTERS: Anastasia Bethel & Nadia Dennis. GRANDCHILDREN: Kendra, Kejuan, Durontee and KeneishaBeneby. Alisha, Lanique and Dakye Bethel.Precious Williams, Clintia, Nicolaus& Crystal Bethel.Ashantique Rhett and AliyahBasden.Daineil, Dainell, India and Aidan Dennis.J'tana and Ryan Holbert, Loletta ,Litheozir, Lionel and Keshela Cash. Jameka Stubbs. Kemico Sands.GREATGRAND CHILDREN: ChristaniqueWillaims, Kenrio Black, Lloyd Walker Jr. and Laylah Rhett.Lamar Mackey, Trinity, Lakazia, Lathan and Lania Cash.Rocquin and Paris Gibson.Kaliyah Sands.J'tenHolbert.
BROTHERS: Gregory and Jerome Rolle
SISTERS: Marilyn Rolle, Carolyn Fisher, Flordamae Saunders, Venus Rolle, MeloneyRolle, Claudette Oliver, and Sammantha Stuart.
DAUGHTER IN LAWS: Barbara Bastian & Elva Bethel
SON-IN-LAW: Glenroy Dennis
A host of other relatives and friends including Brenda Babs, Constance Mckay, Pastor Lenora Sands and family
Robert Daniel Hall and family
Antoinette Moss and family
Rev Davis Hutchinson
Pastor Haycock and family.
AUNTS: Zelma Rolle, Terry Ferguson, Arrie Evans, Barbara & Dorothy Bastian
UNCLES: Kenneth Rolle, Mervyn Bastian
GRANDNIECES: Val, Ruth, Melly, Andia,Sarah Jane, Drucilla, Carolyn, Debbie, Catheryn and Vernel Bastian, Alberta Morley.Claudette, Shantel and Naterah Evans.Shanessa Cartwright. PriskaNewbold. Yvonne Mullings. Dorothy Bates.
GRANDNEPHEW: Marcus Evans, Dale Davis, Rev. Eugene Bastian. Kayman Evans. Terrence Nelso, Jerry, Bernard, Ellis and Rev. Wilford Bastian.Doran Evans, Wilford McPhee, Garland and Allan Bullard.
COUSINS: Charles, Lorenzo, Michael, Marsha, Patrica, Rueben &SharleneCulmer. McDonald, David, Sam, SimonRolle. Rhetta, Elizabeth, Geraldine& Estelle Rolle. Kim, Siegfried Wilson. Cora. Pastor Rodney Bastian.
Relatives and friends may their last respect at Evergreen Mortuary located on Collins Ave & 5th Terrace on Friday from 10:00a.m. – 6:00p.m. and again at the church on Saturday from 10:00a.m. until service time.