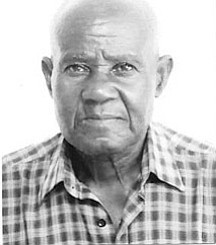 Jacques Pierre
unknown - unknown
Funeral Service for Jacques Pierre age 84 of Butler's Way off Carmichael Road and formerly of La Tortue, Haiti will be held on Saturday May 21, 2016 at 2:00 p.m. at Ebenezer Baptist Church, Carmichael and Lazaretto Roads. Officiating will be Rev. Laurent Papaloute assisted by other Ministers. Interment will be in the Southern Cemetery, Cowpen and Spikenard Roads.
He survived by three sons, Elira Milfort, Paul Joseph and Jocelyn Gedeus; four daughters, Elthude Tertulia, Joselene Milfort and Francina Barrymore; step daughter, Mary Jeanna Pierre; one Godson, Wilner Antione; two sisters, Francinna, and Celifort Dorcely of La Tortue, Haiti; three brothers, Vicksela Ben Milfort of Freeport, Viller, Francillon Milfort of Miami, Florida; two sisters-in-law, Vanase Sever and Nancy Milfort; three daughters-in-law, Ferdilia Milfort, Latoya Gedeus and Emmanella Joseph; two sons-in-law, Enoch Petit- Paul and Paul Barrymore; twenty eight grandchildren, Edy Paul, Henocksonn Paul, John Joseph, Odlin, Luckenson and Mackese Milfort, Alex and Joel Joseph, Junior and Trenck Alberony, Jayden and Devondre Barrymore, Adline, Nadeige, Adlin, Louise, Marie, Sadilia Linda Milfort- Talerant, Stephanie, Sandra and Danieta Milfort, Youseline and Lovely Joseph, Arianne, Arrianna and Jazae Johnson, Cayanne and Cayanna Joseph; two great grandchildren, Erick and Derick Talerant; step grandchildren, Jeancilia, Kathieen, Kendra, Kisner, Samenta, Velly Pierre, Aliyah Jolly, Derana Neely, Lavan Jolly, Anternec, Jenaure and Nathaniel Brown; numerous nieces and nephews including: Viller Milfort, Eligene Dorcely, Yllex and Vilaine Metellus, Violene and Maxene Dorcely, Yannick, Guirlene, Safaite, Vickselon, Maltide, Erzulie, Madece, Meprisia; Cousins, Valeka, Annett and Betty Milfort, Isaiah Bartlett, Naceuse Milfort, Paul Pierre, Sentame Pierre, Antonise, Jessica Lucy, Luna Calixte, Myrlinda Brown, Vilaine, Antoine, Alexander and Charment Pierre; other relatives and friends including: the Miller family, The Grove Family, The Carmichael Family and Rev. Laurent Papouloute and the Ebenezar Baptist Church Family and Rev. Wilny Joseph and Josette Metellus Family and all those too numerous to mention.
Viewing will be held in the Legacy Suite of Vaughn O. Jones Memorial Center, Mt. Royal Ave. and Talbot Street on Friday from 12:00 noon to 5:00 p.m. and on Saturday from 10:00 a.m. to 12:00 noon and at the Church from 1:00 p.m. to service time.