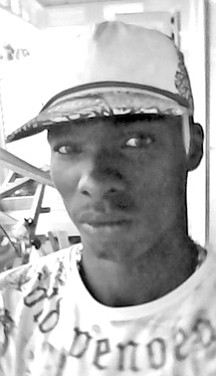 Deniro Fomico Burrell
unknown - unknown
Funeral Service for Deniro Fomico Burrell, age 24 of Seven Hills who died on May 5th, 2016 will be held on Saturday, at 11 a.m. at Central Church of The Nazarene. Officiating will be Rev. Dr. Alvin Hepburn, Rev. Dr. Alvan Burrell, Rev. Dr. Perry Newton and Other Ministers of The Gospel. Interment will follow in Old Trail Cemetery, Old Trail Road.
He is survived by his Mother: Charlene Ferguson-Miller; Father: Alvan S. Burrell, Jr.; Step-Mother: Shantell Burrell; Step-Father: Solomon Miller; Sisters: Shemiaha, Salethia & Kedra Miller, Alvanique, Alexus & Shavantell Burrell, and Deshavanta Finley; Brothers: Alvin & Donovan Burrell and Shimiaha & Solomon Miller; Grandparents: Rev. Dr. Alvan & Mother Daphne Burrell and Gloria Mae Walker; Aunts: Deshan Taylor, Tamica & Sandra Burrell; Tanya Gardiner, Tristana Sands, Tiffany Roberts and Peggy, Nancy, Vanrea & Sherland Ferguson; Uncles: Bradley Newton, Alford & Dave Burrell; Charles, Vernard, Samuel, Kenrick, Donald & Lynden Ferguson; Tony Gardiner, Roosevelt Sands, and Simorne Roberts; Grand Aunts: Rovilla Newton, Debra Newton-Stubbs, Rhoda Simms, Sylvia McKenzie, Dorothy Turnquest, Marla Saunders; Rose, Brenda & Veronica Newton; Florence Dixon, Headie-Mae, Vereen, Rosemary and Patrice Smith; Grand Uncles: Finley, Yen, Dion, Rev. Perry, Rev. Adrian & Rev. Jefferson Newton; George & Joe Smith, Gary Dixon and Albert; God-Mother: Shavonne Murphy; God-Father: Elijah Bowleg; God-Child: Sky Rutherford; Cousins: Olivia, Aquaria, Keishel, Sherniqua, Rashad, Tonica, Tony, Jr., Tonico, Denica, Roosevelt, Jr., Rokeisa, Ryan, Whitney, Simorne, Jr., Saccario, Alfred, Jr., Aldealya, N'Nique, Elizabeth, Vaughan, Amanda, Dwayne, Kenrick, Jr., Trey, Shakara, James, James, Jr., Shakera , Shakeitra, Shataradon, Katrinique, Donald, Jr., Shadanique, Shadanay, Arinae Wallace, Warren, Natasha, Destiney, Zion, Dayton, Cedrica, Kyzariah, Levontanique, Jaiden & Khajah; Toyel, Cyprianna, Rodneke, Oneil, Darrio, Darria, Dedriah, Domonic, Jenson, Jacarma, Stacy, Sheneka, James, Reina, Latoya, Stacy, Philip, Mario, Eric, Denise, Ellamae, Sandralee, Nadena, Yollanda, Francis, Stanford, Raquel, Quincy, Ashley and Anton; Special Friends: Shanae Ramsey; The Straw Market Family; The Seven Hills Family; The Central Church of The Nazarene Family; Mrs. Paula, Precious & Peaches Rutherford and The Quarry Mission Road Family; Ida Roberts & Family; The Sands Family; Tony Rahming & Family; Katrina Gardiner; C. V. Bethel Senior High School Family; The Miller Family & Candy Land Crew; The Farrington Road Family; R.M. Bailey Senior High School Family; S.C. McPherson Junior High School Family; The Grove Family; and a host of Other Relatives and Friends too numerous to mention.
Friends may pay their last respects at East Sunrise Mortuary, Rosetta Street, Palmdale from 10 a.m. to 5 p.m. on Friday and at the Church on Saturday from 10 a.m. until service time.