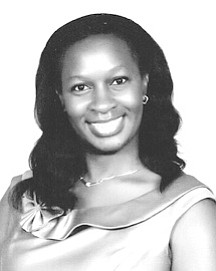 ADRIANA PALINCAMAE HUTCHINSON
unknown - unknown
Funeral Service for the late ADRIANA PALINCAMAE HUTCHINSON age 42 years of Blue Hill Heights will be held on Saturday, May 21st, 2016 at 11:00 a.m. at Abundant Life Bible Church, Abundant Life Road. Officiating will be Co-Senior Pastor Gil Maycock, Associate Pastor O'Neil Russell and Senior Pastor Lyall Bethel. Interment will follow in Woodlawn Gardens, Soldier Road.
 
Her memories will forever be cherished by her Loving and Devoted HUSBAND & BESTFRIEND: Stanford Hutchinson, SON: Cameron Hutchinson; DAUGHTERS: Kristen and Kaylee Hutchinson; MOTHER: Patricia Russell; SISTERS: Sheila Hepburn, Mazell Knowles and Erica Russell; BROTHER: Kevin Russell; BROTHERS-IN-LAW: John (Queenie), Neville (Eleanor) & Nelson (Claudine) Hutchinson and Julius Foulkes; SISTERS-IN-LAW: Bergie Jones, Natalee (Wendall) Ramsey and Laverne (Gary Sr.) Hepburn; NEPHEWS: Charles Hepburn Jr, Brennan Knowles Jr, Robert Pennerman Jr., Cyril (Ramona) Peet, Brian (Denise) & Randy Foulkes, Jason (Linzy), Jermaine (Lisa), Jerome (Latoya), Demetrius, Fred, Kirk, and Kendrick Hutchinson, Leroy (Lydia), Gregory (Jeanie), Donald (Indira), Nathan (Althea) and Ryan (Chandra) Jones, Rovan (Marisha) Humes, Mario (Richenda) McPhee and Gary Hepburn Jr.; NIECES: Philippa & Sheena Hepburn, Sandy Knowles, Raven Pennerman, Sheva (Grevian) Nixon, Nadia & Ursula Jones, June Hutchinson, Cindy (Terell) Cox, Candy McPhee, Lisa (Nolan) Cooper, Keva Hutchinson and Jody Hepburn; GRANDNIECES & NEPHEWS: Ira, Meaghan, Brian Jr, Brinesha, Melissa, Brandon, Christopher, Randy Jr, Randieka, Amanda, Johann, Kelly, Allyson, Sheveal, Chont'nae, Grevian Jr., Leroy Jr., P'Ash, Jada, Jania, Janaz, Amari, Atiyah, Indiya, Danielle, Justin, Nyles, Kyles, Myraj, Keshawna, Bryant, Rayven, Charcini, Terajj, Jaden, Mya, Chenae, Mario Jr., Christopher Jr., Haley, Johnika, Javan, Jerlissa, Jermere, Johniten, Jerome Jr., Bryanna, Za'niyah, Destiny, Kadafi, Dillen and Dale; GREAT GRANDNIECES & NEPHEWS: Ivori, Tyler, Laron II, Caleb, Cailyn, Tatianna, Atarah, Shevano and Shevari; Other relatives and friends:  Marcia and Derrick Miller, Salina and Carlos Smith, Inga Johnson, Marklyn Smith, Shiddea and Ahmand Smith, Craig Schaeffer, Teazel Bowe and Family, The Russell Family, Agnes Hepburn & Family, Emmereine Gray and Family, The Sol Petroleum Family, The Sumner Family, Ministry of Tourism (Coastal Awareness), Stuart Cove's Dive South Ocean and Blue Adventures staff, Dr. Duane Sands, Dr. Fox office, Staff of Princess Margaret Hospital especially Female Medical 1, CC Sweeting Class of 1990, College of The Bahamas Culinary Class of 2014, Blue Hill Heights and Pride Estate Communities and Nicholl's Town, Andros Community. 
Viewing will be held in the Celestial Suite at Restview Memorial Mortuary and Crematorium Ltd., Robinson and Soldier Roads on Friday from 10:00 am to 6:00 pm and at the church on Saturday from 9:30 am until service time.