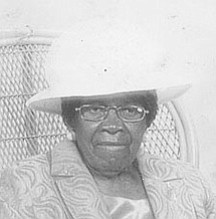 Adell Leona Moss Butler
unknown - unknown
Funeral service for
Adell Leona Moss Butler, 91
a resident of Union Village, will be held at The Annex Baptist Church, Wulff Road & Pinedale, on Saturday 21st May, 2016 at 10:00 a.m.  Officiating will be Apostle Mitchell Jones, assisted by other Ministers of the Gospel.  Interment follows in Woodlawn Gardens, Soldier Road.
Left to cherish her long and loving memories are her daughters: Dorothy Gaitor, Gertrude & Monique Butler; grand daughters: Judy Ann McKenzie, Latanya Cox, Lawayder Ingraham, Valerie & Valdisha Grant; grandsons: Prescott & Samuel McPhee, Mark & Kenny Hall, Anthony Ingraham, Antone Butler, Valentino Grant; great grand daughters: Dakajah, Lataria Holmes, Reneisha Rolle, Enikqua Eulin, Kevinique Andrews, Maquel, Kendera, Kenlisa Hall; great grand sons: Prescott McPhee Jr., Mark Hall Jr., Kenny Hal Jr., Anthony Ingraham Jr., Valentino Grant Jr., Kentino Hall Jr. & Shadrack Holmes; cousins: Children of the late Vincent Marshall & their families, Enid Ferguson of North Carolina, Herbert Marshall, Hortence Harris-Smith, Hester Johnson, Frances Ledee, Mary Marshall; children of the late Mildred Saunders & their families, Shirley Johnson, Dorothy  Saunders, Rev. Marilyn Thompson, Leana Darville, chidlren of the late Zachariah Moss & their families, Elikium George Moss, Rev. Mitchell Jones & family; other relatives, friends & neighbours: The Annex Baptist Church family, Union Village family, Peardale family, Marathon community, Elenor Black, Princess Margaret Hospital family, Youth Sports & Culture family.
Friends may pay their last respects at Demeritte's Funeral Home, Market Street, from 12-6:00 p.m. on Friday & on Saturday at the church from 9:00 a.m. until service time.